France Requires COVID Test for UK Travellers – France Omicron Travel Restriction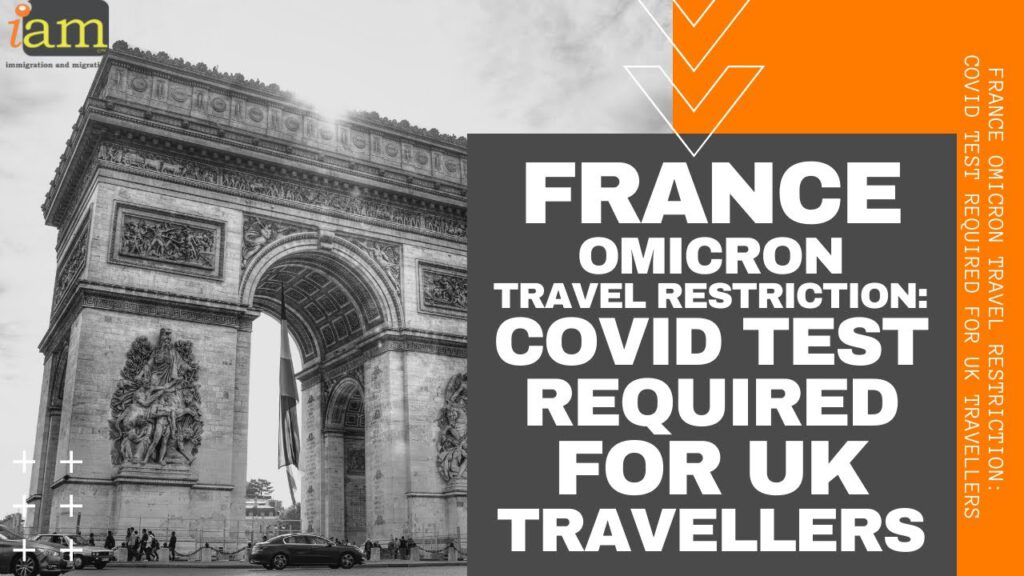 [intro]
✈ In this video:
0:00 France Requires Covid Test for UK Travellers- France Omicron Travel Restriction
1:18 France Requires Covid Test for UK Travellers- France Omicron Travel Restriction
In light of the developments surrounding the new Covid variant Omicron, France tightens travel restrictions for non-EU travellers regardless of vaccination status.
At present, the UK and other non-EU travellers may continue to
enter France with proof of vaccination and a sworn declaration form.
Starting 4 December, France will implement new rules aimed at controlling the spread of the newly-detected Omicron variant.
…
2:33 France Test Requirement for UK Travellers
All travellers will require a negative Covid test in order to enter France from any country outside the EU or Schengen zone. including travellers from the UK.
The test must have been taken within 48 hours of departure.
The decree states that only tests "that are able to detect protein N of Sars-Cov2" can be used, this covers all PCR tests but not all antigen tests
…
3:28 Flights between South Africa and France
From Saturday, flights to and from South Africa will be allowed to land in France, but under very strict conditions.
These will include only allowing French and EU residents, diplomats, and flight staff to disembark…
What are your thoughts on this issue? Talk to us in the comment section below.
If you're still unsure about your application, let us help you out!
👉https://immigrationandmigration.com/schengen-visas/
✈ Read the full article at
France Omicron Travel Restriction: COVID Test Required for UK Travellers
==========================
✈ Apply for your Schengen Visa at https://immigrationandmigration.com/schengen-visas to get your Schengen Visa!
==========================
Check out the offers and discounts from:
Airport Transfers – https://iam.ontraport.com/c/s/j9Q/P/U/jvT/P/6oTxO3/Uz8tXktnsh/P/P/P
Holidays – https://iam.ontraport.com/c/s/j9Q/P/j/jvi/P/6oTxO3/vof8Cu3AQ4/P/P/P
Flights, Hotels Etc – https://iam.ontraport.com/c/s/j9Q/P/5/jvo/P/6oTxO3/vjtlp51A5x/P/P/P
Things to Do When You Get There – https://iam.ontraport.com/c/s/j9Q/P/r/jvM/P/6oTxO3/sALWj2h37D/P/P/P
And because of the pandemic, don't forget to get your travel insurance https://immigrationandmigration.com/travel-insurance-amid-coronavirus/ , which will cover you for flight disruptions and pandemic related matters https://iam.ontraport.com/tl/400 .
==========================
✈ Find us on social media:
. Facebook: http://iam.re/iamfb​
. Instagram: http://iam.re/iamig​
. Twitter: http://iam.re/iamtw​
. Linkedin: http://iam.re/iamli​
. Pinterest: http://iam.re/iampin
-~-~~-~~~-~~-~-
Check out our latest video: "Schengen Visa Types"

-~-~~-~~~-~~-~-
#TravelToFranceFromUK #FranceTravelRestrictions #Omicron
* Some of our content may contain affiliate links. If you use these links to buy something we may earn a commission.