Greece Tightens Restrictions For The Unvaccinated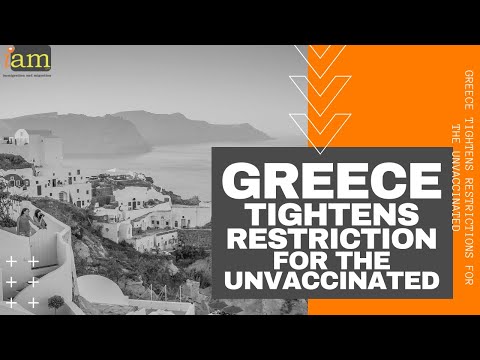 Greece Tightens Restrictions For The Unvaccinated
✈ In this video:
0:00 Greece Tightens Restrictions For The Unvaccinated
Greece, one of Europe's top destinations for travellers around the world, has announced new restrictions that will directly affect unvaccinated citizens, foreign nationals looking to holiday in Greece and those seeking employment.
Greece relies heavily on the income generated by its usually booming tourist trade.
Greece was one of the first major travel destinations to ease its entry requirements for all travellers, as the country was keen to bring its tourism sector back to life.
However, the new restrictions suggest a more cautious approach in the wake of increasing cases and variants.
From 13 September until 31 March 2022, all private and public sector workers without a certificate proving vaccination or recovery from COVID-19 within the last six months will have to undergo one rapid test per week, Health Minister Vassilis Kililias said.
…
2:47 Changes Under the New Rules
Under the new restriction changes, unvaccinated individuals will only be able to enter indoor cinemas, theatres, museums, archaeological sites and gyms if they have proof of a negative rapid test taken within the last 48 hours.
On top of this, venues will also have the ability to refuse access to unvaccinated patrons if they wish to do so.
This could leave unvaccinated travellers with little to do in Greece.
Travellers who head to Greece for seasonal work will also be affected by other new restrictions.
All unvaccinated public and private sector employees will have to undergo weekly tests at their own expense.
…
4:03 Vaccines Recognised in Greece
Greece accepts a wide range of vaccines including Pfizer, Moderna, AstraZeneca, Novavax, Johnson & Johnson, Sinovac, Sputnik, Cansino Biologics and Sinopharm.
To be considered fully vaccinated, at least 14 days must have passed since your last recommended dose.
Travellers visiting Greece who have an EU Digital COVID Certificate can use that to enter venues.
If you're coming from a country outside the EU, in theory, you should be able to present your printed or electronic vaccination certificate.
Do you have plans to travel to Greece? Talk to us in the comment section below.
If you're still unsure about your application, let us help you out!
👉https://immigrationandmigration.com/schengen-visas/
✈ Read the full article at
==========================
✈ Apply for your Schengen Visa at https://immigrationandmigration.com/schengen-visas to get your Schengen Visa!
==========================
Check out the offers and discounts from:
Airport Transfers – https://iam.ontraport.com/c/s/j9Q/P/U/jvT/P/6oTxO3/Uz8tXktnsh/P/P/P
Holidays – https://iam.ontraport.com/c/s/j9Q/P/j/jvi/P/6oTxO3/vof8Cu3AQ4/P/P/P
Flights, Hotels Etc – https://iam.ontraport.com/c/s/j9Q/P/5/jvo/P/6oTxO3/vjtlp51A5x/P/P/P
Things to Do When You Get There – https://iam.ontraport.com/c/s/j9Q/P/r/jvM/P/6oTxO3/sALWj2h37D/P/P/P
And because of the pandemic, don't forget to get your travel insurance https://immigrationandmigration.com/travel-insurance-amid-coronavirus/ , which will cover you for flight disruptions and pandemic related matters https://iam.ontraport.com/tl/400 .
==========================
✈ Find us on social media:
. Facebook: http://iam.re/iamfb​
. Instagram: http://iam.re/iamig​
. Twitter: http://iam.re/iamtw​
. Linkedin: http://iam.re/iamli​
. Pinterest: http://iam.re/iampin
-~-~~-~~~-~~-~-
Check out our latest video: "Schengen Visa Types"

-~-~~-~~~-~~-~-
#SchengenVisa #Greece
* Some of our content may contain affiliate links. If you use these links to buy something we may earn a commission.