Travel To Spain: Spain Introduces Strict Entry Requirements For UK Travellers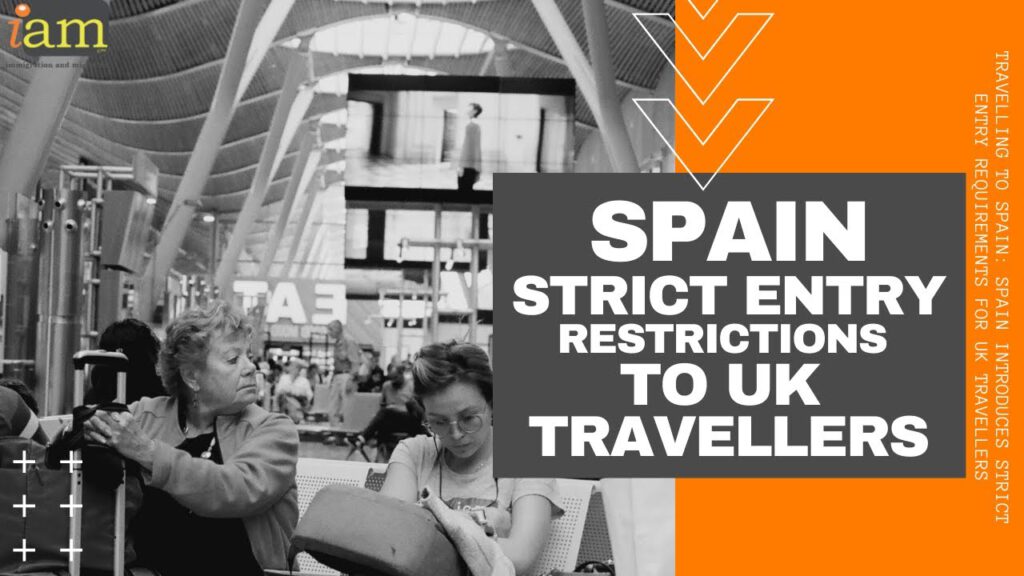 Spain Introduces Strict Entry Requirements For UK Travellers
✈ In this video:
0:00 Spain Introduces Strict Entry Requirements For UK Travellers
1:27 Spain Introduces Strict Entry Requirements For UK Travellers
Spain has changed the entry requirements for British travellers.
The change comes in the wake of several other restriction changes in countries around the world, as they try to take swift action against the spread of the latest Omicron variant.
The news is bound to come as a blow for millions of British travellers, with Spain not only being amongst the most popular travel destinations for British travellers, but a popular destination to live in too.
Spain is extremely popular with British travellers given its close proximity, low prices, flight availability.
2:15 Spain Bans Unvaccinated UK Travellers
The current travel rules allow British travellers to visit Spain providing they have been fully vaccinated or have a negative PCR test result taken up to 72 hours before arriving. this serves as no real obstacle to visiting Spain if a traveller desires.
But the appearance of the new Omicron variant has forced the Spanish government to introduce further restrictions for its primary tourism market.
From 1 December, these rules are set to change.
…
3:37 Spain's High-Risk Countries
Aside from banning unvaccinated British travellers, Spain also made changes to the entry requirements for travellers from "high-risk" countries.
The countries that are deemed to be high risk at present are Botswana, Eswatini, Lesotho, Mozambique, Namibia, South Africa and Zimbabwe.
Travellers arriving in Spain from these countries will need to show a negative Covid-19 test regardless of vaccination or recovery status.
..
4:48 Revised Travel Rules from Spain to the UK
From 30 November, the UK government is bringing in new rules.
A new requirement will apply for all vaccinated arrivals including UK citizens and residents.
They must take a PCR test for their Day 2 test and they must self-isolate until a negative result from the test arrives. Antigen tests are no longer accepted.
…
What are your thoughts on this issue? Talk to us in the comment section below.
If you're still unsure about your application, let us help you out!
👉https://immigrationandmigration.com/schengen-visas/
✈ Read the full article at
Spain Introduces Strict Entry Requirements for UK Travellers
==========================
✈ Apply for your Schengen Visa at https://immigrationandmigration.com/schengen-visas to get your Schengen Visa!
==========================
Check out the offers and discounts from:
Airport Transfers – https://iam.ontraport.com/c/s/j9Q/P/U/jvT/P/6oTxO3/Uz8tXktnsh/P/P/P
Holidays – https://iam.ontraport.com/c/s/j9Q/P/j/jvi/P/6oTxO3/vof8Cu3AQ4/P/P/P
Flights, Hotels Etc – https://iam.ontraport.com/c/s/j9Q/P/5/jvo/P/6oTxO3/vjtlp51A5x/P/P/P
Things to Do When You Get There – https://iam.ontraport.com/c/s/j9Q/P/r/jvM/P/6oTxO3/sALWj2h37D/P/P/P
And because of the pandemic, don't forget to get your travel insurance https://immigrationandmigration.com/travel-insurance-amid-coronavirus/ , which will cover you for flight disruptions and pandemic related matters https://iam.ontraport.com/tl/400 .
==========================
✈ Find us on social media:
. Facebook: http://iam.re/iamfb​
. Instagram: http://iam.re/iamig​
. Twitter: http://iam.re/iamtw​
. Linkedin: http://iam.re/iamli​
. Pinterest: http://iam.re/iampin
-~-~~-~~~-~~-~-
Check out our latest video: "Schengen Visa Types"

-~-~~-~~~-~~-~-
#TravelToSpainFromUK #SpainRestrictsUKTravellers
* Some of our content may contain affiliate links. If you use these links to buy something we may earn a commission.