UK Red List Expanded – UK Travel Changes Due To Omicron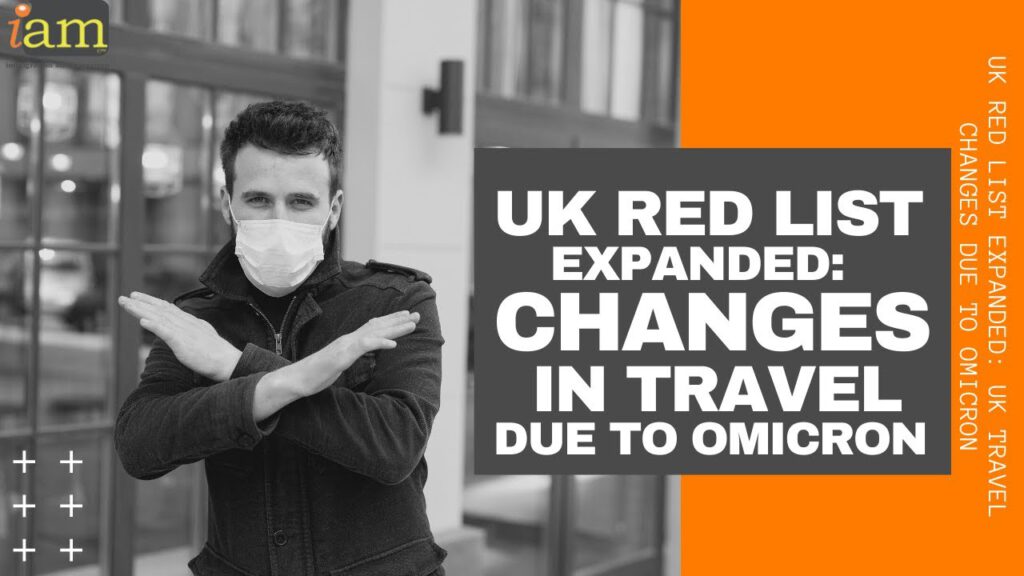 UK Red List Expanded – UK Travel Changes Due To Omicron
✈ In this video:
0:00 UK Red List Expanded – UK Travel Changes Due to Omicron
1:27 UK Red List Expanded – UK Travel Changes Due to Omicron
England has added ten southern African countries to their red list and will reintroduce PCR tests and self-isolation until travellers receive a negative result.
The return of the red list comes after the Omicron variant was detected in South Africa and Botswana.
There are currently reported cases of the variant in the UK, The Netherlands, Germany, South Africa, Hong Kong, and Botswana.
Travellers arriving from South Africa and nine other southern African nations will now have to quarantine on arrival in the UK.
A further 4 countries were added to the list from the last announcement.
…
2:55 PCR Tests and Quarantine
Day 2 PCR tests for everyone entering the UK will be re-introduced on 30 November and all arrivals will need to self-isolate until they receive a negative test result and all contacts of new variant cases will have to self-isolate for 10 days, even if fully vaccinated.
But Boris Johnson said Christmas would be "considerably better" than in 2020.
The measures were "temporary and precautionary", he added.
…
4:13 Mask Requirements in England
Prime Minister Boris Johnson said that face coverings will become
mandatory again in shops and on public transport across England.
The Prime Minister also said that plans for the booster jab for vaccines, for those who are double vaccinated, will be stepped up.
We don't yet exactly know how effective our vaccines will be against Omicron but we have good reasons for believing they will provide at least some measure of protection — Johnson
What are your thoughts on this issue? Talk to us in the comment section below.
If you're still unsure about your application, let us help you out!
👉https://immigrationandmigration.com/schengen-visas/
✈ Read the full article at
==========================
✈ Apply for your Schengen Visa at https://immigrationandmigration.com/schengen-visas to get your Schengen Visa!
==========================
Check out the offers and discounts from:
Airport Transfers – https://iam.ontraport.com/c/s/j9Q/P/U/jvT/P/6oTxO3/Uz8tXktnsh/P/P/P
Holidays – https://iam.ontraport.com/c/s/j9Q/P/j/jvi/P/6oTxO3/vof8Cu3AQ4/P/P/P
Flights, Hotels Etc – https://iam.ontraport.com/c/s/j9Q/P/5/jvo/P/6oTxO3/vjtlp51A5x/P/P/P
Things to Do When You Get There – https://iam.ontraport.com/c/s/j9Q/P/r/jvM/P/6oTxO3/sALWj2h37D/P/P/P
And because of the pandemic, don't forget to get your travel insurance https://immigrationandmigration.com/travel-insurance-amid-coronavirus/ , which will cover you for flight disruptions and pandemic related matters https://iam.ontraport.com/tl/400 .
==========================
✈ Find us on social media:
. Facebook: http://iam.re/iamfb​
. Instagram: http://iam.re/iamig​
. Twitter: http://iam.re/iamtw​
. Linkedin: http://iam.re/iamli​
. Pinterest: http://iam.re/iampin
-~-~~-~~~-~~-~-
Check out our latest video: "Schengen Visa Types"

-~-~~-~~~-~~-~-
#UKRedListExpanded #UKTravelChanges #Re-IntroducingEnglandTravelRestriction
* Some of our content may contain affiliate links. If you use these links to buy something we may earn a commission.