UK Travel Expected Delays At Heathrow Airport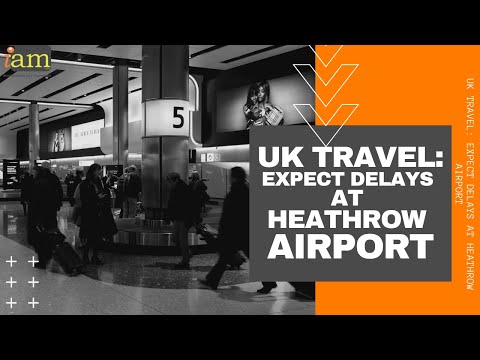 UK Travel Expected Delays At Heathrow Airport
✈ In this video:
0:00 UK Travel: Expected Delays At Heathrow Airport
1:19 UK Travel: Expected Delays At Heathrow Airport
Holiday plans in the coming week for thousands of British travellers could fall into disarray as a planned strike is expected to cause severe disruption and delays throughout Heathrow.
Heathrow Airport will be under some added pressure in the coming weeks as baggage handlers and refuelling staff plan to go on strike.
Travellers moving through Heathrow should anticipate some disruption
to schedules and plan for more time at the airport.
Unite The Trade Union, the group organising the strikes has listed the strike days as the 11th to 13th of February although Heathrow airport also lists the 5th, 9th, and 16th of February.
3:15 Expect Delays at Heathrow
Passengers who are moving through Heathrow in any capacity through February are strongly advised to keep on top of any developments.
Airlines will have the most up-to-date information on any disruption being caused.
Passengers should make sure they arrive three hours before departure, or even earlier if possible.
With a shortage of staff, baggage checking and security may be much longer than usual.
4:22 Best Time To Visit The UK
The UK recently announced that it will make travel easier.
From 4am on 11 February, fully vaccinated passengers will not have to take any kind of Covid test before they travel to England, nor will they have to self-isolate.
Rules have also been relaxed for unvaccinated passengers, who will not have to take a day eight test or self-isolate. But, they will still need pre-departure and day two tests.
…
What are your thoughts on this issue? Talk to us in the comment section below.
If you're still unsure about your application, let us help you out!
👉https://immigrationandmigration.com/schengen-visas/
✈ Read the full article at
==========================
✈ Apply for your Schengen Visa at https://immigrationandmigration.com/schengen-visas to get your Schengen Visa!
==========================
Check out the offers and discounts from:
Airport Transfers – https://iam.ontraport.com/c/s/j9Q/P/U/jvT/P/6oTxO3/Uz8tXktnsh/P/P/P
Holidays – https://iam.ontraport.com/c/s/j9Q/P/j/jvi/P/6oTxO3/vof8Cu3AQ4/P/P/P
Flights, Hotels Etc – https://iam.ontraport.com/c/s/j9Q/P/5/jvo/P/6oTxO3/vjtlp51A5x/P/P/P
Things to Do When You Get There – https://iam.ontraport.com/c/s/j9Q/P/r/jvM/P/6oTxO3/sALWj2h37D/P/P/P
And because of the pandemic, don't forget to get your travel insurance https://immigrationandmigration.com/travel-insurance-amid-coronavirus/ , which will cover you for flight disruptions and pandemic related matters https://iam.ontraport.com/tl/400 .
==========================
✈ Find us on social media:
. Facebook: http://iam.re/iamfb​
. Instagram: http://iam.re/iamig​
. Twitter: http://iam.re/iamtw​
. Linkedin: http://iam.re/iamli​
. Pinterest: http://iam.re/iampin
-~-~~-~~~-~~-~-
Check out our latest video: "Schengen Visa Types"

-~-~~-~~~-~~-~-
#TravelToTheUK #HeahtrowAirport
* Some of our content may contain affiliate links. If you use these links to buy something we may earn a commission.