US Travel Ban: US Reopening to UK and EU Travellers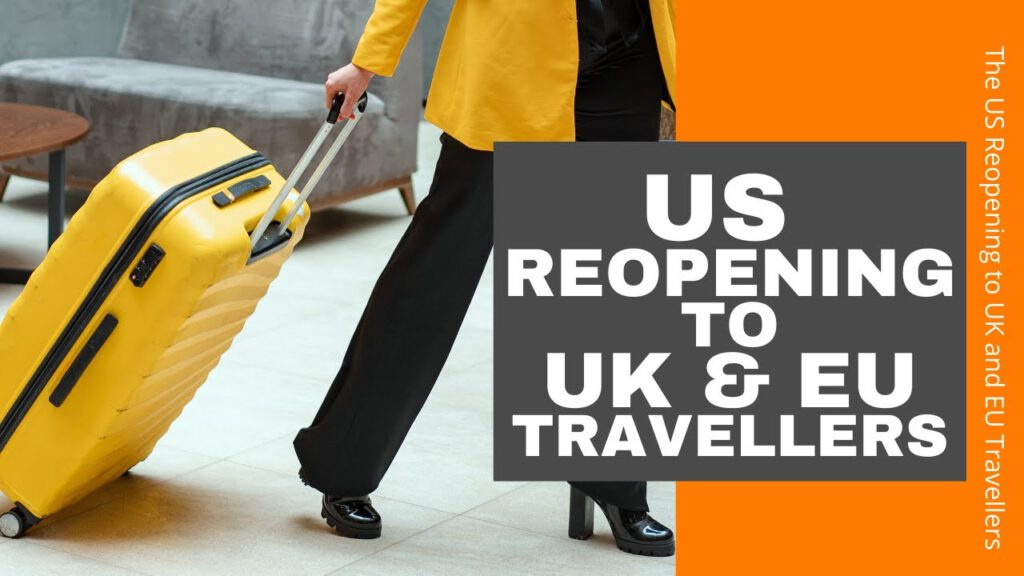 US Travel Ban: US Reopening to UK and EU Travellers
✈ In this video:
0:00 US Travel Ban: US Reopening to UK and EU Travellers
1:27 US Travel Ban: US Reopening to UK and EU Travellers
The White House has announced that the US will lift Covid-19 travel restrictions to allow fully vaccinated passengers from the UK and most European Union (EU) countries to travel into the country from early November.
The move signals the end of a travel ban imposed more than 18 months ago in the early stages of the pandemic and comes after intense lobbying from Brussels and London.
In addition to the UK and the 26 Schengen countries in Europe, the easing of restrictions will also apply to Ireland, China, Iran, Brazil, South Africa and India.
Under current policy, only US citizens, their immediate families, green card holders and those with national interest exemptions (NIE) can travel into the US if they have been in the UK or EU in the previous two weeks.
2:28 Entry to the United States
The White House coronavirus response coordinator, Jeff Zients, announced on 20 September that international travellers will require proof of full vaccination before boarding a flight and a negative Covid-19 test within 72 hours of departure.
Travellers will not be required to quarantine upon arrival.
While any arriving tourists from an approved country would be required to show proof of an approved vaccination, children not yet eligible to be inoculated will be exempt from
the policy.
"This new international travel system follows the science to keep Americans and international air travel safe," Zients told reporters.
"By requiring foreign nationals to be fully vaccinated in order to fly to the United States and in implementing additional strict safety protocols, we will protect Americans here at home and enhance the safety of international travel."
This is based on individuals rather than a country-based approach.
The new policy will take effect in "early November", Zients added, to allow airlines and travel partners time to prepare to implement the new protocols.
The US Centers for Disease Control and Prevention (CDC) will issue a contact tracing order that obliges airlines to collect a phone number, email address and other information from US-bound travellers.
This will enable the CDC and state and local public health officials to follow up with inbound travellers and those around them if someone has potentially been exposed to Covid-19.
— Zients
The changes will be part of a new travel system in the US, including updated rules on contact tracing and masking that will mean unvaccinated Americans will face stricter testing requirements.
The EU and UK had moved to allow vaccinated American travellers into their territories without quarantines, in an effort to boost business and tourism travel.
Are you planning to travel to the US? Talk to us in the comment section below.
If you're still unsure about your application, let us help you out!
👉https://immigrationandmigration.com/schengen-visas/
✈ Read the full article at
==========================
✈ Apply for your Schengen Visa at https://immigrationandmigration.com/schengen-visas to get your Schengen Visa!
==========================
Check out the offers and discounts from:
Airport Transfers – https://iam.ontraport.com/c/s/j9Q/P/U/jvT/P/6oTxO3/Uz8tXktnsh/P/P/P
Holidays – https://iam.ontraport.com/c/s/j9Q/P/j/jvi/P/6oTxO3/vof8Cu3AQ4/P/P/P
Flights, Hotels Etc – https://iam.ontraport.com/c/s/j9Q/P/5/jvo/P/6oTxO3/vjtlp51A5x/P/P/P
Things to Do When You Get There – https://iam.ontraport.com/c/s/j9Q/P/r/jvM/P/6oTxO3/sALWj2h37D/P/P/P
And because of the pandemic, don't forget to get your travel insurance https://immigrationandmigration.com/travel-insurance-amid-coronavirus/ , which will cover you for flight disruptions and pandemic related matters https://iam.ontraport.com/tl/400 .
==========================
✈ Find us on social media:
. Facebook: http://iam.re/iamfb​
. Instagram: http://iam.re/iamig​
. Twitter: http://iam.re/iamtw​
. Linkedin: http://iam.re/iamli​
. Pinterest: http://iam.re/iampin
-~-~~-~~~-~~-~-
Check out our latest video: "Schengen Visa Types"

-~-~~-~~~-~~-~-
#SchengenVisa #USTravelBan #USLiftsTravelBan
* Some of our content may contain affiliate links. If you use these links to buy something we may earn a commission.