Canada And US Stick With Their Travel Restrictions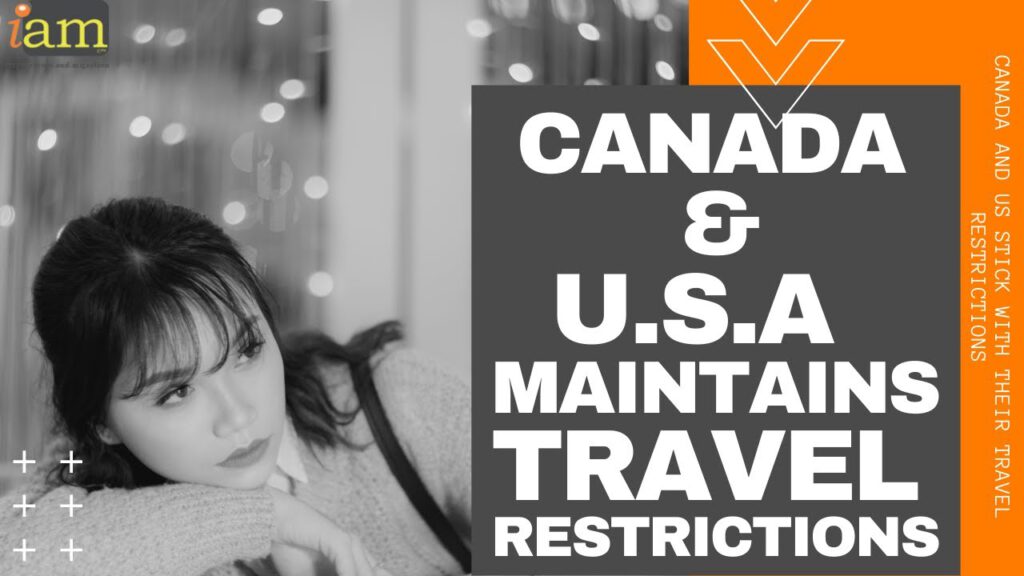 Canada And US Stick With Their Travel Restrictions
Canada & USA Remain Closed
✈ In this video:
0:00 – Canada And US Stick With Their Travel Restrictions
01:22 – Canada & USA Remain Closed
While Americans and Canadians are being given the freedom to travel in the European Union, the same luxury isn't afforded to EU travellers.
The European Union has removed travel restrictions for travellers from Canada and the US which means visitors from both countries can enter any EU member states without any COVID test and quarantine restrictions.
Many professionals need to travel between countries to get essential work done.
The COVID related restrictions, however, are putting European businesses at a disadvantage in Canada and the United States.
02:07 – Canada not ready to open for tourism
Despite easing restrictions on travel from the United States for fully vaccinated Canadian citizens and permanent residents from 5 July, Canada has no plans to reopen its border to non-essential travel anytime soon.
The Canada-US border is currently closed to non-essential travel until at least 21 July. That date is likely to be extended as it draws closer.
03:07 – US Retains International Travel Restriction
In the face of intense pressure from the travel industry and warnings of "dire economic consequences," the Biden administration has no immediate plans to lift any international travel restrictions amid the COVID-19 pandemic, according to a White House official.
The statement comes one month after the administration launched interagency working groups with the European Union, United Kingdom, Canada and Mexico to examine how to best lift restrictions and ultimately resume free-flowing travel. "While these groups have met a number of times, there are further discussions to be had before we can announce any next steps on travel reopening with any country," the official said.
Earlier this week, a coalition of at least two dozen travel industry associations came together to develop a blueprint for reopening the US to international travel that identifies policy principles to quickly welcome foreign tourists back to the US without sacrificing health and safety.
If you're still unsure about your application, let us help you out!
👉https://immigrationandmigration.com/schengen-visas/
✈ Read the full article at
==========================
✈ Apply for your Schengen Visa at https://immigrationandmigration.com/schengen-visas to get your Schengen Visa!
==========================
Check out the offers and discounts from:
Airport Transfers – https://iam.ontraport.com/c/s/j9Q/P/U/jvT/P/6oTxO3/Uz8tXktnsh/P/P/P
Holidays – https://iam.ontraport.com/c/s/j9Q/P/j/jvi/P/6oTxO3/vof8Cu3AQ4/P/P/P
Flights, Hotels Etc – https://iam.ontraport.com/c/s/j9Q/P/5/jvo/P/6oTxO3/vjtlp51A5x/P/P/P
Things to Do When You Get There – https://iam.ontraport.com/c/s/j9Q/P/r/jvM/P/6oTxO3/sALWj2h37D/P/P/P
And because of the pandemic, don't forget to get your travel insurance https://immigrationandmigration.com/travel-insurance-amid-coronavirus/ , which will cover you for flight disruptions and pandemic related matters https://iam.ontraport.com/tl/400 .
==========================
✈ Find us on social media:
. Facebook: http://iam.re/iamfb​
. Instagram: http://iam.re/iamig​
. Twitter: http://iam.re/iamtw​
. Linkedin: http://iam.re/iamli​
. Pinterest: http://iam.re/iampin
-~-~~-~~~-~~-~-
Check out our latest video: "Schengen Visa Types"

-~-~~-~~~-~~-~-
#SchengenVisa
* Some of our content may contain affiliate links. If you use these links to buy something we may earn a commission.