EU Now Accepts COVID Passport From Third Countries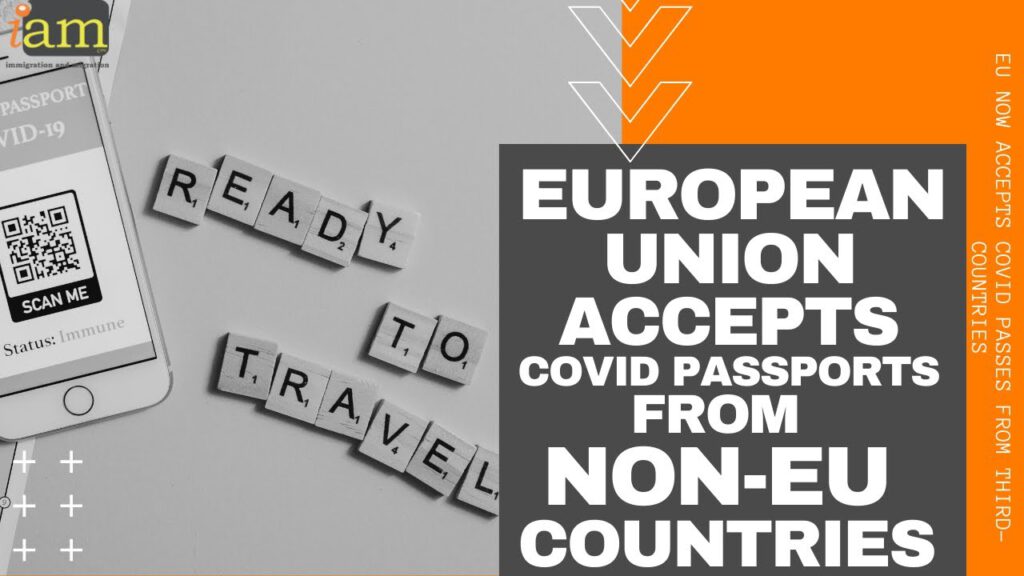 EU Now Accepts COVID Passport From Third Countries
✈ In this video:
EU Now Accepts COVID Passport From Third Countries
Several countries have now opened for international travel for non-essential purposes, however, with the threat of the different variants of coronavirus, countries are still cautiously welcoming travellers.
The European Union (EU) has advocated for the use of the EU Digital
Covid Certificate (EUDCC) to restore freedom of travel throughout member states and allow safe cross border travel.
Although each member state has its own version of the "Covid Passport", they are connected to one gateway which is universally recognised
As of 19 August, the EU Commission announced that it has begun accepting COVID certificates issued by North Macedonia, Turkey and Ukraine.
The three countries are now connected to the EU system and their passes will be accepted under the same conditions as the EU Digital COVID Certificate from 20 August 2021.
Travellers from the bloc will also be accepted in North Macedonia, Turkey, and Ukraine if they carry the EU certificate.
The digital pass states that citizens have been fully vaccinated against COVID-19, have tested negative for the virus, or are recovering from infection.
The move by the European Commission to adopt the three equivalence decisions aims to facilitate safe travel between the EU and its neighbouring countries.
I am pleased to see that the list of countries implementing a system based on the EU Digital COVID Certificate
is growing steadily and we are setting standards internationally – EU Commissioner for Justice, Didier Reynders.
This will help to facilitate safe travel, also beyond the borders of our Union EU Commissioner for Justice, Didier Reynders.
Vaccine Hurdles
The announcement could however present hurdles related to COVID-19 vaccines that are not recognised by the EU.
So far the bloc has only approved four jabs for use, those produced by Pfizer/BioNTech, AstraZeneca, Moderna, and Johnson & Johnson, but member states can choose to accept others.
Ukraine, Turkey, and North Macedonia have all also recognised China's Sinovac jab, while the latter two also administer another Chinese one, from Sinopharm, as well as Russia's Sputnik V.
The EU Commissioner for Neighbourhood and Enlargement Olivér Várhelyi stressed that the support of neighbouring countries was essential to progression during the coronavirus pandemic.
As we fight the pandemic together, our partners are also an integral part of opening up safely together — Várhelyi
I welcome Ukraine, North Macedonia, and Turkey in our Digital COVID Certificate system
and look forward to more of our neighbours connecting soon.
The EU already has an equivalence agreement with non-member state Switzerland.
Do you have access to EU Digital Covid Certificate? What are your thoughts on getting a universal system for the Covid passport?
Talk to us in the comment section below.
If you're still unsure about your application, let us help you out!
👉https://immigrationandmigration.com/schengen-visas/
✈ Read the full article at
==========================
✈ Apply for your Schengen Visa at https://immigrationandmigration.com/schengen-visas to get your Schengen Visa!
==========================
Check out the offers and discounts from:
Airport Transfers – https://iam.ontraport.com/c/s/j9Q/P/U/jvT/P/6oTxO3/Uz8tXktnsh/P/P/P
Holidays – https://iam.ontraport.com/c/s/j9Q/P/j/jvi/P/6oTxO3/vof8Cu3AQ4/P/P/P
Flights, Hotels Etc – https://iam.ontraport.com/c/s/j9Q/P/5/jvo/P/6oTxO3/vjtlp51A5x/P/P/P
Things to Do When You Get There – https://iam.ontraport.com/c/s/j9Q/P/r/jvM/P/6oTxO3/sALWj2h37D/P/P/P
And because of the pandemic, don't forget to get your travel insurance https://immigrationandmigration.com/travel-insurance-amid-coronavirus/ , which will cover you for flight disruptions and pandemic related matters https://iam.ontraport.com/tl/400 .
==========================
✈ Find us on social media:
. Facebook: http://iam.re/iamfb​
. Instagram: http://iam.re/iamig​
. Twitter: http://iam.re/iamtw​
. Linkedin: http://iam.re/iamli​
. Pinterest: http://iam.re/iampin
-~-~~-~~~-~~-~-
Check out our latest video: "Schengen Visa Types"

-~-~~-~~~-~~-~-
#SchengenVisa #EUDigitalCovidCertificate
* Some of our content may contain affiliate links. If you use these links to buy something we may earn a commission.