Europe Opens for Vaccinated Tourists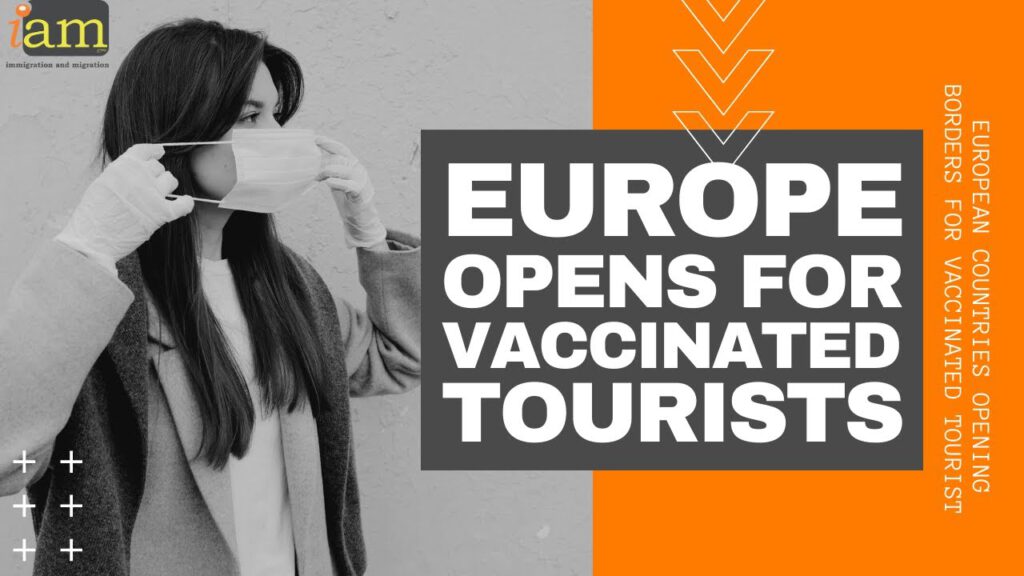 Europe Opens for Vaccinated Tourists
Europe Opening For Travel & Tourism Vaccines Being Used as Way Out of Pandemic Lockdowns
European Countries Opening Borders for Vaccinated Tourist
✈ In this video:
00:00- Europe Opens for Vaccinated Tourists
0:53 – European Countries Opening Borders for Vaccinated Tourist
As news that people have been receiving vaccinations around the world, the travel industry is eagerly waiting for an explosion of domestic and international travel.
Many countries are desperate to reopen their borders for non-essential travel and start rebuilding their economies that have been ravaged by the pandemic.
There is a growing list of countries planning to open borders and allow entry of foreign tourists vaccinated against COVID-19.
Several European countries are now introducing exemptions for travellers who hold a vaccine certificate.
This could inspire confidence, ease travel and boost domestic and international tourism
Being vaccinated for Covid-19 does not ensure protection for the traveller and vaccinated tourists should still wear a mask and follow the guidelines to prevent unknowingly spreading the virus.
01:52 – Romania Lifts Travel Restrictions For Travellers that Have been Vaccinated
Citing economic reasons for opening up to vaccinated visitors, Romania has lifted all travel restrictions for tourists who have been vaccinated within the EU.
The country's National Committee for Emergency Situations (CNSU) said that people coming from countries or areas of high risk or who have come into direct contact with someone who's tested positive for COVID-19, are exempt from quarantine measures if they are fully vaccinated.
The CNSU said this decision was reached based on a downward trend in infections in Romania.
It added that there is a "need to create the necessary socio-economic conditions" to benefit the national economy.
Previously, all incoming travellers had to quarantine for 14 days but a recent announcement by Romanian authorities states that travellers who have been vaccinated against Covid-19 will bypass the quarantine.
Travellers will need to wait for a minimum of 10 days after their second shot of the Covid-19 vaccine before travelling to Romania.
03:07 – Cyprus Opens Borders to Vaccinated Travellers
Cyprus has announced that inbound travelLers who have been vaccinated for Covid-19 will be exempt from quarantine and Covid testing as of March 2021.
Transport Minister Yiannis Karousos stated that as of 1st March 2021, Cyprus is planning to reopen for vaccinated travellers without restrictions.
03:48 – Iceland Allows Travel With a Vaccine
The government of Iceland has announced that all travellers in the EU and approved third party countries who have been vaccinated against Covid-19 will have restriction-free entry beginning on 1st May 2021.
Travellers who present an international certificate of vaccination will not need to undergo testing or quarantine measures.
04:22 – Poland allows Travel to Travellers that have been Vaccinated
The Polish government has announced that all travellers coming from approved countries who have been vaccinated for Covid-19 will be exempt from the mandatory 10- day quarantine.
Vaccinated travellers will need to present proof of an international certificate of the vaccine.
04:47 – European Countries To Follow Suit with Allowing Travel with a Vaccine
Government officials in both Denmark and Greece are discussing plans to loosen restrictions for travellers that have been vaccinated.
Reportedly, Estonia and Spain are also expressing interest in allowing vaccinated travellers to enter their respective territories without restrictions
What are your thoughts on this issue?
Do you feel confident to travel once most of the population is vaccinated?
talk to us in the comment section below
If you need assistance with a visa to Europe, the UK, or the US, including help with securing your travel arrangements, IaM can help.
For visa advice, contact your IAM visa coordinator.
If you're still unsure about your application, let us help you out!
👉https://immigrationandmigration.com/schengen-visas/
✈ Read the full article at
==========================
✈ Apply for your Schengen Visa at https://immigrationandmigration.com/schengen-visas to get your Schengen Visa!
==========================
✈ Find us on social media:
. Facebook: https://www.facebook.com/immigrationandmigration/
. Instagram: https://www.instagram.com/iam.uk/
. Twitter: https://twitter.com/iam_immigration
. Linkedin: https://www.linkedin.com/company/iam-immigration
. Pinterest: https://www.pinterest.com/iam_immigration/
-~-~~-~~~-~~-~-
Check out our latest video: "Schengen Visa Types"

-~-~~-~~~-~~-~-
#EuropeOpensForVaccinatedTourists #EuropeOpensForTourism #SchengenVisa