Europe Opens Internal Borders to Vaccinated: Europe Cross Border Border Travels Resume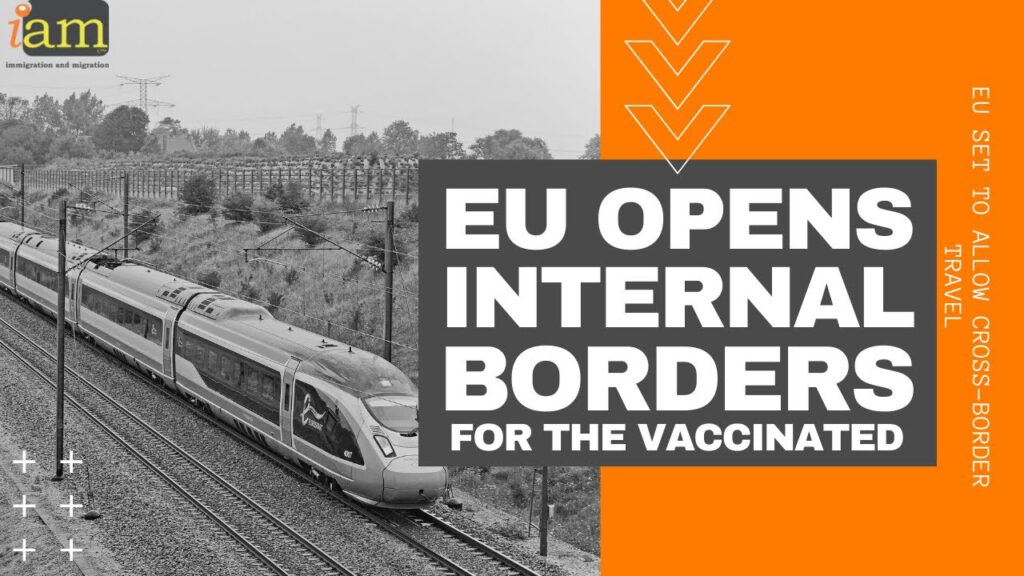 Europe Opens Internal Borders to Vaccinated: Europe Cross Border Border Travels Resume
EU Set To Allow Cross-Border Travel
EU Reopens Free Movement – Cross Border Travels to Resume
EU Set To Allow Cross-Border Travel – Travel to As many EU Countries as you want
Vaccinated Travellers Free to Travel
Vaccinated Travellers Free to Travel Across Europe
✈ In this video:
0:00 – Europe Opens Internal Borders to Vaccinated: Europe Cross Border Border Travels Resume
01:37 – EU Set To Allow Cross-Border Travel
Travellers within the EU bloc are undoubtedly excited at the news that several European countries are easing their restrictions and opening up their borders to more travellers.
02:17 – Cross Border Travel
Europe has been the top destination for many people and with tourists being blocked from travelling for so long, those who visit Europe are likely to want to go to more than one destination.
03:52 – EU's Traffic Light System
As the EU's doors reopen to the outside world, a traffic light system will be used to highlight the safety of or threat level in various regions.
Here are the criteria per colour category.
GREEN, ORANGE, RED, DARK RED, GREY
Travellers coming from a green zone should face no restrictions.
However, those coming from orange and red zones may face testing or quarantine requirements, whilst travel from a dark red zone is strongly discouraged.
Children above the age of 12 may need to be tested, but will only need to quarantine if an accompanying adult had to.
05:29 – EU Digital Covid Certificate
Last week, the EU signed a regulation that effective on 1 July the Member States are obliged to start issuing the EU Digital Covid certificates within six weeks if they haven't done so by then
Twelve EU member countries have already begun using the system, which went live late last month, while another 16 have completed testing and are ready to implement it at any time.
The EU Digital COVID Certificate is essentially a free mobile app that supplies on-demand either digital proof of a person's vaccination against COVID-19, recent negative test results or certification that they've previously been clinically diagnosed and recovered from the virus.
A dozen member nations are already using the pass:
Austria, Bulgaria, Croatia
Czechia, Denmark, Estonia
Germany, Greece, Latvia
Lithuania, Poland, Spain
Another 12 EU members, along with four non-EU countries that are part of the Schengen Area, have also finished with testing and are ready to launch the app
READY TO LAUNCH APP: Belgium, Cyprus, France
Iceland, Ireland, Italy, Liechtenstein
Luxembourg, Netherlands
Norway, Portugal, Romania
Slovakia, Slovenia
Sweden, Switzerland
Finland, Hungary and Malta are currently lingering behind, still in the testing phase.
What are your plans for the summer? Talk to us in the comment section below.
If you have plans to travel, check out the deals we have found in the description box below
If you need assistance with a visa to Europe, the UK, or the US, including help with securing your travel arrangements, IaM can help.
For visa advice, contact your IAM visa coordinator.
If you're still unsure about your application, let us help you out!
👉https://immigrationandmigration.com/schengen-visas/
✈ Read the full article at
==========================
✈ Apply for your Schengen Visa at https://immigrationandmigration.com/schengen-visas to get your Schengen Visa!
==========================
Check out the offers and discounts from:
Airport Transfers – https://iam.ontraport.com/c/s/j9Q/P/U/jvT/P/6oTxO3/Uz8tXktnsh/P/P/P
Holidays – https://iam.ontraport.com/c/s/j9Q/P/j/jvi/P/6oTxO3/vof8Cu3AQ4/P/P/P
Flights, Hotels Etc – https://iam.ontraport.com/c/s/j9Q/P/5/jvo/P/6oTxO3/vjtlp51A5x/P/P/P
Things to Do When You Get There – https://iam.ontraport.com/c/s/j9Q/P/r/jvM/P/6oTxO3/sALWj2h37D/P/P/P
And because of the pandemic, don't forget to get your travel insurance https://immigrationandmigration.com/travel-insurance-amid-coronavirus/ , which will cover you for flight disruptions and pandemic related matters https://iam.ontraport.com/tl/400 .
==========================
✈ Find us on social media:
. Facebook: http://iam.re/iamfb​
. Instagram: http://iam.re/iamig​
. Twitter: http://iam.re/iamtw​
. Linkedin: http://iam.re/iamli​
. Pinterest: http://iam.re/iampin
-~-~~-~~~-~~-~-
Check out our latest video: "Schengen Visa Types"

-~-~~-~~~-~~-~-
#EuropeOpensBorders #EuropeOpensCrossBorders #EuropeFreeMovement #EuropeTravel #SchengenVisa
* Some of our content may contain affiliate links. If you use these links to buy something we may earn a commission.