France Reopens International Travel: France Travel Traffic Light System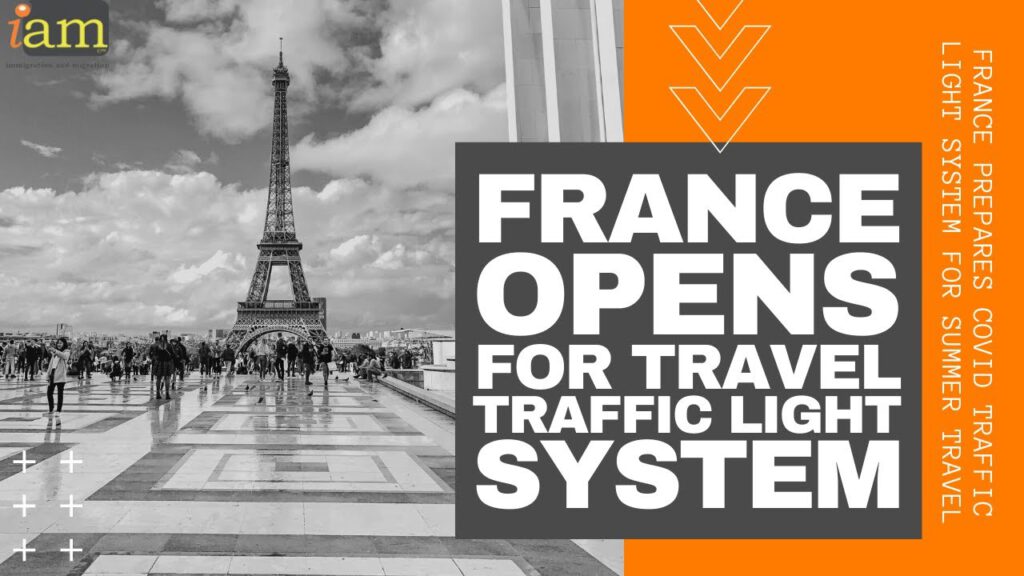 France Reopens International Travel: France Travel Traffic Light System
France Prepares Covid Traffic Light System For Travel
France prepares Covid traffic light system for travel this summer
France Opens For Travel Again – International Travel to Resume
France Implements traffic light system – International Travel With Vaccines, Tests & Quarantines
✈ In this video:
0:00 – France Reopens International Travel: France Travel Traffic Light System
01:32 – France prepares Covid traffic light system for travel this summer
France is to classify countries into three colour-coded categories for foreign travel, with the colour determining the quarantine measures and other travel restrictions for countries outside the European Union.
The "traffic light" system is one of the steps the French government is taking to ensure a safe reopening this summer when it expects international travel to pick up again.
02:17 – France's Travel System
The French tourism minister Jean-Baptiste Lemoyne did not clarify the rules for each colour group, nor did he mention specific countries subject to either colour, other than hinting that "there are only five or six" 'green' countries at the moment.
03:02 – France Current Travel Rules
Travel for most non-EU countries at present is only possible for essential reasons, although this restriction will be lifted from June.
Only travellers from the following third countries are allowed to enter France.
* Australia
* Israel * Japan
* New Zealand
* Singapore
* South Korea
* The United Kingdom
All non-EU arrivals need to present a negative Covid test and a sworn declaration at the border and are asked to observe a voluntary quarantine.
03:42 – France's Red List of Countries
The French government announced the extension of its 'red list' of countries in which all arrivals are subject to a compulsory, 10 days police-enforced quarantine. Only essential travel is allowed to enter France for travellers from the following countries:
* Argentina
* Bangladesh
* Brazil * Chile
* India
* Nepal
* Pakistan
* Qatar
* South Africa
* Sri Lanka *Turkey
* The United Arab Emirates
Arrivals from these countries need to present negative PCR test results and a sworn declaration that they do not have known contact with someone COVID-19 in the 14 days before travel to France.
Travellers from other countries not on the green and red list cannot enter France unless they are exempted from the travel restrictions.
What are your thoughts on this issue? Should all countries adopt the traffic light system for travel? Talk to us in the comment section below.
Check out the deals we have found in the description box below and tell us your travel plans.
If you need assistance with a visa to Europe, the UK, or the US, including help with securing your travel arrangements, IaM can help.
For visa advice, contact your IAM visa coordinator.
If you're still unsure about your application, let us help you out!
👉https://immigrationandmigration.com/schengen-visas/
✈ Read the full article at
France Prepares COVID Traffic Light System for Summer Travel
✈ Keep up with France Schengen Visa information at
https://immigrationandmigration.com/category/schengen-visas/france/
✈ Keep up with Schengen Visa News & Information at
https://immigrationandmigration.com/category/news-and-events/schengen-visa-news/
==========================
✈ Apply for your Schengen Visa at https://immigrationandmigration.com/schengen-visas to get your Schengen Visa!
==========================
Check out the offers and discounts from:
Airport Transfers – https://iam.ontraport.com/c/s/j9Q/P/U/jvT/P/6oTxO3/Uz8tXktnsh/P/P/P
Holidays – https://iam.ontraport.com/c/s/j9Q/P/j/jvi/P/6oTxO3/vof8Cu3AQ4/P/P/P
Flights, Hotels Etc – https://iam.ontraport.com/c/s/j9Q/P/5/jvo/P/6oTxO3/vjtlp51A5x/P/P/P
Things to Do When You Get There – https://iam.ontraport.com/c/s/j9Q/P/r/jvM/P/6oTxO3/sALWj2h37D/P/P/P
And because of the pandemic, don't forget to get your travel insurance https://immigrationandmigration.com/travel-insurance-amid-coronavirus/ , which will cover you for flight disruptions and pandemic related matters https://iam.ontraport.com/tl/400 .
==========================
✈ Find us on social media:
. Facebook: http://iam.re/iamfb​
. Instagram: http://iam.re/iamig​
. Twitter: http://iam.re/iamtw​
. Linkedin: http://iam.re/iamli​
. Pinterest: http://iam.re/iampin
-~-~~-~~~-~~-~-
Check out our latest video: "Schengen Visa Types"

-~-~~-~~~-~~-~-
#FranceReOpensBorders #FranceTrafficLightSystem #TrafficLightTravel #SchengenVisa
* Some of our content may contain affiliate links. If you use these links to buy something we may earn a commission.