France Requires Mandatory COVID 19 Test for All: FRANCE TRAVEL UPDATE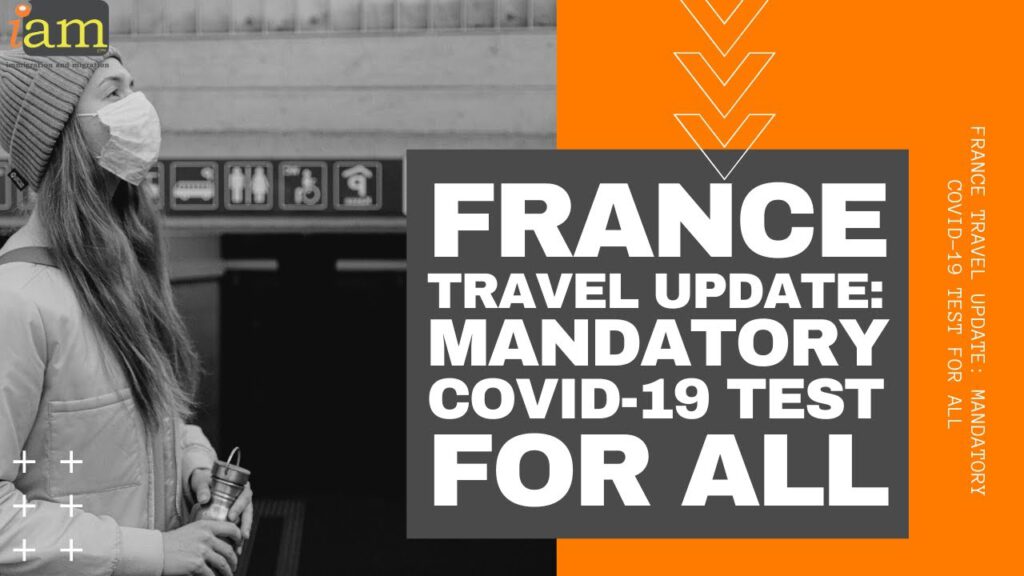 France Requires Mandatory COVID 19 Test for All: France Travel Update
Mandatory covid-19 test for all arrivals to France
French Third National Lockdown on the Horizon – France Has so far Resisted Third National Lockdown
France's New Travel Restrictions – Entry Requirements & Restrictions To Run with Curfew
✈ In this video:
0:00 – France Requires Mandatory COVID 19 Test for All: France Travel Update
0:57 – France Travel Update: mandatory test to all
As the coronavirus pandemic continues to cast havoc to travel, new border controls went into force in France on January 24th, as part of a massive effort to contain the spread of Covid-19 and avoid another nationwide lockdown.
The increasing rates of daily infections, hospitalisations and coronavirus related deaths fuelled fears that France may need another full lockdown, which would be the third since the pandemic started, inflicting yet more devastation on the economy and daily lives.
French officials have so far resisted implementing a third national lockdown, preferring an overnight curfew system which allows schools to stay open.
France went into lockdown twice in 2020, the first time between March and May and then October to December.
01:52 – France Entry Requirements
Starting 24th January, arrivals to France from European Union countries by air or sea must be able to produce a negative PCR test result obtained in
the previous 72 hours.
The requirement had already applied to non-EU arrivals since mid-January.
The news came as a surprise, as it includes EU travellers as well as international travellers.
Travellers from the EU had escaped the worst of the Covid-19 restrictions until now, but the new rule will include travellers from any country.
The French government has clarified that EU travellers entering France by land, including cross-border workers, will not need a negative test.
Paris's main international airport Roissy-Charles-de-Gaulle has set up testing centres in a terminal dedicated to intra-EU flights to allow arriving passengers who failed to obtain a test in their country of origin to get one before passing immigration
Aside from the negative PCR test, all arrivals in France are also required to undergo a compulsory 7-day quarantine and will be tested also at the end of the isolation period.
03:07 – Entry Restrictions
As of 20th December, France restricted travel from the UK.
Travel restrictions apply to all air, car, ferry and train passengers.
Travellers from Australia, Japan, New Zealand, Rwanda, Singapore, South Korea, Thailand can enter without restrictions.
From any other third-country, you can only enter France if your journey meets one of the criteria for exceptions.
Third-country arrivals in France, including the UK, are required to fill out an exempted international movement certificate for travel to metropolitan France and a sworn declaration that you do not have COVID-19 symptoms.
These documents are available at the Ministry of the Interior's website, check our blog for the link
Travellers from within the EU bloc can enter France as long as you comply with the entry requirement.
04:07 – French Curfew
France has implemented strict rules in an effort to halt the spread of the virus.
In metropolitan France, there is a curfew from 6 PM to 6 AM, where people may only leave their homes for essential purposes and with an exemption certificate.
Those who don't follow the rules face a fine.
What are your thoughts on the entry requirements for all travellers? comment below.
If you need assistance with a visa to Europe, the UK or the US, including help with securing your travel arrangements, IaM can help.
For visa advice, contact your IAM visa coordinator.
If you're still unsure about your application, let us help you out!
👉https://immigrationandmigration.com/schengen-visas/
✈ Read the full article at
✈ Keep up with France Schengen Visa information at
https://immigrationandmigration.com/category/schengen-visas/france/
✈ Keep up with Schengen Visa News & Information at
https://immigrationandmigration.com/category/news-and-events/schengen-visa-news/
==========================
✈ Apply for your Schengen Visa at https://immigrationandmigration.com/schengen-visas to get your Schengen Visa!
==========================
✈ Find us on social media:
. Facebook: https://www.facebook.com/immigrationandmigration/
. Instagram: https://www.instagram.com/iam.uk/
. Twitter: https://twitter.com/iam_immigration
. Linkedin: https://www.linkedin.com/company/iam-immigration
. Pinterest: https://www.pinterest.com/iam_immigration/
-~-~~-~~~-~~-~-
Check out our latest video: "Schengen Visa Types"

-~-~~-~~~-~~-~-
#FranceRequiresNegativeCovidTest #FranceTravelUpdate #SchengenVisa