Germany Easing Travel Restrictions For UK And Others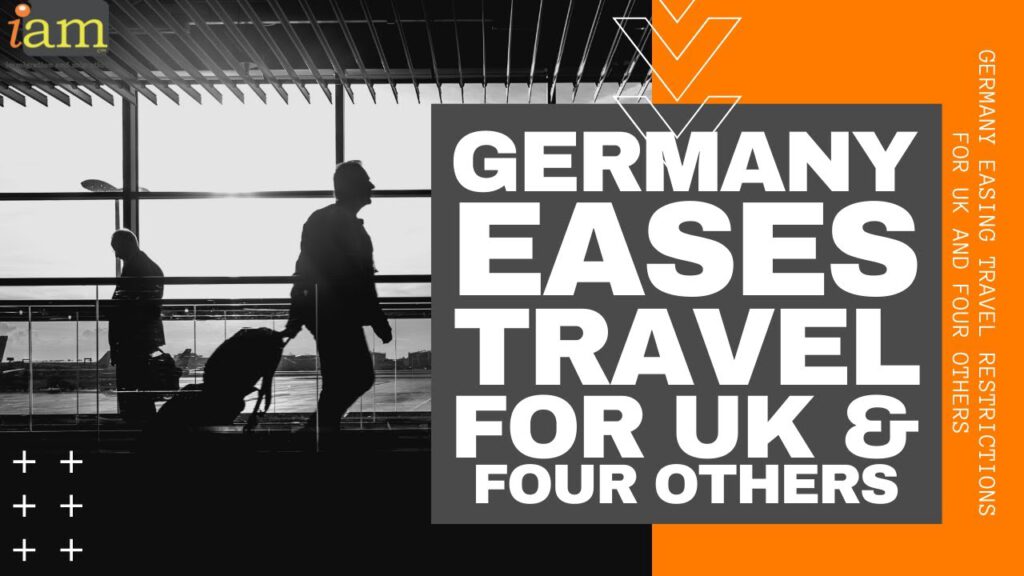 Germany Easing Travel Restrictions For UK And Others
✈ In this video:
0:00 – Germany Easing Travel Restrictions For UK And Others
01:42 – Germany Opens to UK travellers
The German government will soften coronavirus travel rules for travellers from Britain along with four other countries.
The restrictions for the UK, along with Portugal, Russia, India and Nepal, will be relaxed from 7 July.
The plan, which kicks in on 7 July, comes after talks between British Prime Minister Boris Johnson and German Chancellor Angela Merkel.
02:57 – Changes to German Travel List
Officials in Berlin had feared that British nationals could spread the more contagious variant known as delta variant, however, now that new variant is also present in continental Europe, Germany has downgraded the UK to a "high-incidence area" for coronavirus infections.
It is the second-highest designation under the German government's COVID-19 travel rules.
Eleven countries remain on Germany's "virus variant area" list.
They include:
Botswana, Brazil, Eswatini, Lesotho, Malawi, Mozambique, Namibia, Zambia, Zimbabwe, South Africa and Uruguay.
Only German nationals and permanent residents travelling from these countries are allowed to enter Germany.
All travellers from virus variant areas are mandated to self-isolate for 14 days regardless of their personal COVID status.
04:07 – Travel from Germany to the UK
Germany is currently on the UK's amber list for international travel, which means that people returning from Germany to the UK must self-isolate for 10 days on arrival.
Travellers must also take a pre-departure Covid test, as well as a PCR test on or before day two and on or after day eight.
However, UK's travel traffic light system is due to be reviewed later this week, with expectations that people who have been fully vaccinated against coronavirus will have the freedom to travel quarantine-free.
A date has not yet been confirmed for the announcement, but Downing Street stated on 5 July that more information on travel rules will be released by the Transport Secretary in the coming days.
Do you have plans to travel to Germany? Talk to us in the comment section below.
If you have plans to travel, check out the deals we have found in the description box below
If you need assistance with a visa to Europe, the UK, or the US, including help with securing your travel arrangements, IaM can help.
For visa advice, contact your IAM visa coordinator.
If you're still unsure about your application, let us help you out!
👉https://immigrationandmigration.com/schengen-visas/
✈ Read the full article at
==========================
✈ Apply for your Schengen Visa at https://immigrationandmigration.com/schengen-visas to get your Schengen Visa!
==========================
Check out the offers and discounts from:
Airport Transfers – https://iam.ontraport.com/c/s/j9Q/P/U/jvT/P/6oTxO3/Uz8tXktnsh/P/P/P
Holidays – https://iam.ontraport.com/c/s/j9Q/P/j/jvi/P/6oTxO3/vof8Cu3AQ4/P/P/P
Flights, Hotels Etc – https://iam.ontraport.com/c/s/j9Q/P/5/jvo/P/6oTxO3/vjtlp51A5x/P/P/P
Things to Do When You Get There – https://iam.ontraport.com/c/s/j9Q/P/r/jvM/P/6oTxO3/sALWj2h37D/P/P/P
And because of the pandemic, don't forget to get your travel insurance https://immigrationandmigration.com/travel-insurance-amid-coronavirus/ , which will cover you for flight disruptions and pandemic related matters https://iam.ontraport.com/tl/400 .
==========================
✈ Find us on social media:
. Facebook: http://iam.re/iamfb​
. Instagram: http://iam.re/iamig​
. Twitter: http://iam.re/iamtw​
. Linkedin: http://iam.re/iamli​
. Pinterest: http://iam.re/iampin
-~-~~-~~~-~~-~-
Check out our latest video: "Schengen Visa Types"

-~-~~-~~~-~~-~-
#GermanyOpensToUK #GermanyResumesTravel #GermanyTravelrestrictions #SchengenVisa
* Some of our content may contain affiliate links. If you use these links to buy something we may earn a commission.