Germany Travel Updates: Travel & Quarantine Guidelines for October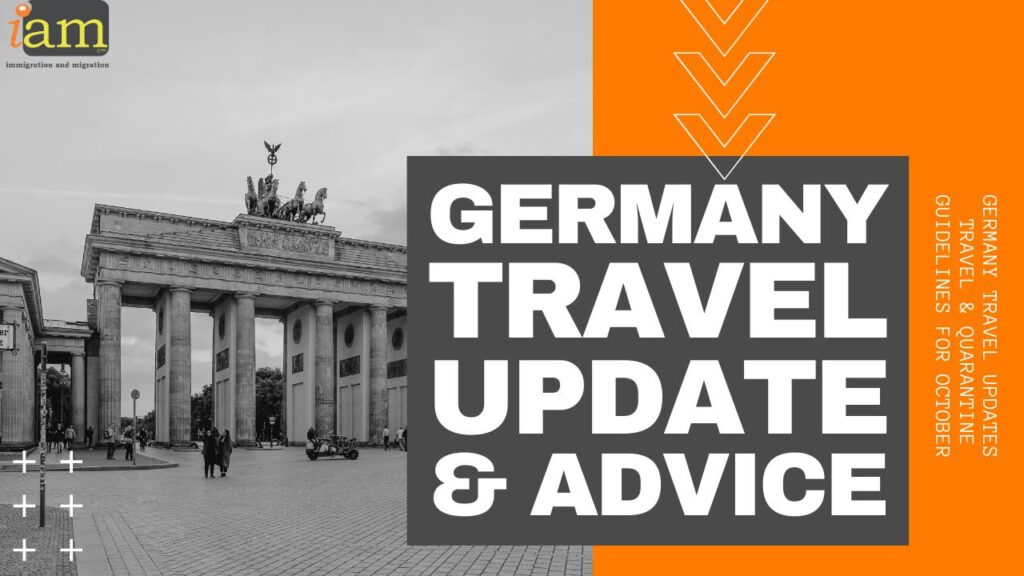 Germany Travel Updates Travel & Quarantine Guidelines for October
Germany Travel And Quarantine Guidelines In October
Germany Travel Updates
Travel & Quarantine guidelines for October
✈ In this video:
0:00 – Germany Travel Updates Travel & Quarantine Guidelines for October
0:13 – German Travel and Quarantine guidelines in October
Check out the things you need to be aware of when travelling to Germany this October.
0:49 – NEW Travel WARNING CATEGORIES
Germany has now lifted its blanket warning against tourist travel for more than 160 countries outside the EU and Schengen zone.
The warning is not a travel ban but it is intended to deter tourist to travel and enables vacationers to cancel their bookings free of charge.
Countries are now split into these three categories:
TRAVEL WARNING: For countries that exceed the limit of 50 new infections per 100,000 inhabitants in the last seven days.
TRAVEL WARNING LITE: Travel is discouraged regardless of the infection rate. This is because there are still restrictions upon entry
This group of countries includes Thailand where there are hardly any coronavirus infections but foreign tourists have to quarantine.
NO WARNING: The bottom line is that not many countries will be in this category, at least for now. In the EU only nine of Germany's 26 partner countries now have no risk area and no travel warnings.
01:45 – Germany Quarantine rules and changes ahead
Currently, all travellers arriving from risk areas to Germany must be tested for Covid-19 and self-isolate until the results are available.
The test can also be carried out abroad before arrival but must not be older than 48 hours.
Returnees without a negative test result must remain in domestic quarantine for 14 days. Quarantine period can only be shortened if negative test results are obtained.
If the test result is positive, the quarantine remains in place, even if no symptoms appear. This also applies to the people with whom the affected person has had close contact Compliance with the quarantine is monitored by the responsible health authority.
Germany is in the process of changing its rules on quarantine for people returning from risk areas.
The obligation to test is to be replaced by a mandatory 14-day self-isolation, which can be ended by a negative test result on the fifth day after return at the earliest.
It is not yet totally clear as to when the new rules will come into force as some areas are already carrying out this system, while others want to implement it by October 15th. Some other states will move to this system by November.
03:11 – Additional High-Risk areas as of 30th September:
Belgium: the entire country
Estonia: Ida-Viru region
France: the whole continental France except the Grand-Est region
Ireland: the Border region
Iceland: the entire country
Lithuania: the Šiaulių district
Romania: the districts of Alba and Cluj
Slovenia: the Koroška
Hungary: The counties of Csongrád – Csanád, Vas and Pest
United Kingdom: the nations of Northern Ireland and Wales
03:29 – Removed from Germany's high-risk list within the last 14 days
* Sri Lanka * Cuba * Barbados
* Saint Lucia *Dominica *Grenada *Saint Kitts and Nevis *Saint Vincent and the Grenadines
*Antigua and Barbuda *Seychelles
*Croatia: Sibensko-Kninska and Zadarska
*Switzerland: Canton of Friborg
Travellers should visit the Foreign Office website for up-to-date information.
Do you plan to travel this month? Comment below
If you need assistance with visa to Europe or the UK, including help with securing your travel arrangements, IaM can help.
For visa advice, contact your IAM coordinator
If you're still unsure about your application, let us help you out!
👉https://immigrationandmigration.com/schengen-visas/
✈ Read the full article at
https://immigrationandmigration.com/blog
✈ Keep up with Schengen Visa information to Germany at
https://immigrationandmigration.com/category/schengen-visas/germany/
✈ Keep up with Schengen Visa News & Information at
https://immigrationandmigration.com/category/news-and-events/schengen-visa-news/
==========================
✈ Apply for your Schengen Visa to Germany at https://immigrationandmigration.com/schengen-visas to get your Schengen Visa!
==========================
✈ Find us on social media:
. Facebook: https://www.facebook.com/immigrationandmigration/
. Instagram: https://www.instagram.com/iam.uk/
. Twitter: https://twitter.com/iam_immigration
. Linkedin: https://www.linkedin.com/company/iam-immigration
. Pinterest: https://www.pinterest.com/iam_immigration/
-~-~~-~~~-~~-~-
Check out our latest video: "Schengen Visa Types"

-~-~~-~~~-~~-~-
#SchengenVisa #GermanyTravelAdvice #GermanyVisa