Portugal Eases Restriction for Unvaccinated UK Tourists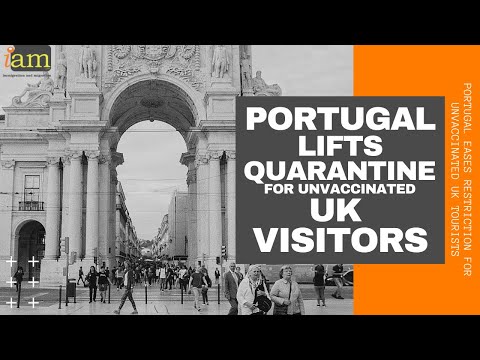 Portugal Eases Restriction for Unvaccinated UK Tourists
✈ In this video:
0:00 Portugal Eases Restriction for Unvaccinated UK Tourists
1:27 Portugal Eases Restriction for Unvaccinated UK Tourists
Portugal has taken a step towards facilitating wider travel to the country by easing its quarantine restrictions for travelers from certain countries.
On top of this, Portugal has also so far resisted following the EU's recommendation regarding implementing restrictions on American travellers.
Under Portugal's previous entry restrictions, whilst vaccinated travellers could enter without having to quarantine providing they had proof of being vaccinated more than 14 days
ago,unvaccinated travellers had to undergo quarantine for
a period of 14 days.
This made traveling to Portugal an unrealistic endeavor for unvaccinated travellers, with many undoubtedly seeking alternative destinations for their vacations as a result.
However, the recent updates have made it much easier for some unvaccinated travellers to visit.
2:35 Portugal's New Entry Rule for the Unvaccinated
Under the new easing of quarantine restrictions, unvaccinated
British nationals and residents arriving in Portugal will no longer have to quarantine.
Other nations included in the new rule are Australia, Brazil, Canada, Japan, New Zealand, Singapore, South Korea, Saudi Arabia, and the United States.
Unvaccinated travellers from these countries will instead need to provide an RT-PCR test or similar Nucleic Acid Amplification Test taken within 72 hours of boarding or a Rapid Antigen Test taken within 48 hours.
Brazil, a nation that has been banned from visiting Portugal for almost 18 months, will now be able to enter with the above testing rules.
The updated quarantine restrictions came into effect on 1 September, and are set to last until at least 16 September.
It is important to note that the removal of quarantine for travellers heading to Portugal applies to those entering the country via air and sea only, with other methods of entry such as by road or rail carrying separate restrictions.
those wishing to visit either the Azores or Madeira, they must take a test upon arrival before heading into prophylactic isolation whilst waiting for the test result, which takes between 12 and 24 hours.
Once the test comes back negative, they will be able to explore the islands freely.
The easing of quarantine restrictions has come about as a result of Portugal's high vaccination rate.
Around 84% of the country has received one dose of the vaccine, with 73% of the population fully vaccinated against Covid-19.
Do you plan to travel to Portugal? talk to us in the comment section below.
If you're still unsure about your application, let us help you out!
👉https://immigrationandmigration.com/schengen-visas/
✈ Read the full article at
==========================
✈ Apply for your Schengen Visa at https://immigrationandmigration.com/schengen-visas to get your Schengen Visa!
==========================
Check out the offers and discounts from:
Airport Transfers – https://iam.ontraport.com/c/s/j9Q/P/U/jvT/P/6oTxO3/Uz8tXktnsh/P/P/P
Holidays – https://iam.ontraport.com/c/s/j9Q/P/j/jvi/P/6oTxO3/vof8Cu3AQ4/P/P/P
Flights, Hotels Etc – https://iam.ontraport.com/c/s/j9Q/P/5/jvo/P/6oTxO3/vjtlp51A5x/P/P/P
Things to Do When You Get There – https://iam.ontraport.com/c/s/j9Q/P/r/jvM/P/6oTxO3/sALWj2h37D/P/P/P
And because of the pandemic, don't forget to get your travel insurance https://immigrationandmigration.com/travel-insurance-amid-coronavirus/ , which will cover you for flight disruptions and pandemic related matters https://iam.ontraport.com/tl/400 .
==========================
✈ Find us on social media:
. Facebook: http://iam.re/iamfb​
. Instagram: http://iam.re/iamig​
. Twitter: http://iam.re/iamtw​
. Linkedin: http://iam.re/iamli​
. Pinterest: http://iam.re/iampin
-~-~~-~~~-~~-~-
Check out our latest video: "Schengen Visa Types"

-~-~~-~~~-~~-~-
#SchengenVisa #TravelToPortugal
* Some of our content may contain affiliate links. If you use these links to buy something we may earn a commission.