Returning Residents Visa: Returning to the USA After the US Travel Ban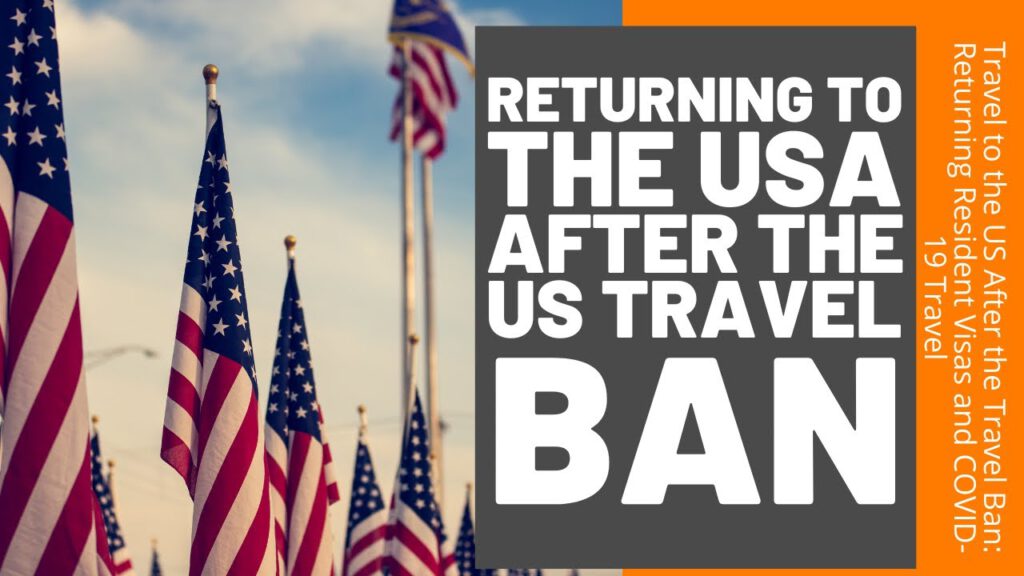 Returning Residents Visa Returning to the USA After the US Travel Ban
US Returning Residents Travel To The US After The Travel Ban
Travel to the US After the Travel Ban: Returning Resident Visas and COVID-19 Travel
With travel restrictions worldwide passing the six months mark, the US, being one of the first countries to instigate a travel ban with its presidential proclamations, have meant that US residents were not able to return to the US for six months.
Lawful Permanent Residents and Conditional Permanent Residents who are stuck abroad due to the coronavirus pandemic are experiencing extended absences from the United States and cannot currently travel back.
✈ In this video:
0:00 – Returning Residents Visa Returning to the USA After the US Travel Ban
The general rule is that, if you are a permanent resident, absences from the United States of between six months to one year may mean that you are questioned by the inspecting officer when you try to re-enter the United States.
If you are out of the country for more than one year, your absence can be more problematic.
If you can't return to the US within the required timeframe, you may need to get a US "returning resident visa" from a U.S. consulate or embassy before you travel back to the Us.
If you have been outside the US for more than a year, or beyond the validity period of a two-year re-entry permit, you may also require a returning resident visa to re-enter the United States and resume permanent residence.
The returning resident visa is intended for LPRs or CPRs who left the United States with the intention of returning but stayed outside the US due to circumstances beyond your control.
01:18 – Qualifying reasons for remaining outside the USA
You must be able to justify your extended absence from the United States due to circumstances "beyond [your] control" and providing sufficient evidence in support of your continuous desire to promptly resume residence in the United States due to strong and continuous financial, employment, family, and social ties to the US.
02:08 – Documents Required for USA Returning Residents Visa
Examples of documents that can help prove your continuous financial, employment, family and social ties could include
Because of the inconsistent availability of visa appointment dates due to the slow reopening of U.S. consulates and embassies worldwide, after closures due to COVID-19, you should plan your visa applications sooner rather than later.
02:51 – USA Returning Residents Visa Application Process
The visa application process is essentially similar to that of other immigrant visa applications and also requires a medical examination.
Therefore, starting your returning residents visa application sooner is wise.
This will help to avoid increasing your time outside the US even further.
What are your thoughts on the US's travel ban and resumption of visa applications?
If you are a person that has been particularly affected by it and have had to stay out of the US all this time, we will like to hear from you.
Comment below.
IaM can help with your visa application to the United States, the UK & other countries
For more information and advice on US immigration, UK immigration law and US visa applications Or If you need any help or assistance please, reach out to your Visa Coordinator at IaM
If you're still unsure about your application, let us help you out!
👉https://immigrationandmigration.com/immigration-consultations/
✈ Read the full article at
Travel to the US After the Travel Ban: Returning Resident Visas and COVID-19 Travel
==========================
✈ Apply for your US Visa at https://immigrationandmigration.com/global-mobility/us-visa-immigration/ to get your visa!
==========================
✈ Find us on social media:
. Facebook: https://www.facebook.com/immigrationandmigration/
. Instagram: https://www.instagram.com/iam.uk/
. Twitter: https://twitter.com/iam_immigration
. Linkedin: https://www.linkedin.com/company/iam-immigration
. Pinterest: https://www.pinterest.com/iam_immigration/
-~-~~-~~~-~~-~-
Check out our latest video: "Schengen Visa Types"

-~-~~-~~~-~~-~-
#USTravelBan #ReturnToUSA #IaM