Spain Opens to US & More Countries | Travelling to Spain: What American Tourists Can Expect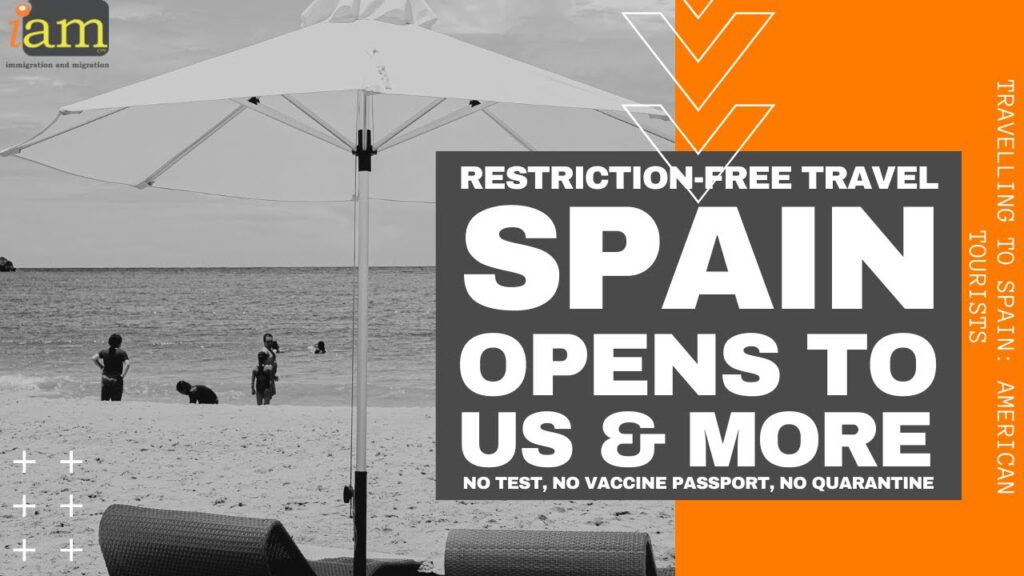 Travelling to Spain: What American Tourists Can Expect
Spain Opens to US & More Countries | Travelling to Spain: What American Tourists Can Expect
✈ In this video:
0:00 – Travelling to Spain: What American Tourists Can Expect
01:27 – Spain Opens to the USA Without Restrictions
As Europe resumes international travel during the pandemic, it's a summer filled with sun, beach, and COVID certificates to ensure a safe summer holiday.
International travellers from the United States now have more options where to go for the summer. If you are planning a trip to Spain, here is what you can expect.
02:07 – Entry Requirement to Spain
Spain, in line with EU recommendations, permits restriction-free entry for people travelling from non-EU countries and regions with good epidemiological situations including travellers from the United States.
Visitors from these places do not need to show proof of testing, vaccination or recovery to enter Spain.
On 24 June, Spain dropped the COVID vaccine mandate requirement for travellers from the US paving the way for all Americans to visit without needing to test or quarantine.
US travellers will have to continue to fill out a health questionnaire, which can be done electronically ahead of their trip.
…
03:12 – COVID Test in Spain returning to the us
The United States currently bans travel from Spain except for US citizens, lawful permanent residents and some exceptional cases.
At this time all air passengers travelling to the US, regardless of vaccination or antibody status, are required to provide a negative pre-departure COVID-19 test result or documentation of recovery. Travellers under 2 year old are exempt.
…
04:17 – COVID Restrictions in Spain
Spain is the world's second-most visited destination and receives 80 million international visitors per year.
When a state of emergency was declared in March 2020 and borders were closed, the tourism sector came to a standstill.
While the threat of the virus is still present, Spain is looking to the future as vaccination rates rise and infections continue to fall.
It ended its state of alarm on 9 May, dropping nationwide curfew and regional travel restrictions but varied local restrictions remain in place across the country's 17 regions.
Before travelling, you should consult the local regulations in the region you are travelling to.
…
If you're still unsure about your application, let us help you out!
👉https://immigrationandmigration.com/schengen-visas/
✈ Read the full article at
https://immigrationandmigration.com/blog
==========================
✈ Apply for your Schengen Visa at https://immigrationandmigration.com/schengen-visas to get your Schengen Visa!
==========================
Check out the offers and discounts from:
Airport Transfers – https://iam.ontraport.com/c/s/j9Q/P/U/jvT/P/6oTxO3/Uz8tXktnsh/P/P/P
Holidays – https://iam.ontraport.com/c/s/j9Q/P/j/jvi/P/6oTxO3/vof8Cu3AQ4/P/P/P
Flights, Hotels Etc – https://iam.ontraport.com/c/s/j9Q/P/5/jvo/P/6oTxO3/vjtlp51A5x/P/P/P
Things to Do When You Get There – https://iam.ontraport.com/c/s/j9Q/P/r/jvM/P/6oTxO3/sALWj2h37D/P/P/P
And because of the pandemic, don't forget to get your travel insurance https://immigrationandmigration.com/travel-insurance-amid-coronavirus/ , which will cover you for flight disruptions and pandemic related matters https://iam.ontraport.com/tl/400 .
==========================
✈ Find us on social media:
. Facebook: http://iam.re/iamfb​
. Instagram: http://iam.re/iamig​
. Twitter: http://iam.re/iamtw​
. Linkedin: http://iam.re/iamli​
. Pinterest: http://iam.re/iampin
-~-~~-~~~-~~-~-
Check out our latest video: "Schengen Visa Types"

-~-~~-~~~-~~-~-
#SpainTravel #SpainOpenstoUSA #SpainOpensToAmericans #SpainOpensToUSTravellers #SchengenVisa
* Some of our content may contain affiliate links. If you use these links to buy something we may earn a commission.