Spain Ready For UK Travellers: When Can We Travel To Spain Again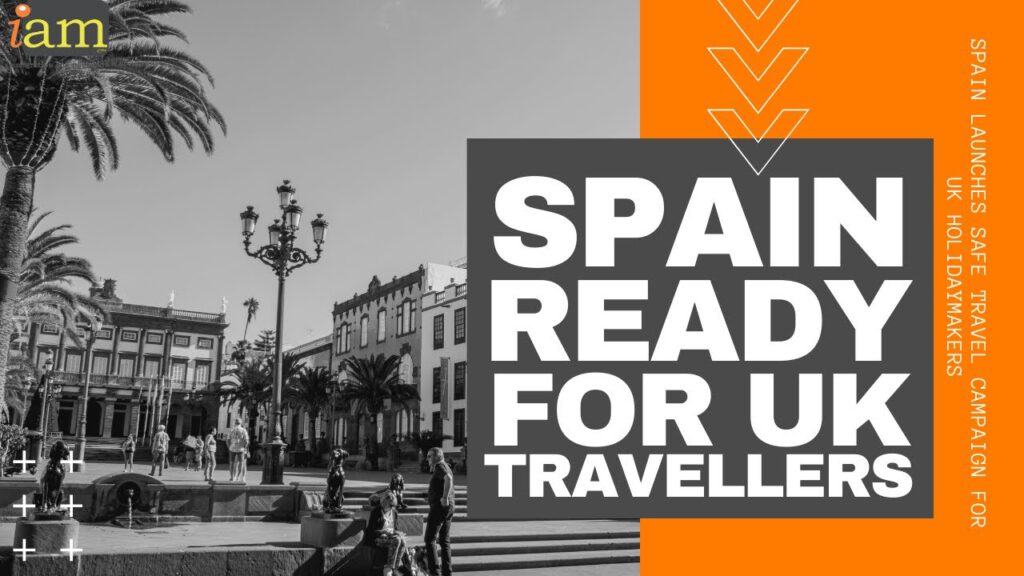 Spain Ready For UK Travellers: When Can We Travel To Spain Again
Spain Launches Safe Travel Campaign For UK Holidaymakers
Spain Gets Ready For UK Travellers – Spain launches Safety Campaign
When Can you Travel to Spain Again? – Spain Opening to UK Travellers
✈ In this video:
0:00 – Spain Ready For UK Travellers: When Can We Travel To Spain Again
01:27 – Spain launches safe travel campaign for UK holidaymakers
Spain continues to boost travellers' confidence by showcasing efforts regarding health and safety measures through the "Travel Safe" campaign, with Spanish borders slowly opening to international travellers, and the gradual approach of the anticipated summer vacation.
Tourism officials in Spain have announced measures designed to prepare the country for the return of UK visitors.
Foreign holidays may resume from 17 May at the earliest, UK's Prime Minister Boris Johnson's Government has said.
A lot of people have been anticipating his announcement in the coming weeks. However, strict rules on returning to the UK will be enforced based on a "traffic light" system that assigns red, amber or green to every overseas destination.
The Balearic Islands and Canaries could be given green status, while Spain's mainland resorts are likely to be in the amber tier.
02:27 – Spain Ready to Welcome UK Nationals
Javier Piñanes, director of the Spanish Tourist Office in the UK, said: "Whilst we are currently unable to travel to Spain, there are still a number of exciting developments taking place.
"Regions have been working very hard behind the scenes to ensure that the travel sector is well prepared for tourism to restart with extensive health and safety measures in place to ensure visitors are safe. "
If Spain is a popular holiday destination for UK nationals as the country offers limitless experience including breathtaking natural scenery and adventure.
Spain aims to dedicate its efforts in attracting British nationals to encourage travel to the country and its beautiful islands once the British government give the green light.
Are you excited to travel this summer? Talk to us in the comment section below.
If you have plans to travel, check out the deals we have found in the description box below.
If you need assistance with a visa to Europe, the UK, or the US, including help with securing your travel arrangements, IaM can help.
For visa advice, contact your IAM visa coordinator.
If you're still unsure about your application, let us help you out!
👉https://immigrationandmigration.com/schengen-visas/
Want to do the application yourself?
✈ https://immigrationandmigration.com/spain-schengen-visa-uk/
✈ Keep up with Visas to Spain at
https://immigrationandmigration.com/category/schengen-visas/spain/
✈ Keep updated on Schengen Visa news at
https://immigrationandmigration.com/category/news-and-events/schengen-visa-news/
✈ Read the full article at
==========================
✈ Apply for your Schengen Visa at https://immigrationandmigration.com/schengen-visas to get your Schengen Visa!
==========================
Check out the offers and discounts from:
Airport Transfers – https://iam.ontraport.com/c/s/j9Q/P/U/jvT/P/6oTxO3/Uz8tXktnsh/P/P/P
Holidays – https://iam.ontraport.com/c/s/j9Q/P/j/jvi/P/6oTxO3/vof8Cu3AQ4/P/P/P
Flights, Hotels Etc – https://iam.ontraport.com/c/s/j9Q/P/5/jvo/P/6oTxO3/vjtlp51A5x/P/P/P
Things to Do When You Get There – https://iam.ontraport.com/c/s/j9Q/P/r/jvM/P/6oTxO3/sALWj2h37D/P/P/P
And because of the pandemic, don't forget to get your travel insurance https://immigrationandmigration.com/travel-insurance-amid-coronavirus/ , which will cover you for flight disruptions and pandemic related matters https://iam.ontraport.com/tl/400 .
==========================
✈ Find us on social media:
. Facebook: http://iam.re/iamfb​
. Instagram: http://iam.re/iamig​
. Twitter: http://iam.re/iamtw​
. Linkedin: http://iam.re/iamli​
. Pinterest: http://iam.re/iampin
-~-~~-~~~-~~-~-
Check out our latest video: "Schengen Visa Types"

-~-~~-~~~-~~-~-
#SpainOpensToUK #WhenCanWeTravelToSpainAgain #SpainTravel #SchengenVisa
* Some of our content may contain affiliate links. If you use these links to buy something we may earn a commission.