Top 10 Travel Destinations to visit in 2021 | Travelling in 2021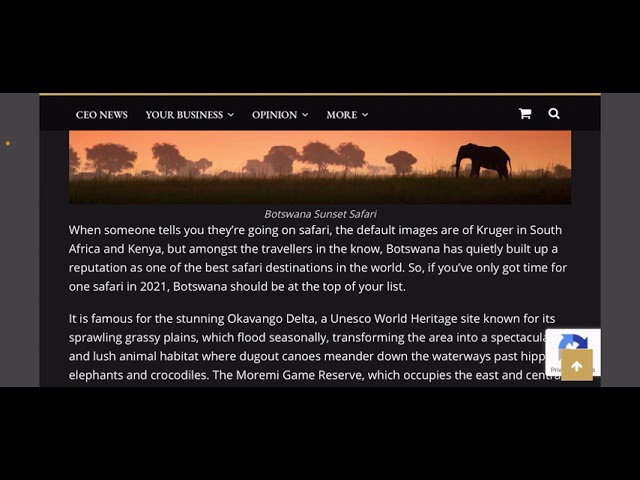 Top 10 Travel Destinations For 2021
Where do you want to travel in 2021? We take a look at the best places to visit in the coming year whether you want indulgent luxury, pristine beaches, scenic natural wonders or epic wildlife adventures. Here are CEO Today's top travel destinations for 2021.
Origins Lodge Costa Rica.
Origins Lodge Costa Rica. Photo: Origins Lodge
Travel has been conspicuously absent from most of our lives during 2020. Often taken for granted as a past time that was so ingrained it would never be eradicated from our lifestyles, we suffered a collective sadness as global travel became fraught with difficulties and unattainable for many. It feels like an age since we were able to enjoy the exhilaration of stepping off a plane in a new country, unsure of what the next few days will bring. However, the new year brings new hope for renewed opportunities for travel worldwide. 2020 has shown that travel is greater than simply a cliché-ridden collection of box-ticking and Instagram opportunities. It's so much more! This year we've come to appreciate travel in a way that we had forgotten, as food for the soul. Travel inspires, nourishes and replenishes us, and we all need it now more than ever.
Those who casually dismissed travel opportunities with a flippant "I'll get around to it one day" will be looking to 2021 with a hunger to escape our own corners of the world for new adventures. The appetite for new experiences, seeing new places, meeting new people is now ready to be satisfied. There's a world of beautiful beaches, epic mountain ranges, vibrant cities, delightful villages and luscious landscapes just waiting to be explored.
This is why in partnership with our very own luxury travel awards, the DeLuxe Travel Awards, we've compiled a list of the top 10 destinations across the globe that are sure to reignite your dormant wanderlust and provide you with some travel inspiration for your next destination.
10. Costa Rica
Catarata del Toro waterfall, Costa Rica
Catarata del Toro waterfall, Costa Rica
Costa Rica has long held a special place in the eco-travellers' hearts and still commands its place at the top of the pile for a truly breath-taking destination.
From the majestic Volcano Arenal set in misty cloud forests overflowing with wildlife to the beautiful palm-fringed beaches with turtles laying eggs to the sounds of macaws and howler monkeys, Costa Rica is a sustainable tourism haven. Often regarded as one of the 'greenest' countries in the world when it comes to tourism, there are very few places where the phrase "leave only footprints" is more applicable.
Costa Rica has the wonderful luxury of being flanked by both the Pacific Ocean and the Caribbean Sea, whilst being small enough to allow visitors the opportunity to visit both coasts in one stay without having to take a month off. The country is home to more than 6% of the world's biodiversity – a figure that is all the more incredible when you consider that this is more than Europe and the USA combined. But it is the sensitive and thoughtful manner in which Costa Rica treats this gift that allows the wildlife and land to flourish, with the country on track to become the first carbon-neutral country in the world by 2050 and over 95% of its electricity coming from sustainable sources.
There is no ri be welcomed in by Costa Rica's oldest indigenous tribe, the Maleku, who offer tours and hikes focusing on their way of life.
It's hard to think of a destination that deftly balances luxury, culture and wildlife better than Costa Rica. Almost anything you can imagine is o view you river, winding your way past crocodiles while watching elephants.
Where to Stay: In Botswana, it simply has to be a luxury tent and there are many to choose from! Our picks would be either Zafara Camp, which features luxury tents with stunning views of Zibadianja Lagoon, private plunge pools and excellent game viewing, or Abu Camp, which offer five-star tents and a plunge pool, game drives and water-based safaris. Once there, you can also walk through the bush alongside elephants.
8. Slovenia
Lake Bled from Mt. Osojnica, Slovenia
Lake Bled from Mt. Osojnica, Slovenia
The rise in popularity of the Adriatic regions of Europe has been widely acknowledged and for years, the default trip was to either Italy or, perhaps