UK Shakes Up Its Travel Safe Lists Again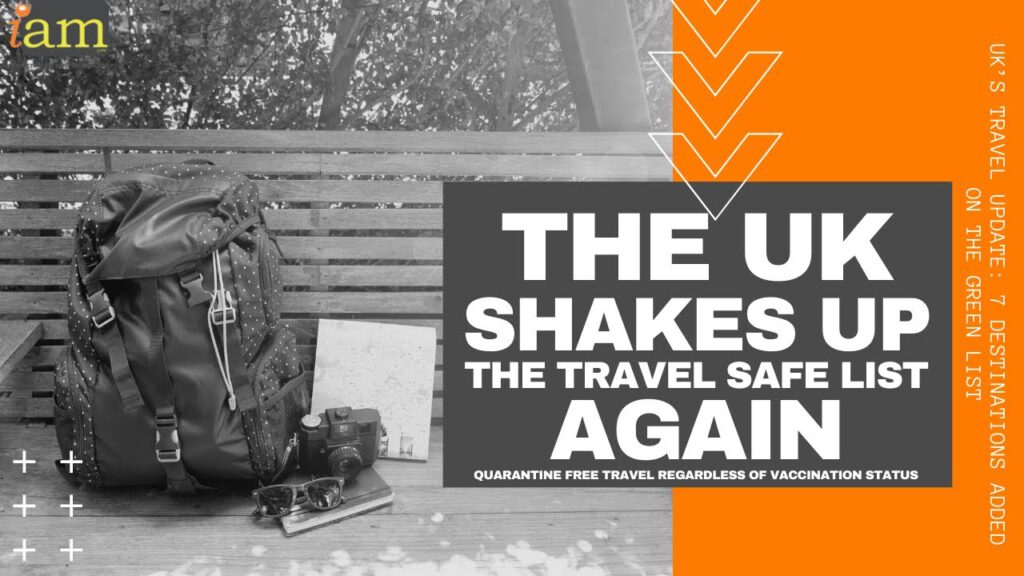 UK Shakes Up Its Travel Safe Lists Again
✈ In this video:
UK Shakes up Its Travel Safe Lists Again
The UK government has made changes to its categorisation of some countries, using its traffic light system.
Seven countries have been added to the green list, meaning that travellers from these countries will no longer have to quarantine on arrival
to the UK
The government has also made some updates to the red list, however, there were no additions on the
amber list.
For the fully vaccinated travellers, there is now little practical difference between the green and amber lists in terms of travel restrictions as both require a pre-departure test and a PCR test within two days of arrival.
The changes apply to all four UK nations.
Countries added to the UK's Green list
Travellers from countries on the UK's green list do not need to quarantine upon arrival regardless of whether they are fully vaccinated.
Green list arrivals still need to take a COVID-19 test before arrival, on day 2 of their stay and complete a passenger locator form.
There were no countries/territories removed from the previous green list announced in the first week of August.
The countries to be added to the UK green list are:
*The Azores
* Canada
*Denmark
* Finland
* Liechtenstein
* Lithuania
* Switzerland
These countries will move to the green list as of 4am on 30 August.
New Addition to the UK's Red list
Thailand and Montenegro have been moved from the amber list to the red list.
In Thailand, the Beta variant of
COVID-19 has seen a recent spike, the strain which medical scientists fear the vaccine is least effective against.
If British residents want to travel from either of these countries back to the UK after 30 August, they will need to go through a mandatory 10-day quarantine in a government-mandated hotel.
To see the updated list and rules for international travel, visit the UK government website. the link is on our blog post.
The next review is expected to take place on 16 September and come into force several days later.
Do you have plans to travel to these destinations? Talk to us in the comment section below.
If you're still unsure about your application, let us help you out!
👉https://immigrationandmigration.com/schengen-visas/
✈ Read the full article at
==========================
✈ Apply for your Schengen Visa at https://immigrationandmigration.com/schengen-visas to get your Schengen Visa!
==========================
Check out the offers and discounts from:
Airport Transfers – https://iam.ontraport.com/c/s/j9Q/P/U/jvT/P/6oTxO3/Uz8tXktnsh/P/P/P
Holidays – https://iam.ontraport.com/c/s/j9Q/P/j/jvi/P/6oTxO3/vof8Cu3AQ4/P/P/P
Flights, Hotels Etc – https://iam.ontraport.com/c/s/j9Q/P/5/jvo/P/6oTxO3/vjtlp51A5x/P/P/P
Things to Do When You Get There – https://iam.ontraport.com/c/s/j9Q/P/r/jvM/P/6oTxO3/sALWj2h37D/P/P/P
And because of the pandemic, don't forget to get your travel insurance https://immigrationandmigration.com/travel-insurance-amid-coronavirus/ , which will cover you for flight disruptions and pandemic related matters https://iam.ontraport.com/tl/400 .
==========================
✈ Find us on social media:
. Facebook: http://iam.re/iamfb​
. Instagram: http://iam.re/iamig​
. Twitter: http://iam.re/iamtw​
. Linkedin: http://iam.re/iamli​
. Pinterest: http://iam.re/iampin
-~-~~-~~~-~~-~-
Check out our latest video: "Schengen Visa Types"

-~-~~-~~~-~~-~-
#SchengenVisa #UKTravelRestrictions
* Some of our content may contain affiliate links. If you use these links to buy something we may earn a commission.