UK Travel Quarantine to End: Travel After England's Lockdown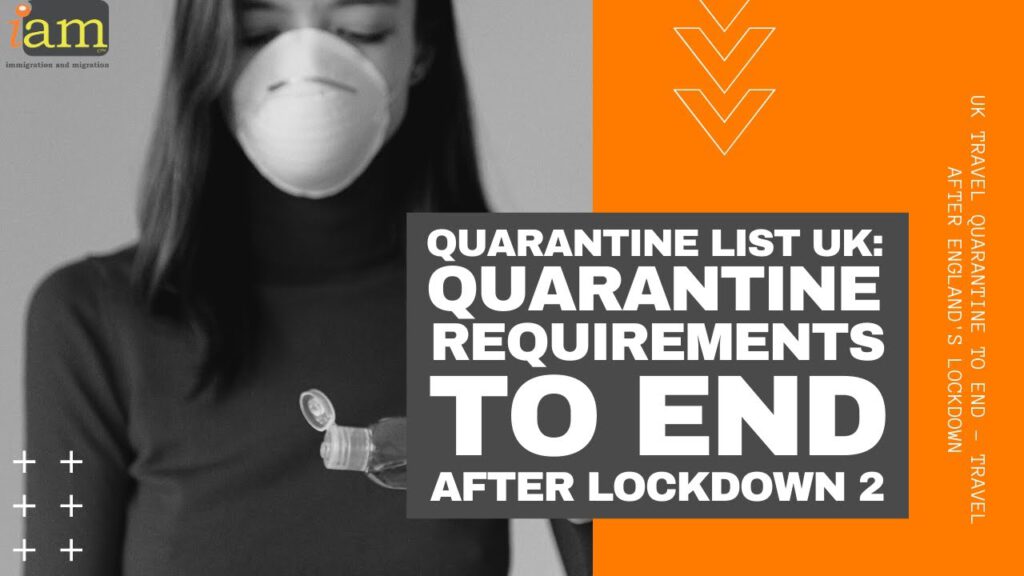 UK Travel Quarantine to End Travel After England's Lockdown
What is new: Travel after England's Lockdown
Aim to Remove Quarantine Test to Release to be implemented first
Hopes for Travel After Vaccine Vaccine offers Boost to Travel Industry
✈ In this video:
0:00 – UK Travel Quarantine to End Travel After England's Lockdown
0:52 – Travel after England's Lockdown – Reduced quarantine time
Grant Shapps told airport operators that a new "test and release scheme" will start once the latest shut-down is over to cut self-isolation from nations not part of the travel corridor from
14 days to around seven.
The Transport Secretary previously said the Taskforce would look to slash the quarantine to around a week, although the exact timescale has yet to be announced.
01:22 – Coronavirus Testing Cost Over Time
The new scheme will see passengers paying for a test after they arrive in the UK, taken four or five days after arrival, and if it is negative, it removes the need for quarantine.
I want you to know that we are making very good progress on a test to release programme to launch, once we're out of this lockdown. – Grant Shapps
This will consist of a single test for arrivals into the UK provided by the private sector, and at the cost to the passenger, allowing us a reduced period of self-isolation.
Industry insiders have said it could cost up to £150 but some of the costs will likely to be subsidised by the airlines.
He also revealed the quick result tests, which are being tested in the mass testing pilot in Liverpool and can also pave the way for non-quarantine travel.
This is a highly accurate swab test that gives results in less than an hour and doesn't need to go to the lab. Ultimately, it could open the way for non-quarantine travel as well. – Grant Shapps
They risk a fine if they are caught not abiding with the lockdown rules.
03:06 – Coronavirus Testing in Airports
One-hour COVID tests for holidaymakers leaving the UK have already launched at Heathrow, giving a boost to international air travel.
The tests are being rolled out for passengers who are travelling to countries that require a negative coronavirus test in order to avoid being quarantined.
The testing by Collinson and Swissport is a rapid, LAMP type, a test that returns a result in approximately 60 minutes at £80.
London City Airport's CEO, Robert Sinclair warned that the quarantine restrictions need to be over by Easter, otherwise future holidays will be at risk.
I do think that the industry is pretty much in survival mode, hoping to make it through to Easter and Summer. I see [the test and release scheme] very much as phase one, as a reduction in quarantine.
The task force has to remain in place and move forward to developing a second step departures protocol which fully eliminates the quarantine altogether.
04:52 – Coronavirus Vaccine on the Way.
Coronavirus vaccine boost to travel industry:
The positive news of the success of the Pfizer/BioNTech vaccine trial has given a boost to the struggling travel industry, with tour companies and online travel agents reporting an immediate surge in enquiries and bookings for next year.
Popular searches for spring and summer destinations are the Canaries, Cyprus, Venice, the Algarve and the Costa Blanca.
The Pfizer announcement, and health secretary Matt Hancock's subsequent suggestion that vaccination of at-risk groups could begin this year, with mass vaccination in the first half of 2021, also prompted a sharp recovery in airline and travel company shares.
After a summer of on-off travel corridors and lockdowns, booking anything other than a last-minute trip might seem risky,
It is hoped the government's Travel Taskforce, expected to report back next week on measures to get travel opened again, will bring more good news.
Ready to resume your travel plans? What is the top destination on your list? Comment below
If you need assistance with a visa to Europe or the UK, including help with securing your travel arrangements, IaM can help
For visa advice, contact your IAM coordinator.
If you're still unsure about your application, let us help you out!
👉https://immigrationandmigration.com/schengen-visas/
✈ Read the full article at
https://immigrationandmigration.com/blog
==========================
✈ Apply for your Schengen Visa at https://immigrationandmigration.com/schengen-visas to get your Schengen Visa!
==========================
✈ Find us on social media:
. Facebook: https://www.facebook.com/immigrationandmigration/
. Instagram: https://www.instagram.com/iam.uk/
. Twitter: https://twitter.com/iam_immigration
. Linkedin: https://www.linkedin.com/company/iam-immigration
. Pinterest: https://www.pinterest.com/iam_immigration/
-~-~~-~~~-~~-~-
Check out our latest video: "Schengen Visa Types"

-~-~~-~~~-~~-~-
#SchengenVisa