UK Travel Update No Quarantine for Vaccinated travellers from US and EU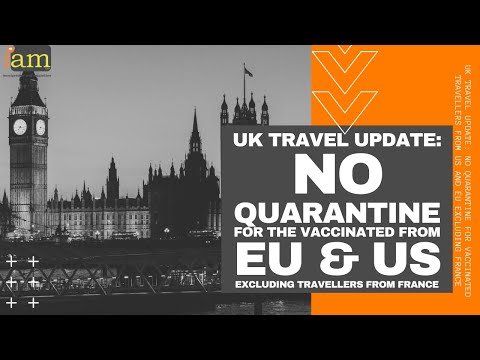 UK Travel Update No Quarantine for Vaccinated travellers from US and EU – Excluding travellers from France
✈ In this video:
UK Travel Update No Quarantine for Vaccinated travellers from US and EU – Excluding travellers from France
The UK has announced that fully-vaccinated travellers arriving from Europe and the US will no longer have to quarantine on arrival in England — except for those arriving from France. The new rule kicks in on 02 August 2021.
UK Transport Secretary Grant Shapps, confirmed the move on Twitter on 28 July 2021.
The Department for Transport released further details stating that "Passengers arriving from amber countries who have been fully vaccinated in Europe and the USA will not have to quarantine when entering England," the statement read.
…
International Cruise
British authorities also allowed international cruise sailings to restart from England.
"International cruise travel advice will be amended to encourage travellers to understand the risks associated with cruise travel and take personal responsibility for their own safety abroad," the Department for Transport said.
Travelling through France
Anyone who has been in France in the previous 10 days will need to be quarantined on arrival to England.
They will also need a day two and day eight PCR test, regardless of their vaccination status.
This goes for anyone who is just travelling through France and stops off in the country, too.
However, UK ministers have indicated that Eurostar passengers on services travelling through France would not need to quarantine if their train does not stop in the country.
Eurostar has confirmed that while both their Brussels – London and Amsterdam – London routes do stop in Lille, France, passengers from either of these cities travelling directly to London will be segregated in carriages so there is no need for quarantine despite this stop-off.
France Frustrated with UK's Decision
Both British nationals in France and the French government are expressing increasing frustration at the UK's "amber plus" rating which obliges all arrivals from France to go into quarantine.
People are took to Twitter about UK's decision and demanding answers from London.
They pointed out that Covid infection rates are currently lower in France than in the UK and in certain other European countries.
France's Europe minister, Clément Beaune, tweeted: "The UK's quarantine measures for France are excessive and incomprehensible in health terms."
The UK's Foreign Secretary Dominic Raab defended the government's decision to keep quarantine for travellers from France due to the concerns about the Beta variant of Covid, which is believed to render AstraZeneca vaccines more ineffective.
Raab did say however that the UK government wanted "to get France up the traffic light system as quickly as possible"
What are your thoughts on separate rules for vaccinated travellers? Do you agree to keep quarantining travellers from France? Talk to us in the comment section below.
If you're still unsure about your application, let us help you out!
👉https://immigrationandmigration.com/schengen-visas/
✈ Read the full article at
UK Travel Update: No Quarantine for Vaccinated Travellers From US and EU Excluding France
==========================
✈ Apply for your Schengen Visa at https://immigrationandmigration.com/schengen-visas to get your Schengen Visa!
==========================
Check out the offers and discounts from:
Airport Transfers – https://iam.ontraport.com/c/s/j9Q/P/U/jvT/P/6oTxO3/Uz8tXktnsh/P/P/P
Holidays – https://iam.ontraport.com/c/s/j9Q/P/j/jvi/P/6oTxO3/vof8Cu3AQ4/P/P/P
Flights, Hotels Etc – https://iam.ontraport.com/c/s/j9Q/P/5/jvo/P/6oTxO3/vjtlp51A5x/P/P/P
Things to Do When You Get There – https://iam.ontraport.com/c/s/j9Q/P/r/jvM/P/6oTxO3/sALWj2h37D/P/P/P
And because of the pandemic, don't forget to get your travel insurance https://immigrationandmigration.com/travel-insurance-amid-coronavirus/ , which will cover you for flight disruptions and pandemic related matters https://iam.ontraport.com/tl/400 .
==========================
✈ Find us on social media:
. Facebook: http://iam.re/iamfb​
. Instagram: http://iam.re/iamig​
. Twitter: http://iam.re/iamtw​
. Linkedin: http://iam.re/iamli​
. Pinterest: http://iam.re/iampin
-~-~~-~~~-~~-~-
Check out our latest video: "Schengen Visa Types"

-~-~~-~~~-~~-~-
#SchengenVisa #UKTravel
* Some of our content may contain affiliate links. If you use these links to buy something we may earn a commission.