US Prolongs Validity Of National Interest Exceptions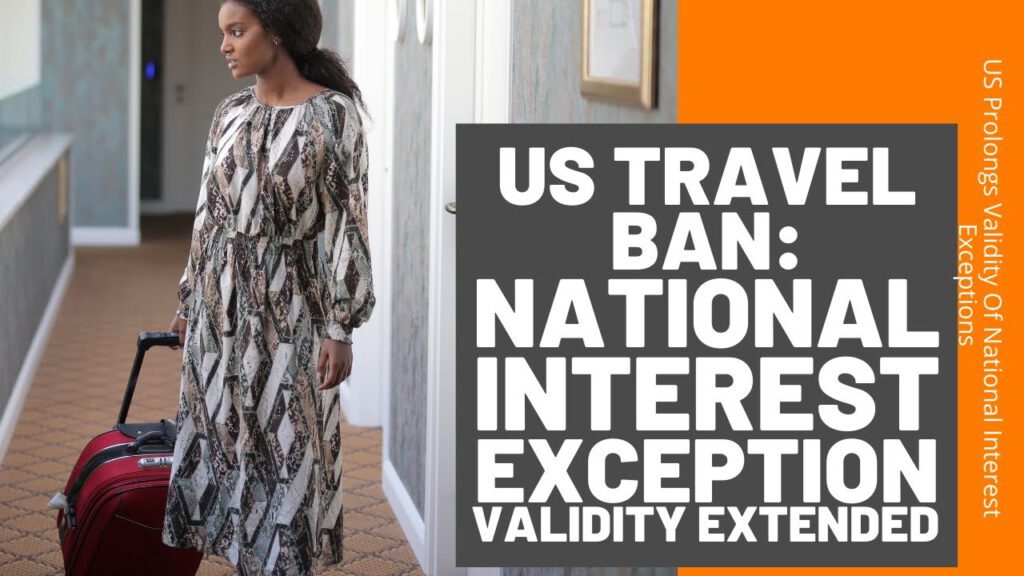 US Prolongs Validity Of National Interest Exceptions
NIE now last for 12 months
How Long Does a National Interest Exception Last?
✈ In this video:
0:00 – US Prolongs Validity Of National Interest Exceptions
01:37 – Your National Interest Exceptions Now Valid for 12 Months
On 06 July, the US State Department decided to extend its National Interest Exceptions (NIEs) validity for passengers subject to restrictions under COVID-19 travel bans.
The United States has implemented numerous COVID-related travel bans over the past 18 months to limit the spread of the coronavirus.
Countries impacted include travellers present in China, Iran, Brazil, South Africa, the Schengen Area, the United Kingdom, Ireland, and India.
02:32 – A Welcome Change to National Interest Exceptions
This welcome change from the US Department of State will ease international travel for nationals of the country subject to travel bans.
Previously, the national interest waivers would be granted for a limited 30 day period for a single entry only.
Under the new policy, NIEs will be valid for 12 months from the date of approval as well as for multiple entries if they are used for the purpose under which they were given.
In addition, this extension applies retroactively to all NIEs approved in the last 12 months.
It is also important to keep in mind that while travel restrictions might be easing, US consular posts which issue nonimmigrant work visas and those that process permanent immigrant visa processing are still not operating at pre-pandemic levels, and NIEs have become increasingly difficult to obtain.
Extending the validity of NIEs, including that of previously issued NIEs, should help to relieve some of the demand for consular services while facilitating critical travel to the US.
To know how to start your application to bypass the US travel ban, check out our National Interest Exception blog post.
04:32 – Trans-Atlantic Travel Since the US Travel Ban
Amid the Coronavirus pandemic, European countries are gradually permitting travellers from the United States to enter their territories, even for non-essential travel.
The US has been added to the EU's safe list so American travellers may enter EU member states without any restrictions like COVID test and quarantine.
UK Transport Secretary Grant Shapps said that "progress was being made" on the negotiations between the US and the UK, but reports suggest it might still be some time before people can travel freely between countries.
Have you applied for an exception to travel to the United States? Talk to us in the comments section below.
If you're still unsure about your application, let us help you out!
👉https://immigrationandmigration.com/schengen-visas/
✈ Read the full article at
==========================
✈ Apply for your Schengen Visa at https://immigrationandmigration.com/schengen-visas to get your Schengen Visa!
==========================
Check out the offers and discounts from:
Airport Transfers – https://iam.ontraport.com/c/s/j9Q/P/U/jvT/P/6oTxO3/Uz8tXktnsh/P/P/P
Holidays – https://iam.ontraport.com/c/s/j9Q/P/j/jvi/P/6oTxO3/vof8Cu3AQ4/P/P/P
Flights, Hotels Etc – https://iam.ontraport.com/c/s/j9Q/P/5/jvo/P/6oTxO3/vjtlp51A5x/P/P/P
Things to Do When You Get There – https://iam.ontraport.com/c/s/j9Q/P/r/jvM/P/6oTxO3/sALWj2h37D/P/P/P
And because of the pandemic, don't forget to get your travel insurance https://immigrationandmigration.com/travel-insurance-amid-coronavirus/ , which will cover you for flight disruptions and pandemic related matters https://iam.ontraport.com/tl/400 .
==========================
✈ Find us on social media:
. Facebook: http://iam.re/iamfb​
. Instagram: http://iam.re/iamig​
. Twitter: http://iam.re/iamtw​
. Linkedin: http://iam.re/iamli​
. Pinterest: http://iam.re/iampin
-~-~~-~~~-~~-~-
Check out our latest video: "Schengen Visa Types"

-~-~~-~~~-~~-~-
#USTravelBan #NationalInterestException #NationalInterestValidity
* Some of our content may contain affiliate links. If you use these links to buy something we may earn a commission.