US Travel Ban End: International Students & More Allowed To Travel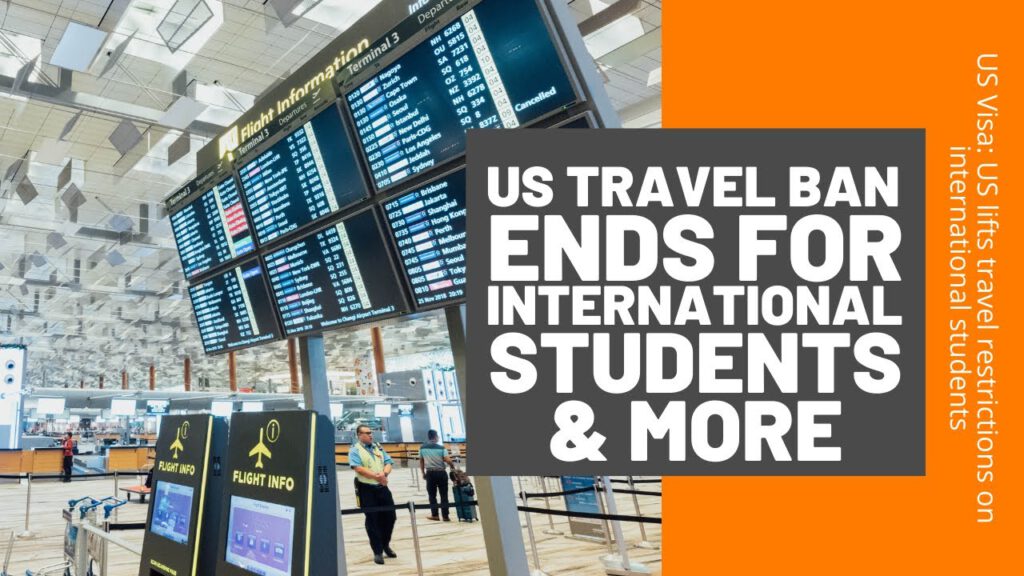 US Travel Ban End: International Students & More Allowed To Travel
The US Lifts Travel Restrictions On International Students
US Travel Ban Ends For Students & Others – Restrictions removed for Entry into the USA
Travel From the UK, Schengen Zone, China & South Africa to Resume – Restrictions Lifted on Entry
The US lifts travel restrictions on international students – US Travel Ban End
✈ In this video:
0:00 – US Travel Ban End: International Students & More Allowed To Travel
01:37 – The US lifts travel restrictions on international students and more
Coronavirus travel bans that have barred some students from travelling directly from their home countries to the US have been going on for over a year.
Travellers who have been to China, Iran, Brazil, South Africa, Ireland, the United Kingdom, and Europe's Schengen area in the past 14 days have been prohibited from entering the US.
This has greatly affected international students who have previously left the US and could not return for school without lengthy quarantines in another country.
Finally, a light is seen at the end of the tunnel.
The US State Department has announced that it is lifting travel restrictions for students and academics covered by the visitor's program, from China, Iran, Brazil, South Africa, Schengen Area, United Kingdom, and Ireland, who plan to study in the US later this year.
02:57 – Lengthy US Visa Delays
Despite the eased restrictions, hurdles remain for many incoming international students who still have to apply for their student visas to enter the US.
It has been reported that only about 40% of US consulates are routinely scheduling visa interviews.
Due to the pandemic, large numbers of US consulates around the world are still in hiatus, resulting in increasing US visa backlogs.
04:17 – Educational Institutions Hit Hard
With international students facing lengthy US visa delays, American universities have been hit hard as enrolment numbers slump.
Although many current students remained in the United States throughout the Covid outbreak or chose to study remotely from their home countries, the number of new international students fell more sharply than any other demographic group during the current academic year.
New student-visa holders declined by 72 percent in 2020, according to Homeland Security data.
05:22 – COVID-19 Vaccine Rollout
Several countries, including the US, have been making fast progress immunising their populations.
Millions of shots have been given to Americans, ranking the US as one of the top countries with one of the highest vaccination rates per 100 people.
This has led to lifting restrictions for domestic travel and gradually opening for international travel.
What are your thoughts on this issue? Do you think countries should exempt international students from the travel restrictions? Talk to us in the comment section below.
If you have plans to travel, check out the deals we have found in the description box below.
If you need assistance with a visa to Europe, the UK, or the US, including help with securing your travel arrangements, IaM can help.
For visa advice, contact your IAM visa coordinator.
If you're still unsure about your application, let us help you out!
👉https://immigrationandmigration.com/global-mobility/us-visa-immigration/us-visa-application-form/
✈ Read the full article at
==========================
✈ Apply for your visa to the US at https://immigrationandmigration.com/global-mobility/us-visa-immigration/ to get your US Visa!
========================
Check out the offers and discounts from:
Airport Transfers – https://iam.ontraport.com/c/s/j9Q/P/U/jvT/P/6oTxO3/Uz8tXktnsh/P/P/P
Holidays – https://iam.ontraport.com/c/s/j9Q/P/j/jvi/P/6oTxO3/vof8Cu3AQ4/P/P/P
Flights, Hotels Etc – https://iam.ontraport.com/c/s/j9Q/P/5/jvo/P/6oTxO3/vjtlp51A5x/P/P/P
Things to Do When You Get There – https://iam.ontraport.com/c/s/j9Q/P/r/jvM/P/6oTxO3/sALWj2h37D/P/P/P
And because of the pandemic, don't forget to get your travel insurance https://immigrationandmigration.com/travel-insurance-amid-coronavirus/ , which will cover you for flight disruptions and pandemic related matters https://iam.ontraport.com/tl/400 .
==========================
✈ Find us on social media:
. Facebook: http://iam.re/iamfb​
. Instagram: http://iam.re/iamig​
. Twitter: http://iam.re/iamtw​
. Linkedin: http://iam.re/iamli​
. Pinterest: http://iam.re/iampin
-~-~~-~~~-~~-~-
Check out our latest video: "Schengen Visa Types"

-~-~~-~~~-~~-~-
#USTravelBan #StudentTravelBan #USLiftsStudentTravelBan #StudentLife
* Some of our content may contain affiliate links. If you use these links to buy something we may earn a commission.