US Travel: Vaccine Required For Domestic Air Travel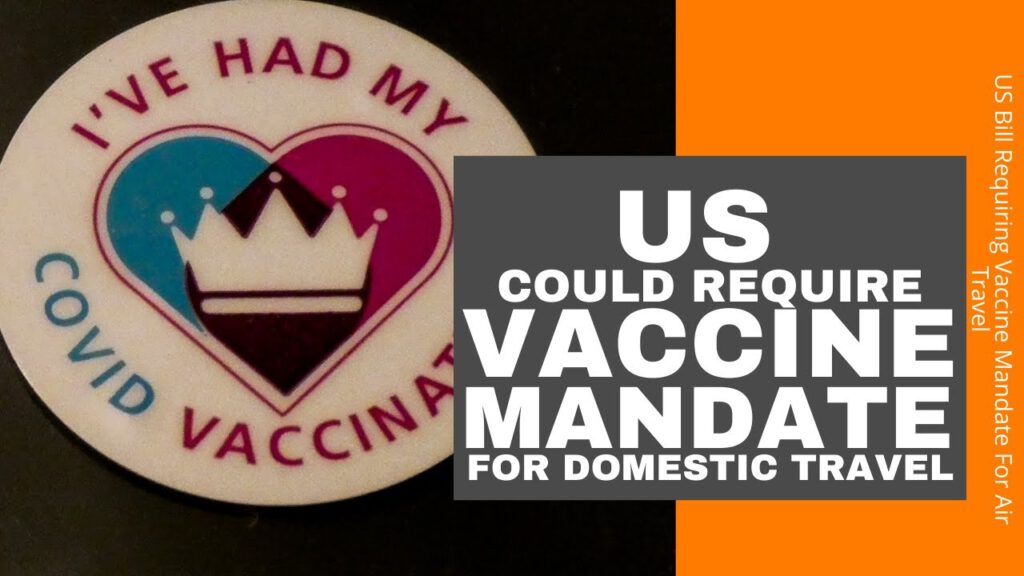 US Bill Requiring Vaccine Mandate For Air Travel
✈ In this video:
0:00 US Bill Requiring Vaccine Mandate For Air Travel
1:29 US Bill Requiring Vaccine mandate for Air Travel
The requirement to be vaccinated for air travel is gaining traction around the world as countries are gradually opening for travel again.
Canada has said that it will make proof of vaccination mandatory for domestic flights and the US may soon follow suit.
As the United States continues to combat the increasing number of Covid-19 cases, a proposed legislation has been put forward that would require all airline and train passengers in the US to provide proof of vaccination or a recent negative Covid-19 test to travel
While the US government has extended the mask mandate until 2022 there is currently no testing or vaccination requirements for domestic air or train travel.
However, this could change with the recently introduced legislation called the Safe Travel Act.
"It would require all passengers, employees, contractors, and subcontractors of Amtrak and commercial airlines to show that they have either been fully vaccinated against Covid-19 or tested negative for the virus within 72 hours of travel. Requiring airport and Amtrak travellers and employees to provide proof of COVID vaccine or negative test is just common sense." — Don Beyer
"Americans want a return to normal that includes travelling for business or pleasure, and Congress can help make people comfortable travelling again by putting basic requirements in place that prevent the spread of Covid." — Don Beyer
Despite leading the way with vaccinations at the beginning of the year, the US is now falling to one of the lowest vaccination rates of G7 countries
The vaccination curve has levelled dramatically since an initial surge in the first half of 2021.
3:58 Vaccine Mandate on Government and Private Companies
The spread of the delta variant in the US has upended progress the country has made toward suppressing the coronavirus, forcing many to reconsider travel plans.
government and private entities introduce vaccine mandates for employees including airlines.
United and Hawaiian airlines have instituted vaccine mandates, while Frontier and Delta require unvaccinated employees to submit to weekly testing, and Delta also requires they pay a $200 monthly insurance surcharge.
A proposal to expand vaccination or testing requirements for all domestic travellers would likely be met with pushback from the airline industry, even though proof of a negative coronavirus test is already required for international travellers, regardless of vaccination status.
What are your thoughts on this issue? Talk to us in the comment section below.
If you're still unsure about your application, let us help you out!
👉https://immigrationandmigration.com/schengen-visas/
✈ Read the full article at
https://immigrationandmigration.com/blog
==========================
✈ Apply for your Schengen Visa at https://immigrationandmigration.com/schengen-visas to get your Schengen Visa!
==========================
Check out the offers and discounts from:
Airport Transfers – https://iam.ontraport.com/c/s/j9Q/P/U/jvT/P/6oTxO3/Uz8tXktnsh/P/P/P
Holidays – https://iam.ontraport.com/c/s/j9Q/P/j/jvi/P/6oTxO3/vof8Cu3AQ4/P/P/P
Flights, Hotels Etc – https://iam.ontraport.com/c/s/j9Q/P/5/jvo/P/6oTxO3/vjtlp51A5x/P/P/P
Things to Do When You Get There – https://iam.ontraport.com/c/s/j9Q/P/r/jvM/P/6oTxO3/sALWj2h37D/P/P/P
And because of the pandemic, don't forget to get your travel insurance https://immigrationandmigration.com/travel-insurance-amid-coronavirus/ , which will cover you for flight disruptions and pandemic related matters https://iam.ontraport.com/tl/400 .
==========================
✈ Find us on social media:
. Facebook: http://iam.re/iamfb​
. Instagram: http://iam.re/iamig​
. Twitter: http://iam.re/iamtw​
. Linkedin: http://iam.re/iamli​
. Pinterest: http://iam.re/iampin
-~-~~-~~~-~~-~-
Check out our latest video: "Schengen Visa Types"

-~-~~-~~~-~~-~-
#USAirTravel #USVaccineMandate
* Some of our content may contain affiliate links. If you use these links to buy something we may earn a commission.