Warning For Expiring British Passports – Is It Valid For EU Travel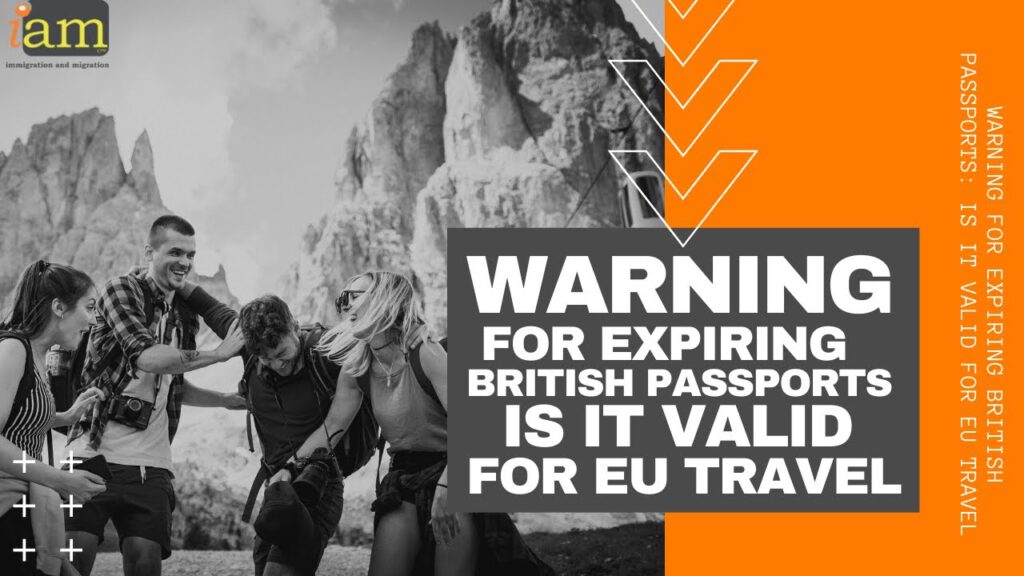 Warning For Expiring British Passports – Is It Valid For EU Travel
✈ In this video:
0:00 Warning For Expiring British Passports – Is It Valid For EU Travel
1:21 Warning For Expiring British Passports – Is It Valid For EU Travel
The pandemic may be easing and most travel restrictions have been lifted, but as a result of Covid and Brexit, British passport holders planning on travelling have to keep on top of all the small print.
Passports hold the key to our travelling ability but most of us have it tucked away to collect dust.
…
2:43 Different Airlines, Different Rules
How much time you need on your passport also depends on the country you're visiting.
The European Union nations require that a passport is valid for at least three months after the day the holder leaves the UK, however, the HM Passport Office recommends that on the day of departure there is at least six months left on the passport.
…
3:23 EasyJet
For UK passport holders travelling to the EU, Iceland, Liechtenstein, Norway and Switzerland, please note that on your day of travel you'll need your passport to have at least six months left on it."
3:48 Ryanair
Ryanair states that you need a valid passport to travel anywhere in the world.
For travel outside the EEA (European Economic Area), the passport must be valid for the period of the intended stay
…
4:47 British Airways
If you're travelling on an international flight, you'll need a passport or an equivalent travel document that is valid for the full duration of your trip.
All British passport holders should check the updated government advice regarding passport validity requirements.
5:32 The Passport Waiting Game
Whether your passport is valid for 3 or 6 more months, it is advisable to renew it before planning your trip.
According to the Home Office, demand for new travel documents is at an "all-time high".
…
What are your thoughts on this issue? Talk to us in the comment section below.
If you're still unsure about your application, let us help you out!
👉https://immigrationandmigration.com/schengen-visas/
✈ Read the full article at
Warning For Expiring British Passports – Is It Valid For EU Travel
==========================
✈ Apply for your Schengen Visa at https://immigrationandmigration.com/schengen-visas to get your Schengen Visa!
==========================
Check out the offers and discounts from:
Airport Transfers – https://iam.ontraport.com/c/s/j9Q/P/U/jvT/P/6oTxO3/Uz8tXktnsh/P/P/P
Holidays – https://iam.ontraport.com/c/s/j9Q/P/j/jvi/P/6oTxO3/vof8Cu3AQ4/P/P/P
Flights, Hotels Etc – https://iam.ontraport.com/c/s/j9Q/P/5/jvo/P/6oTxO3/vjtlp51A5x/P/P/P
Things to Do When You Get There – https://iam.ontraport.com/c/s/j9Q/P/r/jvM/P/6oTxO3/sALWj2h37D/P/P/P
And because of the pandemic, don't forget to get your travel insurance https://immigrationandmigration.com/travel-insurance-amid-coronavirus/ , which will cover you for flight disruptions and pandemic related matters https://iam.ontraport.com/tl/400 .
==========================
✈ Find us on social media:
. Facebook: http://iam.re/iamfb​
. Instagram: http://iam.re/iamig​
. Twitter: http://iam.re/iamtw​
. Linkedin: http://iam.re/iamli​
. Pinterest: http://iam.re/iampin
-~-~~-~~~-~~-~-
Check out our latest video: "Schengen Visa Types"

-~-~~-~~~-~~-~-
#BritishPassportRulesPostBrexit #BritishPassport #Travel
* Some of our content may contain affiliate links. If you use these links to buy something we may earn a commission.