Work in Europe Made Easier: EU Blue Card Reformed – Conditions Made Easier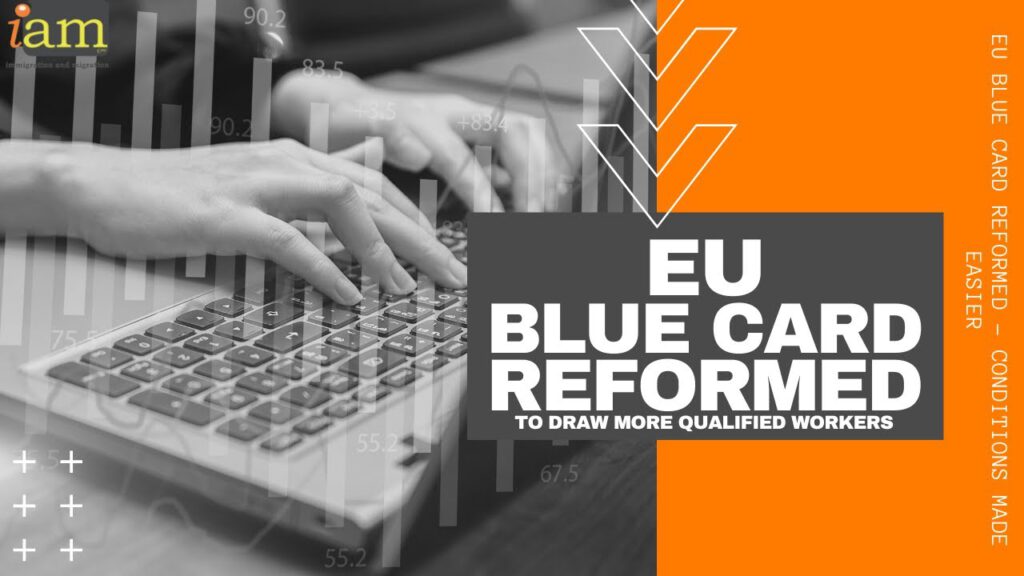 EU Blue Card Reformed – Conditions Made Easier
✈ In this video:
0:00 EU Blue Card Reformed – Conditions Made Easier
1:23 EU Blue Card Reformed – Conditions Made Easier
The EU's Blue Card giving eligible foreign professionals the right to live and work in the EU is being made more attractive under the new modifications.
The European Parliament has announced on 15 September, that the MEPs have adopted the reform on the EU Blue Card to make it easier to employ highly-skilled non-EU nationals and help reduce labour shortages in main sectors.
Earlier this year, the EU Parliament and Council reached a short-term
agreement regarding the revision of rules for skilled workers who are nationals and residents of third countries.
Now, these rules have become fully effective.
2:17 Changes on EU Blue Card
The newly approved changes will allow applicants to present a valid work contract of at least six months instead of the previous requirement, which asked for a work contract that needed to be valid for 12 months.
Apart from that, to make the system accessible to even more people, especially for professions in need of workers and recent graduates,
the salary threshold is now reduced to at least 100 percent and not more than 160 percent of the average gross annual salary in the Member State of employment.
It will be possible to attest certain types of professional qualification, — the Parliament's statement such as in the information and communication technology sector, through proof of relevant work experience — the Parliament's statement
…
3:48 Search for Global Talent
The Blue Card Directive has been in place since late 2009 and defines the entry and residence conditions that a third-country national must meet in order to take up employment in the EU Member States.
Denmark and Ireland opted out of the scheme, though they have their own national work permits for highly qualified workers.
Under the EU Blue Card initiative, professionals with qualifications in a profession such as doctors, journalists, technicians, engineers, and IT specialists can apply.
The latest data on the program shows that 36,800 cards were issued in 2019.
Germany is the main user, issuing more than three-quarters of the Blue Cards in the EU, with Poland and France in distant second and third place.
Do you have plans to move to the EU? Talk to us in the comment section below.
If you're still unsure about your application, let us help you out!
👉https://immigrationandmigration.com/schengen-visas/
✈ Read the full article at
==========================
✈ Apply for your Schengen Visa at https://immigrationandmigration.com/schengen-visas to get your Schengen Visa!
==========================
Check out the offers and discounts from:
Airport Transfers – https://iam.ontraport.com/c/s/j9Q/P/U/jvT/P/6oTxO3/Uz8tXktnsh/P/P/P
Holidays – https://iam.ontraport.com/c/s/j9Q/P/j/jvi/P/6oTxO3/vof8Cu3AQ4/P/P/P
Flights, Hotels Etc – https://iam.ontraport.com/c/s/j9Q/P/5/jvo/P/6oTxO3/vjtlp51A5x/P/P/P
Things to Do When You Get There – https://iam.ontraport.com/c/s/j9Q/P/r/jvM/P/6oTxO3/sALWj2h37D/P/P/P
And because of the pandemic, don't forget to get your travel insurance https://immigrationandmigration.com/travel-insurance-amid-coronavirus/ , which will cover you for flight disruptions and pandemic related matters https://iam.ontraport.com/tl/400 .
==========================
✈ Find us on social media:
. Facebook: http://iam.re/iamfb​
. Instagram: http://iam.re/iamig​
. Twitter: http://iam.re/iamtw​
. Linkedin: http://iam.re/iamli​
. Pinterest: http://iam.re/iampin
-~-~~-~~~-~~-~-
Check out our latest video: "Schengen Visa Types"

-~-~~-~~~-~~-~-
#SchengenVisa #EUBlueCard #EUWorkPermit
* Some of our content may contain affiliate links. If you use these links to buy something we may earn a commission.