90 Days to Open Europe: Calls For EU To Open For US Travellers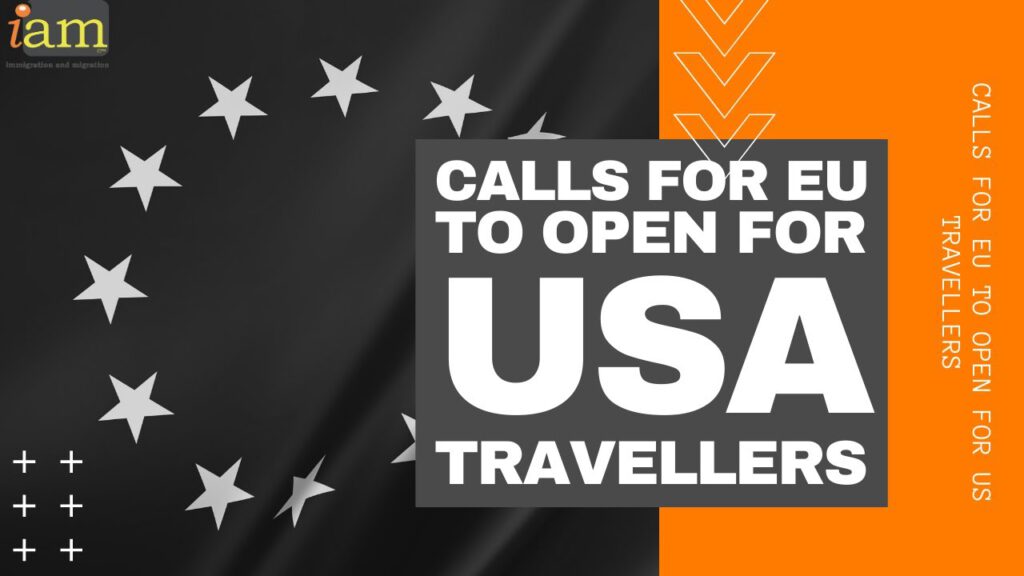 90 Days to Open Europe: Calls For EU To Open For US Travellers
Calls For EU To Open For US Travellers
The Europe Travel Ban Needs to End Push to End the EU Travel Ban
Calls for EU to Open for US Travellers North American Travellers Banned From Europe
90 Days to Open Europe Mixed Messages Will Cause Europe to Lose Tourism for 2021
✈ In this video:
0:00 – 90 Days to Open Europe: Calls For EU To Open For US Travellers
01:27 – Calls for EU to Open for US Travellers
Europe has long since been a popular destination for North American travellers.
A lot of European destinations are on top of American's ultimate bucket list.
Europe offers a multitude of choices from arts, stunning and historic attractions, fashion and food.
The travel and tourism industry is a significant EU market that accounts for a major part of the annual revenue of the member states.
However, the travel restrictions imposed on US and Canadian tourists have seen Europe as a destination lost to many and that comes with billions of dollars lost in revenue to cities all around Europe.
If this situation continues, The European Union Member States and the Schengen Area associated states may lose billions altogether in 2021.
02:27 – Europe a Popular Destination
Europe is an extremely popular destination for US travellers, with the pandemic and its restrictions only sharpening the desire to travel.
In 2019, almost 15 million from the US made it to Europe. Although Canada and Mexico may be the most popular international destinations for US travellers, European nations make up the rest of the top 5, with the United Kingdom, Italy and France taking the 3rd, 4th and 5th spots respectively.
Prior to the pandemic, the number of US-based travellers heading to Europe was rising year on year for the past four years.
Indications show that once travel is allowed again, Europe will still be a popular destination.
Following the news of vaccine availability, the top 10 destinations searched by Americans were all European cities such as London, Paris, Copenhagen, Manchester, Madrid, Amsterdam, Frankfurt, Dublin, Milan and Munich.
03:32 – EU Needs To Find A Solution
European Tour Operators Association (ETOA) has warned the EU to find a solution to allow US travellers or face losing out on billions of revenue again.
Tom Jenkins, the CEO of ETOA, claimed that potential visitors from the U.S. and Canada were being put off the thought of travelling to Europe because it isn't clear when they may be able to return, or what conditions they would be able to return under.
He claimed that the EU needs a solution to welcome back non-essential travellers.
Europe is viewed as a single destination by long-haul visitors: it is what they think of and is their goal when planning a trip. — TOM Jenkins
So there has to be a coordinated response from the Schengen area to define what it takes for business to resume — Jenkins
This sentiment was further echoed by the Chairman of the Canadian Tour Operators Association Brett Walker.
Walker stressed that the next 90 days was essential in determining whether or not there would be the safe return of North American travellers to Europe,
and that prolonged uncertainty would see the same decline in spending by North Americans as it was in 2020.
Tourism represents 10% of the GDP in the EU, and is responsible for 26 million jobs on the continent.
At present, US travellers are not permitted to visit EU countries, unless for essential purposes.
Do you agree to open for US tourists again?
What do you think is the potential solution to bring back travellers without compromising our health?
Talk to us in the comment section below.
If you need assistance with a visa to Europe, the UK, or the US, including help with securing your travel arrangements, IaM can help.
For visa advice, contact your IAM visa coordinator.
If you're still unsure about your application, let us help you out!
👉https://immigrationandmigration.com/schengen-visas/
✈ Read the full article at
==========================
✈ Apply for your Schengen Visa at https://immigrationandmigration.com/schengen-visas to get your Schengen Visa!
==========================
✈ Find us on social media:
. Facebook: https://www.facebook.com/immigrationandmigration/
. Instagram: https://www.instagram.com/iam.uk/
. Twitter: https://twitter.com/iam_immigration
. Linkedin: https://www.linkedin.com/company/iam-immigration
. Pinterest: https://www.pinterest.com/iam_immigration/
-~-~~-~~~-~~-~-
Check out our latest video: "Schengen Visa Types"

-~-~~-~~~-~~-~-
#90DaysToOpenEurope #EuropeTravelBan #EuropeToOpen