Australia Reopening International Travel In November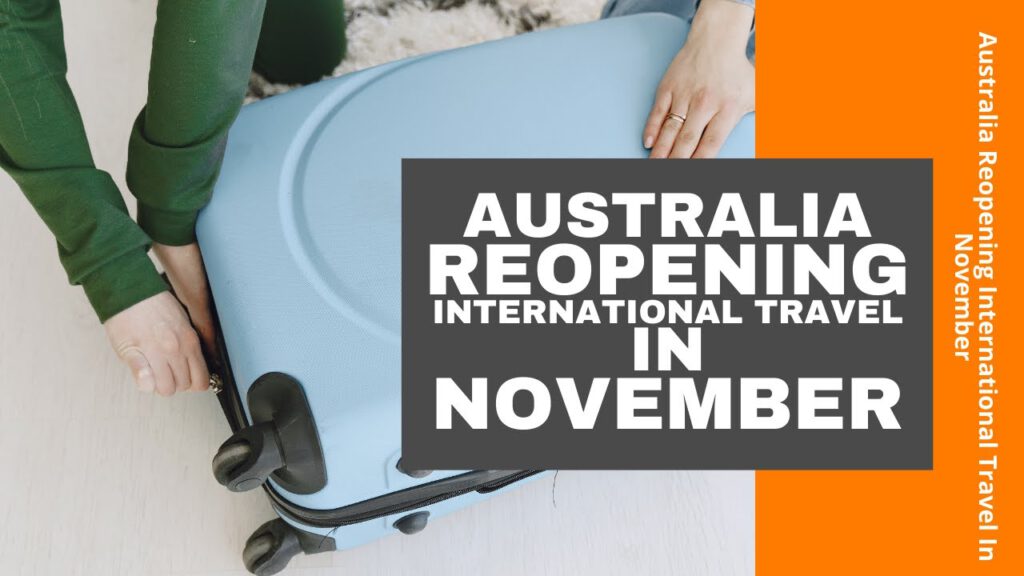 Australia Reopening International Travel In November
✈ In this video:
0:00 Australia Reopening International Travel in November
1:21 Australia Reopening International Travel In November
Australia is set to restart international travel next month once the country hits its 80% vaccination target easing one of the toughest COVID-19 restrictions imposed globally.
Prime Minister Scott Morrison stated that reopening the international border for citizens and permanent residents will be linked to the establishment of home quarantine in Australia's eight states and territories.
The first home quarantine systems will be up and running in November, but the timetable will be set by individual states and territories.
This would essentially remove the caps limiting the number of people allowed into the country.
The plan would see states follow New South Wales' lead in allowing travel for vaccinated passengers with pre-flight COVID-19 testing and one week of home quarantine.
Once changes are made in November, the current overseas travel restrictions related to COVID-19 will be removed Prime Minster Scott Morrison and we'll be working towards complete quarantine free travel for certain countries such as New Zealand, when it is safe to do so Prime Minster Scott Morrison
Morrison also announced that Australian citizens and permanent residents who cannot be vaccinated, including children and those with medical exemptions, will be treated as vaccinated for the purposes of their travel.
2:55 Australia's Vaccine Passport
Australia's federal government, following the EU, Israel, and the UK, has developed vaccine passports based on QR codes that will certify a passenger's vaccine status.
The COVID-19 passports should be ready by the end of October.
Australia's Therapeutic Goods Administration (TGA) had previously approved vaccines made by Pfizer, AstraZeneca, Moderna, and Johnson and Johnson.
Morrison said that two more had been added to the list, China's Sinovac and India's Covishield.
Have you planned your trip to Australia? Talk to us in the comment section below.
If you're still unsure about your application, let us help you out!
👉https://immigrationandmigration.com/schengen-visas/
✈ Read the full article at
==========================
✈ Apply for your Schengen Visa at https://immigrationandmigration.com/schengen-visas to get your Schengen Visa!
==========================
Check out the offers and discounts from:
Airport Transfers – https://iam.ontraport.com/c/s/j9Q/P/U/jvT/P/6oTxO3/Uz8tXktnsh/P/P/P
Holidays – https://iam.ontraport.com/c/s/j9Q/P/j/jvi/P/6oTxO3/vof8Cu3AQ4/P/P/P
Flights, Hotels Etc – https://iam.ontraport.com/c/s/j9Q/P/5/jvo/P/6oTxO3/vjtlp51A5x/P/P/P
Things to Do When You Get There – https://iam.ontraport.com/c/s/j9Q/P/r/jvM/P/6oTxO3/sALWj2h37D/P/P/P
And because of the pandemic, don't forget to get your travel insurance https://immigrationandmigration.com/travel-insurance-amid-coronavirus/ , which will cover you for flight disruptions and pandemic related matters https://iam.ontraport.com/tl/400 .
==========================
✈ Find us on social media:
. Facebook: http://iam.re/iamfb​
. Instagram: http://iam.re/iamig​
. Twitter: http://iam.re/iamtw​
. Linkedin: http://iam.re/iamli​
. Pinterest: http://iam.re/iampin
-~-~~-~~~-~~-~-
Check out our latest video: "Schengen Visa Types"

-~-~~-~~~-~~-~-
#TravelToAustralia #AustraliaReopeningBorder
* Some of our content may contain affiliate links. If you use these links to buy something we may earn a commission.