Canada Opens Borders Again: International Travel Resumes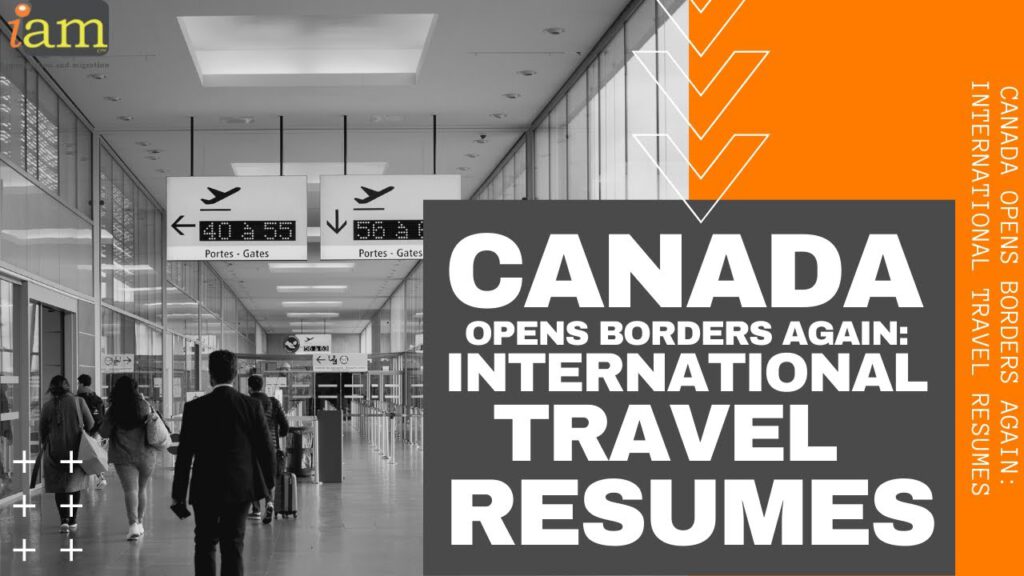 Canada Opens Borders Again: International Travel Resumes
✈ In this video:
0:00 Canada Opens Borders Again: International Travel Resumes
1:23 Canada's Travel Restrictions: International Borders Open To All Vaccinated Travellers
Canada has adhered to the plan to open the border to all fully vaccinated travellers starting 07 September 2021.
Fully vaccinated travellers from across the world, with a Canada-approved vaccine, will be welcomed back into the country for non-essential purposes, including tourism, sightseeing, and visiting friends and family.
The Canada Border Services Agency has announced the change on Twitter on 04 September.
…
2:25 Canada's New Entry Rule
In order to enter Canada for a discretionary purpose and skip mandatory quarantine, all international visitors must have received the full course of a Health Canada-approved COVID-19 vaccine at least 14 days before travelling.
All travellers must also have proof of a negative pre-arrival COVID-19 test result taken no more than 72 hours before landing in Canada.
Travellers who've already had COVID-19 and recovered can provide proof of a positive COVID-19 test result instead, taken between 14 and 180 days before departure to Canada.
All passengers are required to submit their details via the ArriveCAN app or website in English or French, including proof of vaccination and a backup quarantine plan in case travellers are required to quarantine unexpectedly.
…
4:05 Canada's Border Testing Surveillance Program
Since 09 August 9, fully vaccinated travellers entering Canada have not been required to take a COVID-19 test upon arrival unless they are randomly selected.
This border testing surveillance program will remain in place as of 7 September.
All travellers who are randomly selected for the border testing surveillance program must complete the mandatory arrival test; however, they do not have to quarantine while awaiting the result
…
4:54 Canada's Provincial Vaccine Passports
Another hurdle travellers to Canada may face is having to prove their vaccination status to enter certain venues.
In Quebec and Manitoba, people must show proof of vaccination to gain entry to many non-essential locations and activities.
…
5:32 Canada's Advice for International Travel for its Citizens
While international flights from Canada are beginning to resume and travel health insurance is available to those who want to go abroad, the government's official advice has not changed.
…
Are you excited to travel to Canada? Talk to us in the comment section below.
If you're still unsure about your application, let us help you out!
👉https://immigrationandmigration.com/schengen-visas/
✈ Read the full article at
https://immigrationandmigration.com/canadas-travel-restrictions-international-borders-open-to-all-vaccinated-travellers/
==========================
✈ Apply for your Schengen Visa at https://immigrationandmigration.com/schengen-visas to get your Schengen Visa!
==========================
Check out the offers and discounts from:
Airport Transfers – https://iam.ontraport.com/c/s/j9Q/P/U/jvT/P/6oTxO3/Uz8tXktnsh/P/P/P
Holidays – https://iam.ontraport.com/c/s/j9Q/P/j/jvi/P/6oTxO3/vof8Cu3AQ4/P/P/P
Flights, Hotels Etc – https://iam.ontraport.com/c/s/j9Q/P/5/jvo/P/6oTxO3/vjtlp51A5x/P/P/P
Things to Do When You Get There – https://iam.ontraport.com/c/s/j9Q/P/r/jvM/P/6oTxO3/sALWj2h37D/P/P/P
And because of the pandemic, don't forget to get your travel insurance https://immigrationandmigration.com/travel-insurance-amid-coronavirus/ , which will cover you for flight disruptions and pandemic related matters https://iam.ontraport.com/tl/400 .
==========================
✈ Find us on social media:
. Facebook: http://iam.re/iamfb​
. Instagram: http://iam.re/iamig​
. Twitter: http://iam.re/iamtw​
. Linkedin: http://iam.re/iamli​
. Pinterest: http://iam.re/iampin
-~-~~-~~~-~~-~-
Check out our latest video: "Schengen Visa Types"

-~-~~-~~~-~~-~-
#SchengenVisa #CandaInternationTravelResumes
* Some of our content may contain affiliate links. If you use these links to buy something we may earn a commission.