Canada To Benefit From US Travel Ban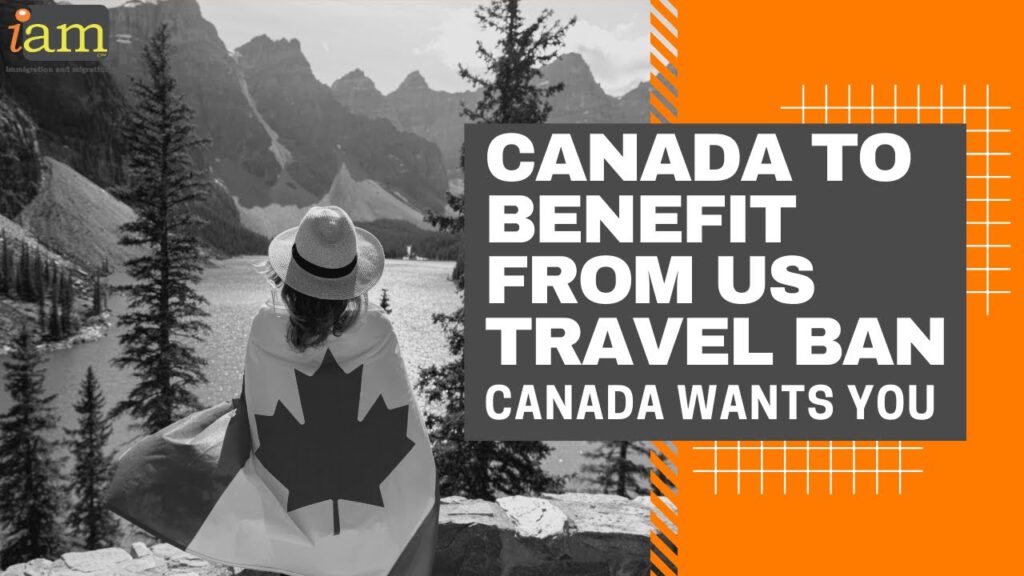 Canada To Benefit From US Travel Ban
Canada To Benefit From US Travel Ban US Companies And Migrants Are Being Wooed By Canada
US companies say new US visa rules benefits Canada
The Trump immigration clampdown risks many highly skilled workers from the US to move north of the border to Canada.
Company executives and immigration advisers on both sides of the border expect that the new US immigration rules will be bad for the US.
Instead of protecting US jobs, Donald Trump's restrictions on visas for foreign workers are expected to encourage companies to move highly skilled migrants and jobs to Canada.
✈ In this video:
Canada To Benefit From US Travel Ban US Companies And Migrants Are Being Wooed By Canada
From Toronto to Vancouver, Canada have already stopped and reversed the "brain drain" of professionals to US business hubs in recent years.
Now with the more aggressive US rhetoric & immigration policies, the relative affordability of housing and healthcare is swaying Canadians to stay and more immigrants to choose Canada over the US.
President Trump's decision to extend a ban on permanent US residency applications and stop issuing other work permits such as H-1B visas has really helped Canada's ability to compete for limited talent.
This is according to technology and consulting executives, who are among the biggest users of such visas.
Tobi Lutke, chief executive of Shopify, based in Ottawa, urged companies affected by the halt in H-1B visa issuance to "consider coming to Canada instead", steering potential applicants with his tweet to a careers site.
Just look to the north, where we welcome you (and your family) with open arms. Did I mention free healthcare? — Patrick Pichette, Chairman of Twitter
Rich Lesser, chief executive of Boston Consulting Group, stated that his firm had already offered jobs to several candidates that are going to be affected by the new H-1B and L1 visa rules.
By necessity we will move them to other countries, probably Canada Rich Lesser, chief executive of Boston Consulting Group,
The US risks suffering "a migration of top talent" which would otherwise have been paying American taxes, Rich Lesser warned, dismissing the administration's argument that the measures would speed the recovery of the US economy.
"What we want to tell international businesses around the world is, just because America has decided to close its doors to international talent, doesn't mean North America has decided to close its doors. Canada has not," said Mark Cohon, chair of Toronto Global, a group that markets the city's "open doors" immigration policy to potential foreign investors.
Talented workers, executives and tech personnel are being wooed by Canada as their next destination.
Marco Mendicino, Canada's immigration minister, told an interviewer he saw "a tremendous opportunity", and Canadian immigration advisers said the new US restrictions had sparked a flood of inquiries from tech professionals from India, China and other countries.
"Come to Canada." is what immigration minister Marco Mendicino said when asked about the immigration suspension in the USA.
Although Trump has halted US immigration, Canada is still committed to welcoming immigrants from around the world.
– Canada's committed to immigration
The Canadian immigration minister reaffirms Canada's commitment to immigration.
Canada continues to welcome immigrants through Express Entry draws, the Provincial Nominee Program (PNP) and the Canadian Experience Class (CEC).
In addition, temporary foreign workers are exempt from the travel restrictions put in place to curb the spread of COVID-19.
Canada had wanted to welcome over 340,000 immigrants in 2020, according to the 2020-2022 immigration levels.
Temporary foreign workers have various options for pathways to permanent residence.
International students also have options for pathways to permanent residence upon completion of your study program.
If you have questions or need assistance, reach out to your visa coordinator at IaM
If you're still unsure about your application, let us help you out!
👉https://immigrationandmigration.com/canada-visas/
✈ Read the full article at
==========================
✈ Apply for your Canada Visa at https://immigrationandmigration.com/canada-visa/ to get your Canada Work Visa!
==========================
✈ Find us on social media:
. Facebook: https://www.facebook.com/immigrationandmigration/
. Instagram: https://www.instagram.com/iam.uk/
. Twitter: https://twitter.com/iam_immigration
. Linkedin: https://www.linkedin.com/company/iam-immigration
. Pinterest: https://www.pinterest.com/iam_immigration/
-~-~~-~~~-~~-~-
Check out our latest video: "Schengen Visa Types"

-~-~~-~~~-~~-~-
#USTravelBan #CanadaOpenBorders #CanadaVisa