EUROPE TRAVEL BAN: Switzerland Opens To More Countries. Restrictions On 21 Countries Eased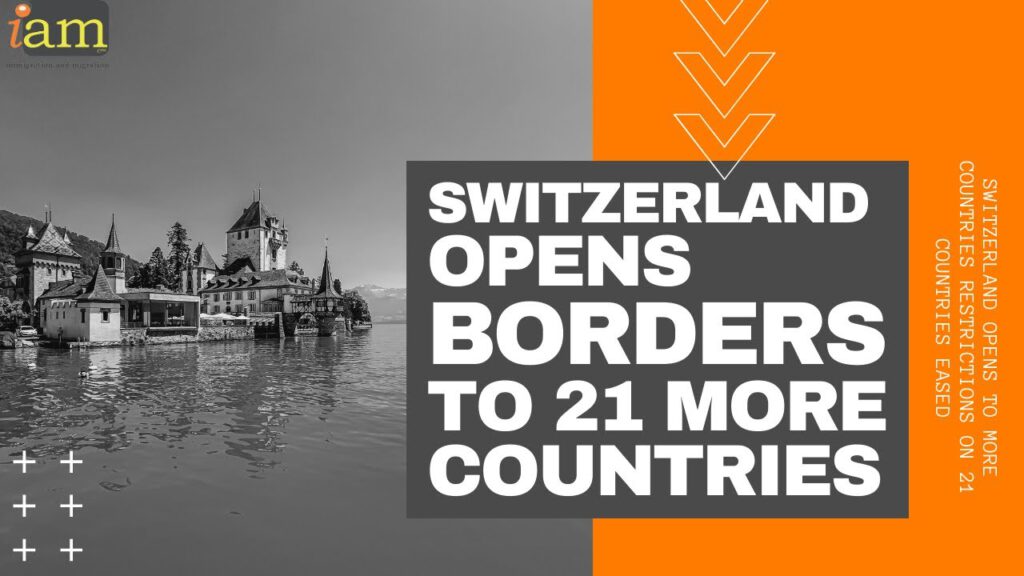 Switzerland Opens To More Countries Restrictions On 21 Countries Eased
The Swiss authorities have decided to ease entry restrictions, from July 20, for citizens coming from 21 epidemiologically safe coronavirus (COVID-19) pandemic countries.
The list of countries considered as epidemiologically safe are; Algeria, Australia, Georgia, Canada, Morocco, Japan, New Zealand, Rwanda, South Korea, Tunisia, Thailand, and Uruguay.
Also included are the 9 European Union countries, that have been removed from the list of risk countries; Bulgaria, Croatia, Cyprus, Ireland and Romania, Andorra, Monaco, San Marino and the Vatican.
✈ In this video:
Switzerland Opens To More Countries Restrictions On 21 Countries Eased
Switzerland to Ease Entry Restrictions for 21 Countries
Montenegro, which was just removed from the EU safe list, remains on the Swiss list of "at-risk" states; therefore, entry and quarantine restrictions remain in place.
The State Secretariat for Migration (SEM), has stressed that the latest decision will be monitored regularly and updated.
Travel is permitted to Switzerland to people on the "at-risk" countries if you can show an imperative reason for travel or you have residency.
So technically, the US and other business travellers can enter into Switzerland. But you will be faced with a mandatory quarantine.
If you are required to go through quarantine, failure to do so could face fines of up to CHF10,000 ($10,600).
Switzerland remains cautious and only relaxes its entry restrictions with restraint Swiss Justice Ministry on Twitter
Earlier this month, the Swiss government discussed the possibility to abolish the restrictions for these 21 countries, following a recommendation by the European Union.
All other countries are still considered high risk.
Entry restrictions continue to apply to persons entering Switzerland from these countries.
This includes the United States.
The list will be revised as and when required — the SEM
On June 15, the Swiss government opened its doors for citizens of EU Member States, including the United Kingdom, as well as citizens of the Schengen Associated Countries – Liechtenstein, Norway, and Iceland.
Switzerland's government decided to allow third-country citizens to enter the Swiss territory from July 6, as part of country's efforts to ease some of its restrictions, which have been introduced due to the Coronavirus pandemic situation, the Federal Council of Switzerland announced in a notice published in its official website on June 24.
Travellers that are obliged to go through quarantine or face the fine of up to CHF10,000 ($10,600) seem to be keeping to the quarantine rules, according to Swiss local authorities.
Additionally, travellers that are subject to quarantine are expected to report your arrival to the cantonal authority responsible within two days.
In cantons, Basel City, Geneva, Vaud, Thurgau and Graubünden just under 900 travellers are currently in quarantine, while as of 600 had registered in canton Zurich.
This shows that many people are acting responsibly.
But the figure also shows that many are not registering with the authorities and are not going into quarantine — the Federal Office
According to the OFSP, around one in ten new Coronavirus infection cases comes from travellers returning from abroad.
Thus, the government has started to request passenger list from airlines.
If you need any help or advice, contact your visa coordinator at IaM
If you're still unsure about your application, let us help you out!
👉https://immigrationandmigration.com/schengen-visas/
✈ Read the full article at
https://immigrationandmigration.com/
==========================
✈ Apply for your Schengen Visa at https://immigrationandmigration.com/schengen-visas to get your Schengen Visa!
==========================
✈ Find us on social media:
. Facebook: https://www.facebook.com/immigrationandmigration/
. Instagram: https://www.instagram.com/iam.uk/
. Twitter: https://twitter.com/iam_immigration
. Linkedin: https://www.linkedin.com/company/iam-immigration
. Pinterest: https://www.pinterest.com/iam_immigration/
-~-~~-~~~-~~-~-
Check out our latest video: "Schengen Visa Types"

-~-~~-~~~-~~-~-
#EropeTravelBan #SwissVisa #SwitzerlandOpensBorders #SchengenVisa