Canary Islands & Others Added back to UK Safe Travel Corridor & Tui Launches Deals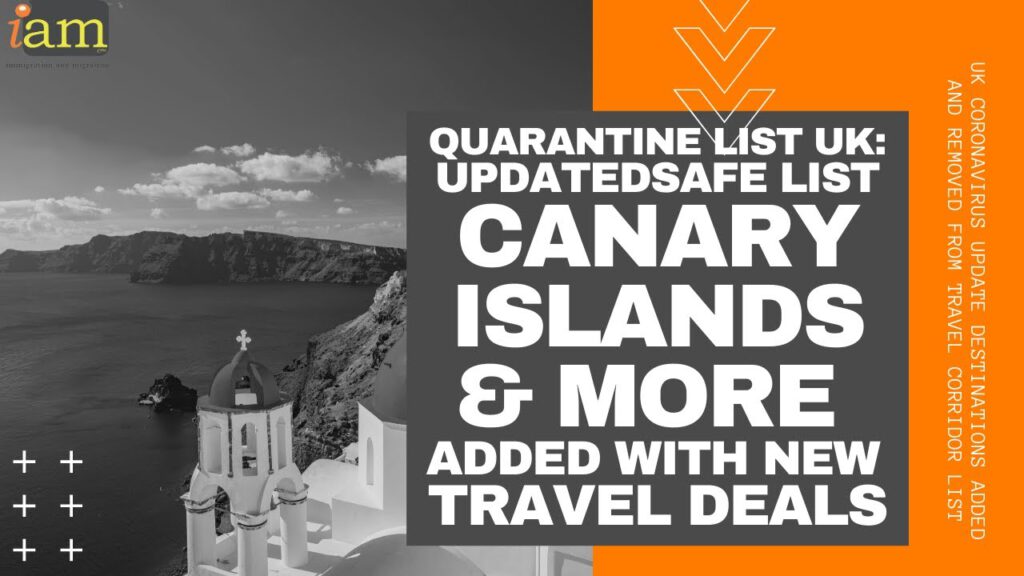 The Canary Islands & Others Added back to UK Safe Travel Corridor & Tui Launches Deals
UK Coronavirus Update Destinations Added And Removed From Travel Corridor List
More Countries Added to UK Safe List UK Moving to Testing Regime
UK Coronavirus Update: Destinations added and removed
✈ In this video:
0:00 – The Canary Islands & Others Added back to UK Safe Travel Corridor & Tui Launches Deals
0:47 – UK Coronavirus Update Destinations added and removed from travel corridor list
The travel corridor list is designed to allow people coming from certain countries to avoid the requirements of quarantine rules due to lower coronavirus infection cases.
The UK government has announced that it has added four destinations in the corridor list due to a decrease of COVID-19 cases and removed one.
01:17 – Destinations added to the corridor list
From 25 October 2020 at 4 AM, anyone arriving from the following countries no longer need to self-isolate for 14 days.
· Spain – Canary Islands
· Greece – Mykonos
· Denmark
· The Maldives
This means that a last-minute getaway to the Canaries will be back on the table after the islands were added to the UK travel corridor list.
TUI, the UK's largest holiday company, said it will have holidays on sale to Fuerteventura and Lanzarote from
24 October, with more flights to follow.
TUI's managing director for UK and Ireland, Andrew Flintham, described the addition of its most popular winter sun destination to the safe list as "a positive step forward".
We haven't been able to take people to the Canary Islands for 89 days, when the sudden quarantine and subsequent travel advice was imposed with little notice.
The operator will also have twice-weekly flights to St Lucia and Cuba over the winter, starting from Sunday.
Crete was added to the exempt, travel corridor, list on Sunday 18 October 2020. Whereas Lesvos, Santorini, Serifos and Zakynthos were returned to the safe list at on Saturday 10 October 2020.
Check out the link below for great travel offers.
02:57 – Removed from corridor list from 25th October
On the other hand, people arriving from Liechtenstein from 25 October will need to self-isolate for two weeks following the removal of the country from the travel exemptions list.
03:57 – Travelling To Europe From the UK During the Pandemic
The removal of Liechtenstein from the UK's travel corridor safe list will have little impact on travellers. This is because travel to Liechtenstein can only be achieved through an already quarantined country.
The list of countries you can currently travel to in Europe are:
Akrotiri and Dhekelia, the Azores, the Canary Islands, the Channel Islands, Cyprus, Denmark, Estonia, Faroe Islands, Finland, Gibraltar, Germany, Greece; Mykonos, Crete, islands of Lesvos, Santorini, Serifos, Tinos or Zakynthos, Ireland, the Isle of Man, Latvia, Lithuania, Madeira, Norway, Sweden
05:52 – The UK's Changing Travel Policy on Coronavirus
06:47 – A bit of light at the end of a very dark tunnel for the travel industry
COVID-19 has profoundly changed the nature of international travel. Airlines are currently operating at less than a third of their usual capacity.
Do you have plans to travel before the year is out? Tell us your dream destinations.
Comment below.
If you need assistance with a visa to Europe or the UK, including help with securing your travel arrangements, IaM can help.
For visa advice, contact your IAM coordinator.
Let us know what topic you will like for us to cover next, by commenting below.
If you're still unsure about your application, let us help you out!
👉Schengen Visa: https://immigrationandmigration.com/schengen-visas/
OR
👉UK Visa: https://immigrationandmigration.com/immigration-consultations/
✈ Read the full article at
England puts Portugal back on the coronavirus quarantine list
==========================
✈ Apply for your UK Visa at https://immigrationandmigration.com/services/application-checking-service/s to get your Visa!
OR
✈ Apply for your Schengen Visa at https://immigrationandmigration.com/schengen-visas to get your Schengen Visa!
==========================
Links to offers from affiliates:
==========================
– Viator: Tours, things to do, sightseeing tours, day trips and more (Reserve now, pay later): https://iam.ontraport.com/tl/414
– On the Beach Offers: https://iam.ontraport.com/tl/322
– LetsGo2 Offers: https://iam.ontraport.com/tl/327
==========================
✈ Find us on social media:
. Facebook: https://www.facebook.com/immigrationandmigration/
. Instagram: https://www.instagram.com/iam.uk/
. Twitter: https://twitter.com/iam_immigration
. Linkedin: https://www.linkedin.com/company/iam-immigration
. Pinterest: https://www.pinterest.com/iam_immigration/
-~-~~-~~~-~~-~-
Check out our latest video: "Schengen Visa Types"

-~-~~-~~~-~~-~-
#UKQuarantine #CanaryIslands #EuropeTravel