USA BANNED FROM EUROPE? Calls To Suspend Visa-Free Entry Of US Nationals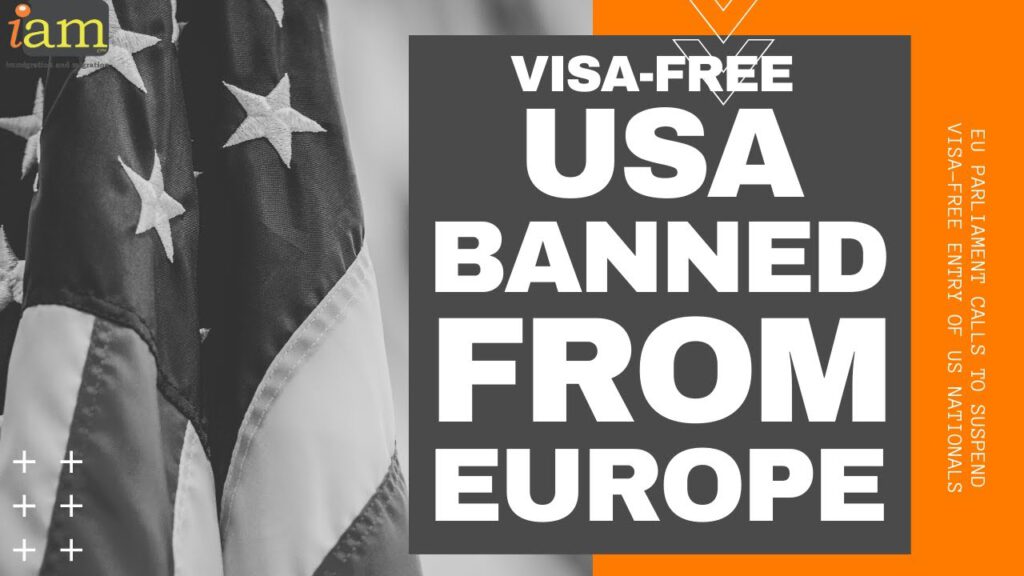 USA Banned From Europe: Calls To Suspend Visa-Free Entry Of US Nationals
EU Parliament Calls To Suspend Visa-Free Entry Of US Nationals
EU Parliament proposed to Suspend Visa-Free Entry of US Citizens
The European Union Parliament has called on the EU Commission to undertake the necessary measures to guarantee full reciprocity in terms of visa-free travel between the bloc and the United States, as foreseen by the EU legislation.
✈ In this video:
USA Banned From Europe Calls To Suspend Visa-Free Entry Of US Nationals
0:00 – EU Parliament proposed to Suspend Visa-Free Entry of US Citizens
0:42 – EU Parliament Calls to Suspend Visa-Free Entry of US Nationals
In a meeting of the Parliament held, October 22, the Parliament has pointed out that Bulgarian, Croatian, Cypriot and Romanian citizens still need a visa to enter the United States, while US nationals can travel visa-free throughout the whole of Europe.
With the support of 376 MEPS, a resolution urging the Commission to present a legal act suspending the visa waiver for US nationals for twelve months, as established in the so-called reciprocity mechanism.
1:32 – EU's Reciprocity Rule
According to a press release of the EU Parliament, the legislation foresees that the EU Commission must adopt a legal act suspending the visa waiver for nationals of any third-country that does not lift visa requirements within 24 months of being formally notified of a situation of non-reciprocity.
After the reciprocity measure is proposed by the Commission, both the European Parliament and Council can object it.
Commenting on the resolution, the Chair of the Civil Liberties Committee and rapporteur Juan Fernando López Aguilar said that Bulgarians, Croatians, Cypriots and Romanians are the sole EU citizens discriminated against when it comes to travelling to the US.
Respecting the fundamental principle of solidarity among EU members, we call on the Commission to act as established in European legislation and table a proposal to suspend the visa waiver for US nationals.
"It will then be up to the Parliament and the Council to assess the political consequences of this move," MEP López Aguilar
The situation of non-reciprocity affecting Bulgaria, Croatia, Cyprus and Romania was formally raised on April 12, 2014, based on which the Parliament asserts that the deadline for the Commission to act according to the EU laws expired on April 12, 2016.
Back then, Poland was also affected, but since last year Polish citizens can travel to the US visa-free.
03:12 – US Visa Waiver
US Visa Waiver Program allows citizens of specific countries to travel to the United States for tourism, business, or while in transit for up to 90 days without having to obtain a visa.
All EU member states except for Bulgaria, Croatia, Cyprus, and Romania are part of the program.
Although Croatia has applied for visa free travel for its citizens this year and has reportedly met the key criterion of the program, it has yet to receive official declaration from the US authorities.
03:47 – Europe & USA Travel Authorisation
Nationals of the countries part of the US visa waiver program must apply for an authorisation, Electronic System for Travel Authorization (ESTA), before travelling to the US.
The ESTA application collects biographic information and this will be used for border management and security.
A similar system, ETIAS, will soon be introduced by EU in 2022.
People applying for ETIAS will have to undergo a security check to determine if they will be allowed to enter the Schengen Area.
ETIAS will now make sure that these nationals are not a security threat.
You can enter the Schengen Area as many times as you would like as long as your ETIAS is still valid and you have not stayed more than 90 days in a 180-day period.
What are your thoughts about the reciprocity rule?
Comment below.
If you need assistance with a visa to Europe or the UK, including help with securing your travel arrangements, IaM can help.
For visa advice, contact your IAM coordinator.
Let us know what topic you will like for us to cover next, by commenting below.
If you're still unsure about your application, let us help you out!
👉https://immigrationandmigration.com/schengen-visas/
✈ Read the full article at
https://immigrationandmigration.com/blog
==========================
✈ Apply for your Schengen Visa at https://immigrationandmigration.com/schengen-visas to get your Schengen Visa!
==========================
✈ Find us on social media:
. Facebook: https://www.facebook.com/immigrationandmigration/
. Instagram: https://www.instagram.com/iam.uk/
. Twitter: https://twitter.com/iam_immigration
. Linkedin: https://www.linkedin.com/company/iam-immigration
. Pinterest: https://www.pinterest.com/iam_immigration/
-~-~~-~~~-~~-~-
Check out our latest video: "Schengen Visa Types"

-~-~~-~~~-~~-~-
#SchengenVisa #ETIAS #ESTA