Christmas Is Cancelled In Europe: Europe Lockdowns over Christmas and New Year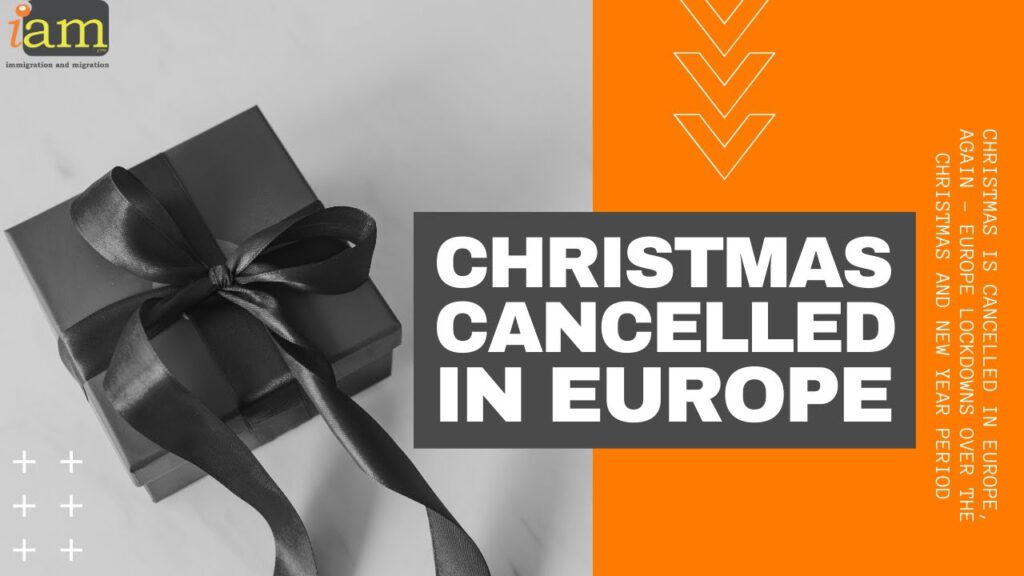 Christmas Is Cancelled In Europe, Again: Europe Lockdowns over the Christmas and New Year Period
Christmas is Cancelled in Europe Lockdown Travel Restrictions Around Europe
Lockdowns In Europe What are the Lockdown Restrictions Around Europe
Which Countries Can you Travel To? European Countries Open for Christmas
!!!UPDATE: The UK has scrapped the planned relaxation of rules for Christmas for those under England's new toughest measures – tier four, while in the rest of England, Scotland and Wales, relaxed indoor mixing rules are cut from five days to Christmas Day only.
✈ In this video:
Christmas Is Cancelled In Europe, Again: Europe Lockdowns over the Christmas and New Year Period
Christmas is Cancelled, Again
The UK came out of lockdown on 2nd December 2020.
Since then, there have been calls for the UK to go back into lockdown.
But as the coronavirus infections continues its upward trend, and many areas in England are moved into the higher tier restrictions. the UK government is wrestling with whether to go back into lockdown.
The picture of lockdowns and restrictions across Europe is a patchwork as we head into the Christmas and new year period.
UK government under pressure to cancel easing of restrictions over Christmas
The four nations of the United Kingdom have been facing growing calls to scrap or limit the planned easing of coronavirus restrictions over Christmas after a spike in new infections.
The scheduled five-day easing would allow up to three households to form a 'bubble' in and out of the home.
This contrasts with other European nations that have announced new restrictions for the holidays.
Shall the UK fail to get on top of the coronavirus infection rate, this will give more reasons for the EU to ban UK travellers after Brexit as the UK may be put on the list of restricted travel from EU third-country nationals.
Elsewhere in Europe, countries are approaching the pandemic in a different manner.
Travel Restrictions in Europe over Christmas
– Austria Easing of Restrictions
– Czech Republic Restrictions in Place
– France Lifts Lockdown International Travel Resumes for COVID-19 Safe Countries
– Germany's tightens restrictions After 'lockdown light' failed
– Greece Cancels Christmas Celebrations
– Italy "Red Zone" Restrictions for Christmas
– The Netherlands Tightest Restrictions So Far
– Portugal Eased Restrictions
– Spain Easing of Restrictions to visit Family & Friends
– Sweden Changes Strategy to Pandemic
Check out our full article on what other EU countries are doing for Christmas and Europe lockdown offer Christmas and the New Year.
Did you plan on travel for Christmas to Europe?
Comment Below.
IaM can help with your visa application to Europe, the United States, the UK & other countries.
If you need help with a US visa, a UK Visa, or visa to Europe, including help with appointment booking obligations, IaM can help.
For more information and advice on US immigration, UK immigration law, EU Immigration and other visa applications or if you need any help or assistance please, reach out to your Visa Coordinator at IaM.
If you're still unsure about your application, let us help you out!
👉https://immigrationandmigration.com/schengen-visas/
✈ Read the full article at
==========================
✈ Apply for your Schengen Visa at https://immigrationandmigration.com/schengen-visas to get your Schengen Visa!
==========================
✈ Find us on social media:
. Facebook: https://www.facebook.com/immigrationandmigration/
. Instagram: https://www.instagram.com/iam.uk/
. Twitter: https://twitter.com/iam_immigration
. Linkedin: https://www.linkedin.com/company/iam-immigration
. Pinterest: https://www.pinterest.com/iam_immigration/
-~-~~-~~~-~~-~-
Check out our latest video: "Schengen Visa Types"

-~-~~-~~~-~~-~-
#SchengenVisa