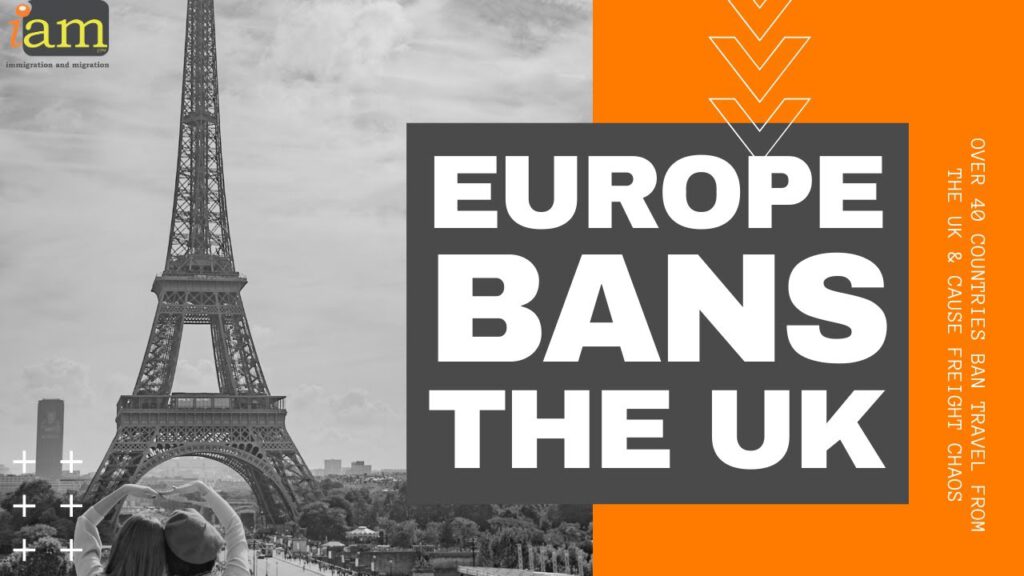 Europe Bans UK Travel
Europe Bans the UK Travel Ban Placed on Travel from the UK
Scenes Reminiscent of Pre-EU Free Movement !000s of Travellers Banned from Travel Last Minute & Cargo Trucks Pile up in Dover
UK gets a taste of pre-Single Market free movement rights withdrawn.
Over 40 Countries Ban Travel from the UK Other Countries Follow Europe's Lead
New Strain Of COVID-19 Blamed New Strain found in Other Countries
Post Brexit Realities? Could this be a sign of things to Come?
✈ In this video:
– Europe Bans UK Travel
– European countries ban travel from the UK using new Covid strain as the reason
The new COVID Variant causes an increase in cases, while the closure of borders put a halt to travel and supply chains
European countries have banned flights, Eurotunnel, Eurostar and ferries carrying passengers from the UK to suppress the spread of a new variant of the coronavirus.
The New Strain of Coronavirus Blamed for the UK being Banned from Travel to the rest of Europe. The new strain could be up to 70% more transmissible than the old virus variant.
Known as VUI-202012/01, the virus has already been found in all parts of the UK, aside from Northern Ireland.
It is also found in Australia, Denmark and the Netherlands and other countries.
Additionally, French President, Emmanuel Macron, has already stated that it is "entirely possible" that the strain of virus may be already spreading in France.
The Netherlands said it had detected a case of the same strain in early December and was investigating
So is this new strain of coronavirus really the reason for the travel ban? Comment below.
– Which European countries have banned flights from the UK?
The growing list of countries that have banned flights from the UK include:
Austria, Belgium, Bulgaria, Croatia, Denmark, Estonia, Finland, France, Germany, Ireland, Italy, Latvia, Lithuania, Malta, the Netherlands, Norway, Portugal, Poland, Romania, Spain, Sweden, Switzerland
The Czech Republic has imposed stricter quarantine measures for people arriving from Britain.
Estonia and Latvia have halted flights to the UK as well.
– Coordinated Approach to Banning the UK from Travel to Europe
Spain is pushing for a coordinated approach to this new strain and has just placed a ban on the UK. It is seeking the EU institutions to coordinate a response.
– Other Countries that have banned the UK?
Argentina, Canada, Chile, Colombia, Ecuador, El Salvador, Hong Kong, India, Iran, Israel, Jordan, Kuwait, Morocco, Oman, Peru, Russia, Saudi Arabia, South Africa, Turkey, and Chile has introduced mandatory two-week quarantine for anyone who visited the UK in the last fortnight.
– Will the US ban UK flights?
The US State Department's travel advisory for the UK remains unchanged at Level 3, which means travellers should "reconsider travel". If it moves to a level 4, the US will be then advising people in the US to not travel to the UK.
However, it is being reported that New York governor, Andrew Cuomo, has said he wanted a ban on flights from Britain to New York City because of the new strain.
The sudden changes to travel and a ban on travel and freight from the UK may be what lies in store if there is no deal Brexit.
With the covid pandemic raging on, this could also be a taste of things to come after 31st December, as the UK becomes a 3rd country and the EU will,
and can, put in place travel advisories, restrictions and bans against third party countries, like the UK.
Do you have plans to travel for the holidays? Comment below.
IaM can help with your visa application to the United States, the UK & other countries
If you need help with a US visa, a UK Visa, or visa to Europe, including help with appointment booking obligations, IaM can help.
For more information and advice on US immigration, UK immigration law and US visa applications or if you need any help or assistance please, reach out to your Visa Coordinator at IaM.
If you're still unsure about your application, let us help you out!
👉https://immigrationandmigration.com/schengen-visas/
✈ Read the full article at
https://immigrationandmigration.com/european-countries-ban-uk-travel-from-uk-banned-due-to-new-covid-19-strain/
==========================
✈ Apply for your Schengen Visa at https://immigrationandmigration.com/schengen-visas to get your Schengen Visa!
==========================
✈ Find us on social media:
. Facebook: https://www.facebook.com/immigrationandmigration/
. Instagram: https://www.instagram.com/iam.uk/
. Twitter: https://twitter.com/iam_immigration
. Linkedin: https://www.linkedin.com/company/iam-immigration
. Pinterest: https://www.pinterest.com/iam_immigration/
-~-~~-~~~-~~-~-
Check out our latest video: "Schengen Visa Types"

-~-~~-~~~-~~-~-
#Brexit #EUTravelBan #EuropeBansUK #SchengenVisa