England Imposes Compulsory Declaration For International Travel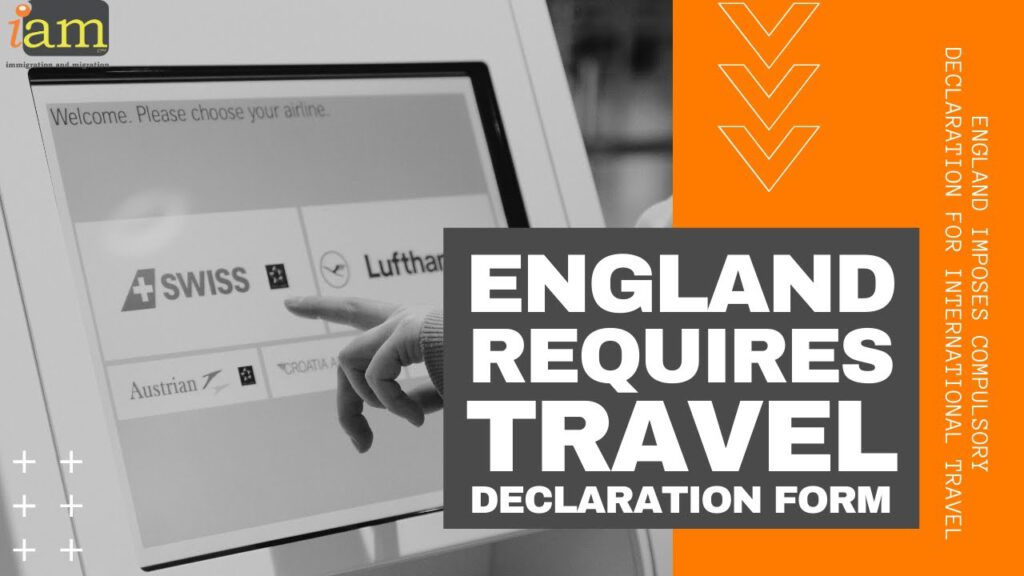 England Imposes Compulsory Declaration For International Travel
England Imposes Compulsory Declaration form for International Travel
International Travel Controls – UK Controls on International Travel before the Holiday Season
Who Can Currently Travel? Future Plans For International Travel
✈ In this video:
0:00 – England Imposes Compulsory Declaration For International Travel
01:22 – England Imposes Compulsory Declaration Form
England's residents who wish to travel abroad from March 8 will be obliged to fill a "Declaration to Travel" form otherwise, they will be prohibited from travelling, and even face a £200 fine.
Before travelling, England residents must download the form available at the UK's government website check our blog post for the link
The form asks travellers to enter their personal details including their address, passport number, and destination, followed by their essential claim for travel.
Airline carriers are instructed to verify completion of the document either at the boarding
gate or check-in.
However, British authorities have stated that the stay-at-home rules remain therefore, it is illegal to travel to foreign countries without any significant reason such as work or education.
The UK's Police will check the country's ports in order to ensure that all passengers are following mandatory quarantine rules.
Persons seeking to travel abroad for unnecessary reasons will be urged to return to their homes and they risk receiving fines from £200 and up to £6,400.
02:38 – Preventive measures for International Travel
British officials up to this point have imposed many preventive measures while tightening their controls further in order to minimize the risk of virus transmission at the border by introducing pre-departure testing for all passengers arriving from abroad.
The UK's government also requires all persons who travel back to Britain from countries highly affected by the virus to quarantine for ten days when entering the country.
However, in Scotland, Northern Ireland as well as in Wales, there are different restrictions
in place, but up to this point, there is no declaration for travel form requirements.
Still, travel to foreign countries is prohibited and considered illegal unless citizens have any compelling reason.
Passengers arriving from any other countries in the United Kingdom will be required to take two COVID-19 tests while following quarantine rules.
03:42 – Looking for ways to resume travel
Even though UK authorities strictly ban travel, the government seeks to find new alternatives that would help international travel restart safely.
Such a plan was previously discussed by the Secretary of State, Grant Shapps, in the first meeting of the new Global Travel Taskforce.
The authorities have ramped up its Covid border control measures in order not to undermine the success of its vaccine programme, which is now well underway in the country.
What are your thoughts on the added paper-work to travel? Talk to us in the comment section below.
If you need assistance with a visa to Europe, the UK, or the US, including help with securing your travel arrangements, IaM can help.
For visa advice, contact your IAM visa coordinator.
If you're still unsure about your application, let us help you out!
👉https://immigrationandmigration.com/immigration-consultations/
✈ Read the full article at
https://immigrationandmigration.com/
✈ Check out UK Travel, Visas & Immigration Info at https://immigrationandmigration.com/category/news-and-events/uk-visa-news/
==========================
✈ Apply for your UK Visa at https://immigrationandmigration.com/how-to-get-your-application-check-and-send/ to get your Visa!
==========================
Check out the offers and discounts from:
Airport Transfers – https://iam.ontraport.com/c/s/j9Q/P/U/jvT/P/6oTxO3/Uz8tXktnsh/P/P/P
Holidays – https://iam.ontraport.com/c/s/j9Q/P/j/jvi/P/6oTxO3/vof8Cu3AQ4/P/P/P
Flights, Hotels Etc – https://iam.ontraport.com/c/s/j9Q/P/5/jvo/P/6oTxO3/vjtlp51A5x/P/P/P
Things to Do When You Get There – https://iam.ontraport.com/c/s/j9Q/P/r/jvM/P/6oTxO3/sALWj2h37D/P/P/P
And because of the pandemic, don't forget to get your travel insurance https://immigrationandmigration.com/travel-insurance-amid-coronavirus/ , which will cover you for flight disruptions and pandemic related matters https://iam.ontraport.com/tl/400 .
==========================
✈ Find us on social media:
. Facebook: https://www.facebook.com/immigrationandmigration/
. Instagram: https://www.instagram.com/iam.uk/
. Twitter: https://twitter.com/iam_immigration
. Linkedin: https://www.linkedin.com/company/iam-immigration
. Pinterest: https://www.pinterest.com/iam_immigration/
-~-~~-~~~-~~-~-
Check out our latest video: "Schengen Visa Types"

-~-~~-~~~-~~-~-
#InternationalTravel #InternationalTravelDeclaration #TravelDeclaration #MandatoryTravelDeclaration #SchengenVisa