Estonia Calls for Harmonised Pandemic Measures & Travel Restrictions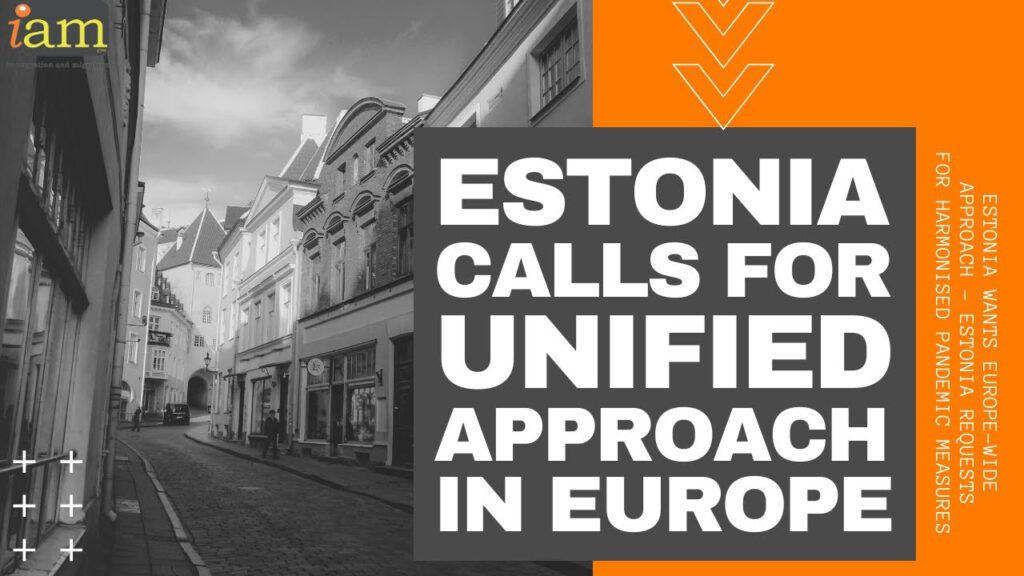 Estonia Calls for Harmonised Pandemic Measures & Travel Restrictions
Estonia Requests For Harmonised Pandemic Measures
Estonia Wants Europe-wide Approach Estonia requests for harmonised pandemic measures
Estonia wants a harmonised response to coronavirus
Estonia made a request at the Council of the European Union to harmonise crisis measures related to the COVID-19 pandemic.
✈ In this video:
Estonia Calls for Harmonised Pandemic Measures & Travel Restrictions
Minister of Foreign Affairs Urmas Reinsalu said Estonia supports an agreed framework for an early warning system for restrictive measures, common criteria and a chance to replace border closures and lockdowns with more flexible measures, with the combination of restrictions and voluntary testing allowing people to move, work and provide services.
We must make every effort to avoid a complete closure of borders and use other, commonly agreed measures where possible to contain the spread of the disease — Minister of Foreign Affairs Urmas Reinsalu
Estonia's proposal includes an early warning system for upcoming restrictions, and a measure for voluntary testing, which would allow people to return to work more quickly.
While the infection rate per 100,000 inhabitants is growing everywhere, we must discuss within the European Union how to factor in the rate of testing – the testing capabilities of member states vary — Reinsalu
The most important thing is to agree on coordination between member states when carrying out tests and providing information about newly adopted measures.
Earlier in the week, Germany also announced that they will propose a unified travel restrictions measures across the EU in response to the pandemic.
Estonia is part of the "Baltic Bubble" of countries including Latvia & Lithuania.
Citizens and residents of the Baltic states were allowed to travel within the "Baltic bubble" without self-isolating upon crossing the internal borders…
provided that they had not been outside the Baltic states in the past 14 days, that they were not in self-isolation already and had no symptoms of respiratory illness.
The three countries were among the first to lift travel restrictions, but only between each other.
Together, they became the envy of European countries that were keen to open their borders.
The three Baltic countries also agreed on uniform safety measures that would be implemented to keep COVID-19 infections in check.
Unfortunately, the baltic bubble will cease to exist due to mounting COVID-19 cases in Latvia's neighbouring countries, Latvian Prime Minister Krisjanis Karins said on 02 September that baltic bubble will end
This will add to mounting pressure across Europe to mount a coordinated effort to protect travel in the European Union.
The travel and tourism sector has been badly damaged by the global pandemic.
Only a minority of countries across Europe have little or no restrictions from other countries in the European bloc.
What do you think about these measures? comment below
For visa advice, contact your IaM coordinator
If you're still unsure about your application, let us help you out!
👉https://immigrationandmigration.com/schengen-visas/
✈ Read the full article at
https://immigrationandmigration.com/
✈ Keep up with Visas to Estonia at
https://immigrationandmigration.com/category/schengen-visas/estonia/
✈ Keep updated of Schengen Visa news at
https://immigrationandmigration.com/category/news-and-events/schengen-visa-news/
==========================
✈ Apply for your Schengen Visa at https://immigrationandmigration.com/schengen-visas to get your Schengen Visa!
==========================
✈ Find us on social media:
. Facebook: https://www.facebook.com/immigrationandmigration/
. Instagram: https://www.instagram.com/iam.uk/
. Twitter: https://twitter.com/iam_immigration
. Linkedin: https://www.linkedin.com/company/iam-immigration
. Pinterest: https://www.pinterest.com/iam_immigration/
-~-~~-~~~-~~-~-
Check out our latest video: "Schengen Visa Types"

-~-~~-~~~-~~-~-
#EstoniaHarmonisation #EstoniaVisa #EstoniaReopens #EstoniaSchengenVisa #Estonia #SchengenVisa #Travel #IaM