EU TRAVEL BAN: Call For Binational Couples To Be Exempted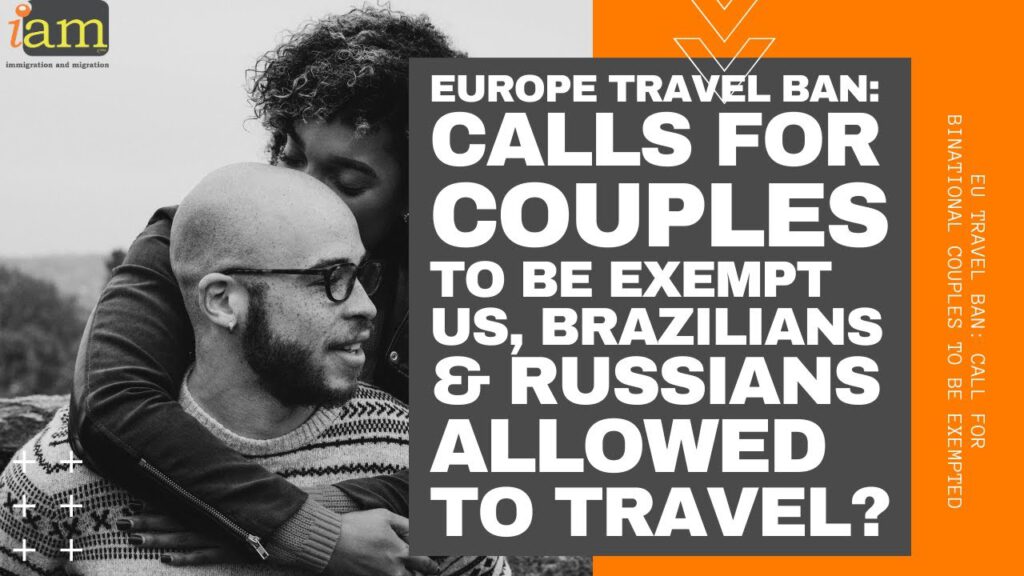 EUROPE TRAVEL BAN: Call For Binational Couples To Be Exempted.
EUROPE TRAVEL BAN: Calls for Couples to be exempt US, Brazilians & Russians allowed to travel?
EU Commissioner Urges Member States to Lift Travel Ban for Binational Couples
With momentum gathering pace for a campaign of binational unmarried couples separated by the EU travel ban, an EU official has finally heard their voices and called on the EU authorities to lift the ban on this category of travellers.
EU Commissioner for Home Affairs, Ylva Johansson, who is Swedish, has applauded those engaged in the campaign, that have been sharing their stories in social media for quite some time now, mainly under the #LoveIsEssential and #LoveIsNot Tourism hashtags.
I want to directly address and support the very committed and vocal #LoveIsEssential campaign.
I urge Member State authorities and indeed travel companies to apply as wide a definition of partnerships as possible — Commissioner Johansson
✈ In this video:
EU Travel Ban: Call For Binational Couples To Be Exempted
The EU Commissioners are calling for travel bans on couples to be lifted.
Andreas Schieder, an Austrian politician and a Member of the European Parliament since 2019, joined the call, at the same time signing and promoting a petition directed to the Austrian Government.
The petition asks the responsible government members, Foreign Minister Schallenberg and Interior Minister Nehammer, to find a solution for binational couples that enables a partner who is in a country that is banned from entering the EU to enter Austria.
Regardless of whether married or not, couples must be allowed to see each other again.
Now that international air traffic is starting up again, an appropriate solution is needed with a sense of proportion.
If there are no reasons why people residing in Austria are not allowed to enter the country because of strict hygiene rules such as a 14-day quarantine or a health certificate, so there is so much deprivation during the pandemic, so it is now It is the task of the State Department to give lovers a perspective," Andreas Schieder
The call for member states and the travel industry to lift this ban will also mean that countries on the European Travel Ban, such as USA, Russia & Brazil will exempt U.S. residents and others with partners in Europe from the EU travel ban.
Currently, only Denmark has permitted girlfriends and boyfriends, to enter the country under the purpose of joining their lover. Sweden has a limited policy.
"The foreigner's presence in Sweden absolutely necessary. For example, childbirth, burial and palliative care, and this should be substantiated". — Sweden's Limited Policy
In Denmark, the entry restrictions for couples were relaxed after MP Andreas Steenberg from the Social Liberal Party, raised the issue at the parliament.
Following Johansson's call, a group of German MEPs wrote an open letter to the German Minister of Interior Horst Seehofer, reminding him that travel restrictions at the external borders still divide families and beloved ones.
Many binational couples, which are not married or whose same-sex marriage certificate is not recognized did not have a chance to see each other for months Open Letter to German Minister
If the EU Judges Love Is Essential, the implications of the call are huge.
For the EU Commissioner is declaring that love counts as "essential travel" and should be, in all its forms, exempt from the EU travel ban.
The EU in its guidelines for the travel ban encourages members to interpret possible waivers more widely.
they take appropriate measures such as requiring such persons to undergo self-isolation or similar measures upon return from a third country for which the temporary travel restriction is maintained.
If these guidelines, the momentum and willingness of liberal states such as the Netherlands, Belgium & Others, we may soon see international travel for binational couples return.
If you're still unsure about your application, let us help you out!
👉https://immigrationandmigration.com/schengen-visas/
✈ Read the full article at
==========================
✈ Apply for your Schengen Visa at https://immigrationandmigration.com/schengen-visas to get your Schengen Visa!
==========================
✈ Find us on social media:
. Facebook: https://www.facebook.com/immigrationandmigration/
. Instagram: https://www.instagram.com/iam.uk/
. Twitter: https://twitter.com/iam_immigration
. Linkedin: https://www.linkedin.com/company/iam-immigration
. Pinterest: https://www.pinterest.com/iam_immigration/
-~-~~-~~~-~~-~-
Check out our latest video: "Schengen Visa Types"

-~-~~-~~~-~~-~-
#LoveIsEssential #LoveIsNotTourism #SchengenVisa #Europe #EuropeTravelBan #EUTravelBan