What to expect when you travel to Greece: Greece Border Update & Travel Advice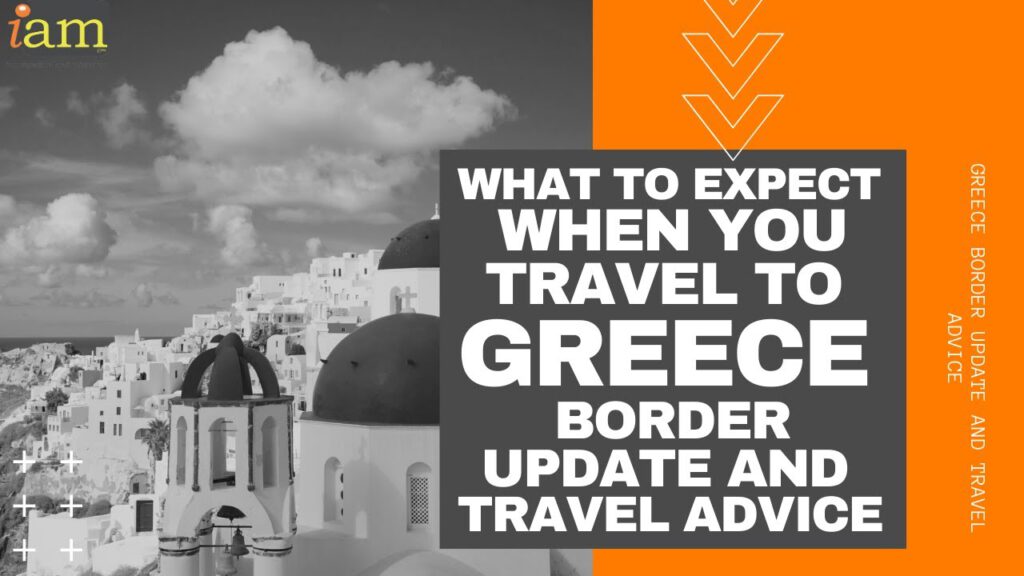 What to expect when you travel to Greece – Greece Border Update And Travel Advice
Greece Border status and Travel advice
As of the 1st July international arrivals and departures are allowed into all ports, airports and some land borders in Greece, for all EU Member States, Andorra, Monaco, San Marino and the Vatican City…
… except for Sweden and Serbia, which will be reviewed on the 15th July.
Restrictions have been tightened in Kosovo & Serbia due increase rate of infections. Greece has shut the Serbia border amid COVID-19 spike in the Balkans
✈ In this video:
Greece Border Update And Travel Advice
All travellers are obliged to submit the Passenger Locator Form (PLF) up to 48 hours before travelling.
Travellers will receive a QR code which will be scanned upon arrival
QR code screening personnel will then direct passengers, depending on their QR code, either to the Covid-19 testing area or the exit.
Visitors subjected into testing are obliged to self-isolate at the address of their final destination as declared on their passenger locator form (PLF) for 24 hours until the testing outcome.
In case you are tested positive to Covid-19, you will have to stay isolated for 14 days in the dedicated quarantine hotels across the country.
Travellers from airports on the European Aviation Safety Agency (EASA) list — including in France, the U.K., the U.S. and Belgium — face mandatory tests and quarantines.
For others, there are no requirements, although random testing will be carried out.
Greek government spokesman, Stelios Petsas, announced Greece and Britain will fully resume flights on July 15
In cooperation with the British government and following advice of experts, the government announces the resumption of direct flights from the United Kingdom to all airports of the country from July 15 — Petsas
On the 3rd July, the UK announced it will be allowing quarantine-free international travel to 59 "lower-risk countries" including Greece.
In the past week, Greece has launched an information campaign
"Enjoy your stay – Stay safe"
Urging tourists to be mindful of health rules during their holiday in the country.
The General Secretariat for Civil Protection issued directives for the necessary protection measures:
* Use hand antiseptic often
* Wear a mask
* Wash your hands regularly and thoroughly
* Avoid touching your mouth, nose and eyes
* Dispose of your mask and gloves safely in waste bins
* Cough or sneeze into your elbow or tissue
* Keep your distance
* Prefer contactless transactions when available
* Avoid using elevators
Greek authorities are hoping to salvage the season and limit some of the losses incurred by the tourism industry while maintaining the positive momentum achieved by the successful management of the first wave of the novel virus.
UK visa centres in London and Edinburgh are now accepting Schengen visa applications with prior appointment only
As both centres are only open twice a week until further notice, there are limited schedules available so be sure to secure a visa ahead of your planned trip
Following guidelines and best practices recommended by health and governmental authorities, in order to minimize any extra health-related risks, applicants are required to avail of the courier service for the return of their passport.
If you're still unsure about your application, let us help you out!
👉https://immigrationandmigration.com/schengen-visas/
✈ Read the full article at
✈ Keep up with Schengen Visa information to Greece at
https://immigrationandmigration.com/category/schengen-visas/greece/
✈ Keep up with Schengen Visa News & Information at
https://immigrationandmigration.com/category/news-and-events/schengen-visa-news/
==========================
✈ Apply for your Schengen Visa at https://immigrationandmigration.com/schengen-visas to get your Schengen Visa!
==========================
✈ Find us on social media:
. Facebook: https://www.facebook.com/immigrationandmigration/
. Instagram: https://www.instagram.com/iam.uk/
. Twitter: https://twitter.com/iam_immigration
. Linkedin: https://www.linkedin.com/company/iam-immigration
. Pinterest: https://www.pinterest.com/iam_immigration/
-~-~~-~~~-~~-~-
Check out our latest video: "Schengen Visa Types"

-~-~~-~~~-~~-~-
#GreeceTravelBan #EuropeTravelBan #SchengenVisa #GreeceReopens #GreeceVisa #IaM #Greece