EUROPE TRAVEL BAN: Italy Reopens Borders To Travel & Tourism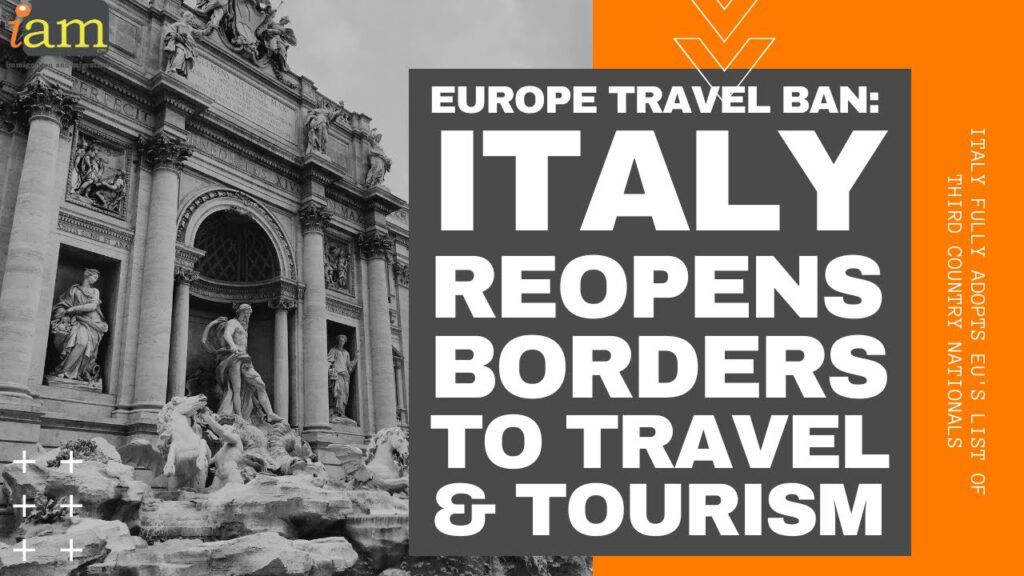 EUROPE TRAVEL BAN – Italy Reopens Borders To Travel & Tourism
Italy fully adopts EU's list of 3rd-country nationals.
Italy Reopens Travel & Tourism for Residents of 14 Third-Countries without quarantine.
The Italian Ministry of Health has decided to apply a recommendation of the European Union Council, to reopen the borders to the residents of 14 third-countries.
While also considering border reopening for China, if the latter undertakes the same move for EU citizens.
✈ In this video:
Italy Fully Adopts EU's List Of Third Country Nationals
Residents of Algeria, Australia, Canada, Georgia, Japan, Montenegro, Morocco, New Zealand, Rwanda, Serbia, South Korea, Thailand, Tunisia and Uruguay can enter Italy as of July 1
"Italy has chosen to adopt a prudent line as Coronavirus travel restrictions are eased, and is keeping in force self-isolation and health-surveillance measures for all people arriving from extra-Schengen countries for the moment," ordinance signed by Health Minister Roberto Speranza
The notice reads among others, explains that the Health Minister Roberto Speranza has already signed an ordinance on the exemption of these persons from the entry ban.
Persons who show 'demonstrable reasons of study', are also added to the list of persons who can enter the Italian territory from the same date and on, as well as work needs, health reasons and absolute necessity.
Minister Speranza said that the Coronavirus situation at the global level remains complex, noting that the improving situation in Italy must be preserved.
"We must prevent the sacrifices the Italian people have made in recent months from being wasted"
Italy opened its borders on June 3 to the EU, UK, Schengen area, Andorra and Monaco citizens, as well as Vatican City and San Marino
Travellers coming from the above countries don't have to undergo quarantine unless they have been in any other country in the 14 days before reaching Italy.
Being one of the first countries to open its borders, the decision was widely criticised and deemed as "premature" by many other Member States. The majority of these countries proceeded to open their borders to the rest of the EU citizens on June 15 and later.
Malta, for example, has reopened their borders on July 1, and Norway plans to reopen later on July 15.
The two countries, alongside with countries as Hungary, declined the EU Council proposal to reopen borders to 15 third-countries deemed as safe, noting that the situation does not permit for such a step to be taken yet.
The EU Safe List will be reviewed every two weeks and adjusted depending on the latest Coronavirus developments in each country.
For now, only the Italian Visa Application Centre in Edinburgh in the UK is accepting applications by prior appointment only.
If you're still unsure about your application, let us help you out!
👉https://immigrationandmigration.com/schengen-visas/
✈ Read the full article at
✈ Keep up with Schengen Visa information to Italy at
https://immigrationandmigration.com/category/schengen-visas/italy/
✈ Keep up with Schengen Visa News & Information at
https://immigrationandmigration.com/category/news-and-events/schengen-visa-news/
==========================
✈ Apply for your Schengen Visa at https://immigrationandmigration.com/schengen-visas to get your Schengen Visa!
==========================
✈ Find us on social media:
. Facebook: https://www.facebook.com/immigrationandmigration/
. Instagram: https://www.instagram.com/iam.uk/
. Twitter: https://twitter.com/iam_immigration
. Linkedin: https://www.linkedin.com/company/iam-immigration
. Pinterest: https://www.pinterest.com/iam_immigration/
#EuropeTravelBan #ItalyReopensBorders #SchengenVisa #ItalyVisa #Italy #IaM #SchengenVisaItaly
-~-~~-~~~-~~-~-
Check out our recent video on: "Applying for a British Passport After Indefinite Leave to Remain"

-~-~~-~~~-~~-~-