Europe Imposes New COVID-19 Restrictions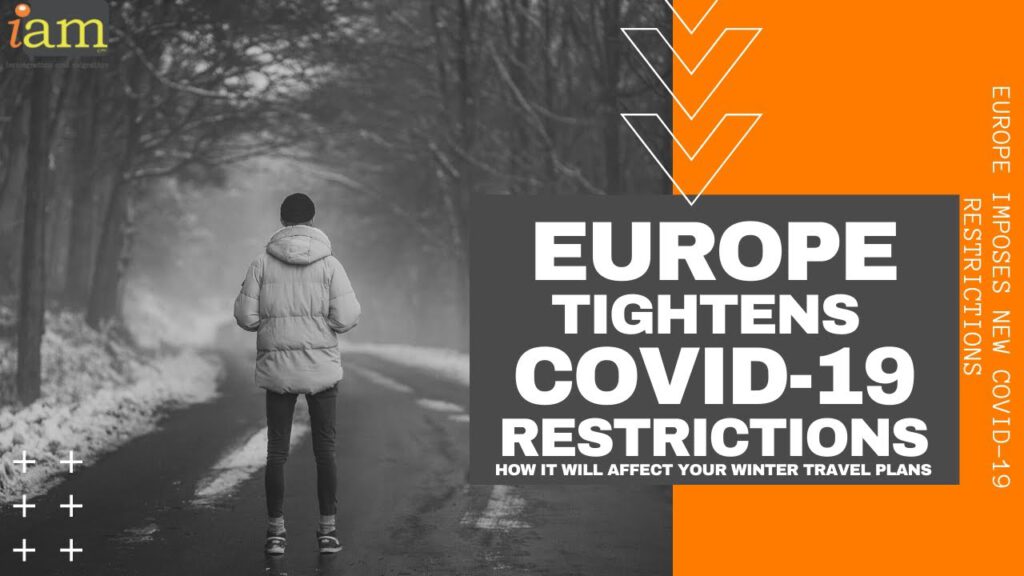 Europe Imposes New COVID-19 Restrictions
✈ In this video:
0:00 Europe Imposes New COVID-19 Restrictions
1:22 Europe Imposes New COVID-19 Restrictions
The recent wave of Covid-19 cases is hitting Europe with a vengeance with a number of countries seeing record numbers of daily infections.
European countries such as Austria, Germany, and Hungary registered record-high numbers.
Amid the rise in cases, various nations are imposing tighter COVID-19 restrictions, which is impacting travellers visiting Europe.
…
2:24 European Countries Imposing Restrictions
Covid passes are becoming the norm across Europe.
The passes are used to access a number of public spaces from bars and movie theaters to Christmas markets.
Here are European countries that have imposed restrictions aside from requiring Covid passes and may affect your travel plans.
2:55 The Netherlands
The Netherlands was the first European country that has imposed a partial lockdown since summer.
On 12 November, the partial lock was announced and will last at least for three weeks and include the closure of bars, restaurants, and essential shops from 8pm, with non-essential retail and services such as hairdressers to close at 6pm.
…
3:39 Austria
Austria announced a lockdown on unvaccinated people over the weekend.
Unvaccinated people are refused entry to restaurants, hairdressers, and events. COVID-19 tests will no longer be considered valid entry pass.
The restriction for unvaccinated people will last at least until Christmas and New Year's Eve, according to the Austrian government.
…
4:39 Germany
Germany has tightened COVID-19 restrictions in several states, including Berlin.
The government announced only fully vaccinated people and those who've recovered from COVID-19 can enter restaurants, museums, cinemas, and concert venues.
…
5:15 Planning to Travel to Europe
People travelling during the holiday season may be looking forward to seasonal events like Christmas markets, concerts, and New Year's Eve celebrations.
Travellers can still visit Europe as long as they can prove their vaccination status.
…
What are your thoughts on this issue? Talk to us in the comment section below.
If you're still unsure about your application, let us help you out!
👉https://immigrationandmigration.com/schengen-visas/
✈ Read the full article at
==========================
✈ Apply for your Schengen Visa at https://immigrationandmigration.com/schengen-visas to get your Schengen Visa!
==========================
Check out the offers and discounts from:
Airport Transfers – https://iam.ontraport.com/c/s/j9Q/P/U/jvT/P/6oTxO3/Uz8tXktnsh/P/P/P
Holidays – https://iam.ontraport.com/c/s/j9Q/P/j/jvi/P/6oTxO3/vof8Cu3AQ4/P/P/P
Flights, Hotels Etc – https://iam.ontraport.com/c/s/j9Q/P/5/jvo/P/6oTxO3/vjtlp51A5x/P/P/P
Things to Do When You Get There – https://iam.ontraport.com/c/s/j9Q/P/r/jvM/P/6oTxO3/sALWj2h37D/P/P/P
And because of the pandemic, don't forget to get your travel insurance https://immigrationandmigration.com/travel-insurance-amid-coronavirus/ , which will cover you for flight disruptions and pandemic related matters https://iam.ontraport.com/tl/400 .
==========================
✈ Find us on social media:
. Facebook: http://iam.re/iamfb​
. Instagram: http://iam.re/iamig​
. Twitter: http://iam.re/iamtw​
. Linkedin: http://iam.re/iamli​
. Pinterest: http://iam.re/iampin
-~-~~-~~~-~~-~-
Check out our latest video: "Schengen Visa Types"

-~-~~-~~~-~~-~-
#TravelToEurope #WinterTripToEurope #EuropeTightensCovidRestrictions
* Some of our content may contain affiliate links. If you use these links to buy something we may earn a commission.