UK & US Airlines Partner for Free Covid Test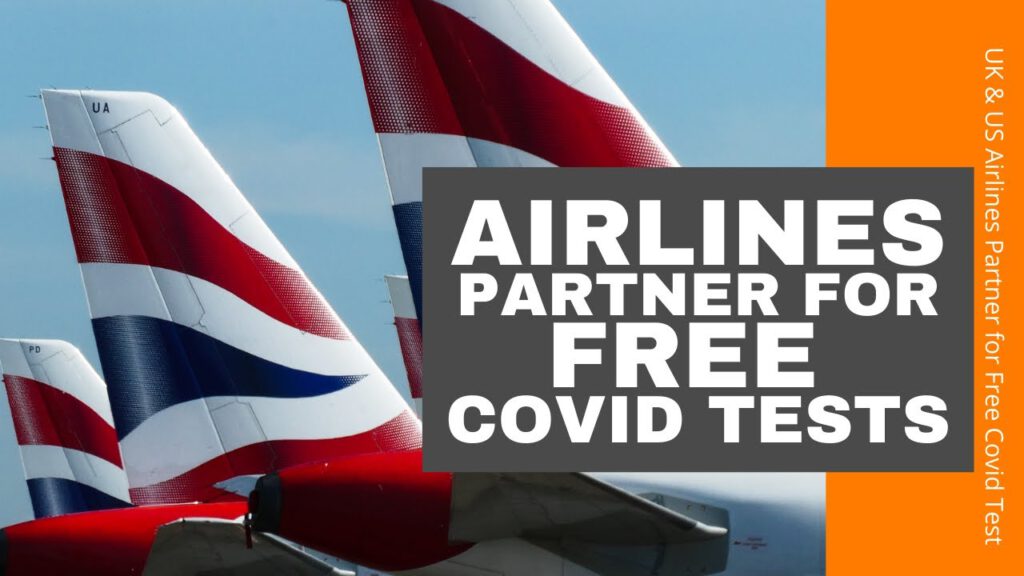 UK & US Airlines Partner for Free Covid Test
✈ In this video:
0:00 UK & US Airlines Partner for Free Covid Test
1:18 UK & US Airlines Partner for Free Covid Test
As the United States opened to vaccinated European travellers after an 18-month long travel ban, data shows that British nationals wasted no time making plans for their trip to the US.
Travellers from the United Kingdom (UK) face added costs for coronavirus testing before departure to the US on the second day upon return to the UK and after arrival in the US for unvaccinated children.
American Airlines and British Airways are collaborating to make it easier for business travellers to hop across the Atlantic Ocean without having to worry about COVID-19 testing.
…
2:42 Free Covid Kits Delivered
To connect premium customers with access to the complimentary COVID-19 testing kits approved by both the UK and US governments, GBT will provide travellers with a promotional code after travel is ticketed.
American and British passengers then use the code to order from the Qured website, with the testing kits being delivered to the traveller's location.
Customers can complete the test remotely through a supervised video call with a professional health advisor.
The customer can download a "fit to fly" certificate if the test is negative, which can be shown at the airport during check-in or uploaded through VeriFLY, an app used by more than three million American Airlines and British Airways passengers
…
4:02 Road To Recovery
The uptick in international travel is positive news for the beleaguered travel industry although it is still far from a full recovery.
There are people who are put off from travelling due to Covid testing requirements like the UK and the US however many European countries do not require fully vaccinated passengers to take a test after arrival such as France.
Travel industry leaders have called on governments to lift the Covid testing requirements for vaccinated passengers.
…
What are your thoughts on this issue? Talk to us in the comment section below.
If you're still unsure about your application, let us help you out!
👉https://immigrationandmigration.com/schengen-visas/
✈ Read the full article at
==========================
✈ Apply for your Schengen Visa at https://immigrationandmigration.com/schengen-visas to get your Schengen Visa!
==========================
Check out the offers and discounts from:
Airport Transfers – https://iam.ontraport.com/c/s/j9Q/P/U/jvT/P/6oTxO3/Uz8tXktnsh/P/P/P
Holidays – https://iam.ontraport.com/c/s/j9Q/P/j/jvi/P/6oTxO3/vof8Cu3AQ4/P/P/P
Flights, Hotels Etc – https://iam.ontraport.com/c/s/j9Q/P/5/jvo/P/6oTxO3/vjtlp51A5x/P/P/P
Things to Do When You Get There – https://iam.ontraport.com/c/s/j9Q/P/r/jvM/P/6oTxO3/sALWj2h37D/P/P/P
And because of the pandemic, don't forget to get your travel insurance https://immigrationandmigration.com/travel-insurance-amid-coronavirus/ , which will cover you for flight disruptions and pandemic related matters https://iam.ontraport.com/tl/400 .
==========================
✈ Find us on social media:
. Facebook: http://iam.re/iamfb​
. Instagram: http://iam.re/iamig​
. Twitter: http://iam.re/iamtw​
. Linkedin: http://iam.re/iamli​
. Pinterest: http://iam.re/iampin
-~-~~-~~~-~~-~-
Check out our latest video: "Schengen Visa Types"

-~-~~-~~~-~~-~-
#USTravel #UKTravel #FreeCovidTestUKAndUS
* Some of our content may contain affiliate links. If you use these links to buy something we may earn a commission.