Germany Bans Travellers from the US Again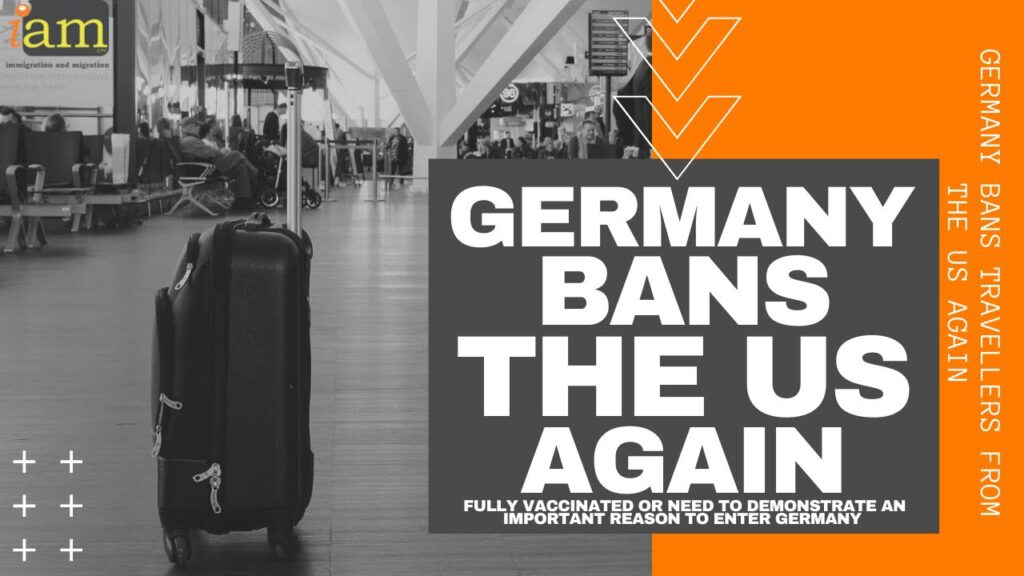 Germany Bans Travellers from the US Again
✈ In this video:
Germany Bans Travellers from the US Again
Germany has increased its vigilance against risks from overseas outbreaks by designating a number of countries to its high-risk list.
Less than two months after Germany opened its borders to US tourists,
the United States was added to
Germany's "high-risk" list over the weekend resulting in new restrictions for American travellers.
The announcement comes amidst a considerable increase in Covid-19 cases over the past few weeks across the US.
Germany has recognised that the tide has turned in the US, where the new Delta variant of the virus has resulted in nearly 1 million new COVID cases in the last week.
According to the German Missions in the US, the new rules mean travellers who have spent time in the US within 10 days prior to entering Germany "will have to be fully vaccinated or need to demonstrate an important reason for entering Germany".
German residents and citizens coming from the US are able to re-enter Germany without having a valid reason for travel, regardless of their vaccination status.
The tightened restrictions could mean that flights to Germany from the US and other affected countries are disrupted or cancelled at short notice.
Spiralling infection rates
The Health Ministry's decision on the United States comes as infection rates across the Atlantic continue to spiral.
On Monday, the United States reported a 7-day incidence of 275 infections
per 100,000 people, equating to an average of 128,991 infections per day.
Countries placed on the high-risk list are considered to be areas where the chance of getting infected with Covid is particularly high, especially for unvaccinated travellers.
Health experts take into account a combination of factors, such as infection rates, vaccination coverage and the impact of Covid on healthcare infrastructure to decide on the designation of each destination.
Aside from the United States, Israel, Turkey, Vietnam and Montenegro were also added to high-risk areas and need to follow the same rule as the us
To get an updated and full list of Germany's high-risk areas, check the official website. the link is on our blog post
Germany Entry Rules for US Travellers
Under Germany's entry rules, unvaccinated arrivals including those unable to provide proof of vaccination, from high-risk areas are required to self-quarantine for
10 days upon arrival although that can be reduced to five days if they present a negative COVID-19 test result.
Fully vaccinated arrivals, or those who have recovered from COVID-19 within the last six months, don't have to quarantine if they can present proof of vaccination or recovery status.
Travellers who received all the required doses of either the AstraZeneca, Pfizer, Moderna or Johnson & Johnson vaccines are considered fully vaccinated in Germany.
Before travelling to Germany, visitors from high-risk areas must register on the Digital Entry Portal and upload proof of vaccination, recovery or a negative test.
Upon arrival, travellers must present proof of vaccination in either paper or digital form.
Cellphone image of the vaccination card is not accepted.
Additionally, you should not be showing any symptoms of Covid-19 upon entry to Germany.
Although vaccination campaigns are ramping up, infection rates are still increasing. What are your thoughts on allowing overseas travel?
Talk to us in the comment section below.
If you're still unsure about your application, let us help you out!
👉https://immigrationandmigration.com/schengen-visas/
✈ Read the full article at
==========================
✈ Apply for your Schengen Visa at https://immigrationandmigration.com/schengen-visas to get your Schengen Visa!
==========================
Check out the offers and discounts from:
Airport Transfers – https://iam.ontraport.com/c/s/j9Q/P/U/jvT/P/6oTxO3/Uz8tXktnsh/P/P/P
Holidays – https://iam.ontraport.com/c/s/j9Q/P/j/jvi/P/6oTxO3/vof8Cu3AQ4/P/P/P
Flights, Hotels Etc – https://iam.ontraport.com/c/s/j9Q/P/5/jvo/P/6oTxO3/vjtlp51A5x/P/P/P
Things to Do When You Get There – https://iam.ontraport.com/c/s/j9Q/P/r/jvM/P/6oTxO3/sALWj2h37D/P/P/P
And because of the pandemic, don't forget to get your travel insurance https://immigrationandmigration.com/travel-insurance-amid-coronavirus/ , which will cover you for flight disruptions and pandemic related matters https://iam.ontraport.com/tl/400 .
==========================
✈ Find us on social media:
. Facebook: http://iam.re/iamfb​
. Instagram: http://iam.re/iamig​
. Twitter: http://iam.re/iamtw​
. Linkedin: http://iam.re/iamli​
. Pinterest: http://iam.re/iampin
-~-~~-~~~-~~-~-
#SchengenVisa #TravelToGermany
* Some of our content may contain affiliate links. If you use these links to buy something we may earn a commission.