Germany lifts European Travel ban to 11 Countries Germany Opens for Tourism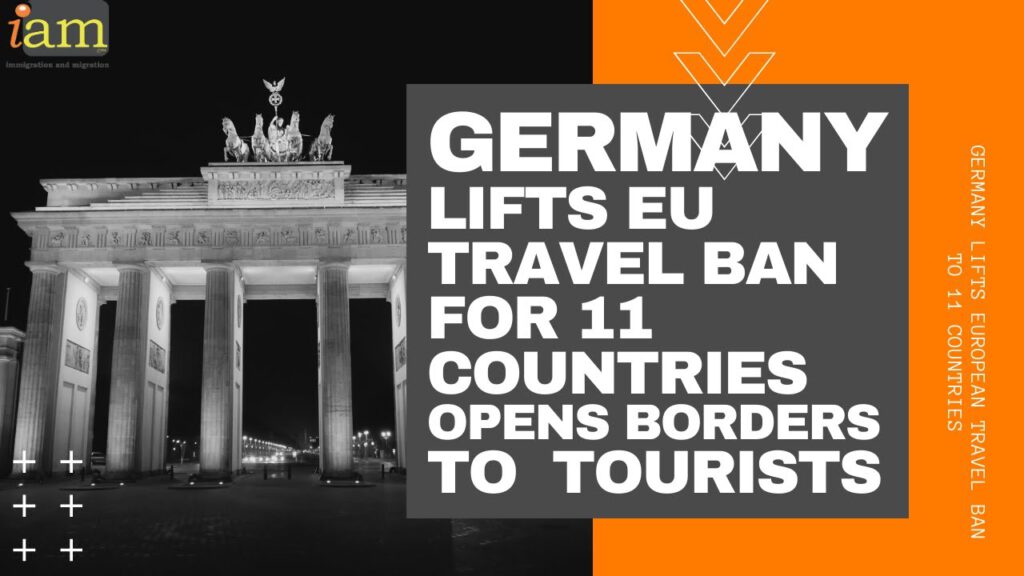 Germany lifts European Travel ban to 11 Countries – Germany Opens for Tourism
Germany lifts European Travel ban to 11 Countries
Germany Lifts Entry Ban for Travellers from 11 Third-Countries
Residents of 11 third-countries are going to be eligible to enter Germany from July 2, from the EU Council's list of "safe" third countries.
The decision taken by the German Federal Cabinet, in line with the Council of the European Union recommendation issued on June 30, to lift entry restrictions for the residents of 15 third-countries, considered as safe.
The German authorities, however, have decided to open borders to only 11 of the listed countries
✈ In this video:
Germany Lifts European Travel Ban To 11 Countries, which are:
Australia
Canada
China *
Georgia
Japan *
Montenegro
New Zealand
South Korea *
Thailand
Tunisia
Uruguay
As per China, Japan, and South Korea, their residents will be allowed to travel to Germany only if they grant reciprocal travel, as they have entry bans for Germans in place.
residents of these 11 countries, regardless of their nationality, will be able to enter Germany without restrictions, like quarantine or COVID-19 test.
The German Government left 4 out of Councils 15 countries deemed as 'safe', which are Algeria, Morocco, Rwanda and Serbia.
They are permitted to do so as the Council's list is an advisory. The decision has been taken upon evaluation of the current situation in these countries related to the Coronavirus.
The majority of EU and Schengen Countries have not published their individual lists of countries residents can enter their territory. Countries such as Spain and the Czech Republic, Iceland and the Netherlands have published narrowed-down lists.
Spain, has excluded China and Morocco, while the Czech Republic has decided to grant entry to residents of 8 out of the 15 countries recommended by the EU Council.
The nationals of these 11 countries and their residents are permitted to enter Germany.
Along with those 11 countries are the following categories of travellers coming from the rest of the world that can enter Germany starting from July 2:
– German nationals, Union citizens and third-country nationals with an existing right of residence in Germany
– Health personnel, health researchers and geriatric nursing staff
– Foreign specialists and highly qualified employees, whose employment is necessary from an economic point of view and whose work is not postponed or can be carried out abroad,
– personnel in goods transport and other transport personnel
– seasonal workers in agriculture
– seafarers
– international students whose studies cannot be carried out entirely from abroad
– foreign family members arriving by family reunification and visiting trips for urgent family reasons
– persons who need international protection or protection for other humanitarian reasons,
– diplomats, Personnel from international organizations, military personnel and humanitarian workers in the course of their duties
– late repatriates
– passengers in transit traffic
"Regardless of the entry options in Germany, a quarantine obligation based on the Infection Protection Act applies in all federal states for incoming and returning travellers from the risk areas specified by the RKI [Robert Koch Institute]," press release of German Ministry of Interior regarding the categories of persons allowed into Germany.
It also points out that with the exception of passengers in transit traffic, this also applies in principle to travellers with an important travel reason.
Those who present COVID-19 negative test results are also exempt from the quarantine requirement.
If you're still unsure about your application, let us help you out!
👉https://immigrationandmigration.com/schengen-visas/
✈ Read the full article at
✈ Keep up with Schengen Visa information to Germany at
https://immigrationandmigration.com/category/schengen-visas/germany/
✈ Keep up with Schengen Visa News & Information at
https://immigrationandmigration.com/category/news-and-events/schengen-visa-news/
==========================
✈ Apply for your Schengen Visa at https://immigrationandmigration.com/schengen-visas to get your Schengen Visa!
==========================
✈ Find us on social media:
. Facebook: https://www.facebook.com/immigrationandmigration/
. Instagram: https://www.instagram.com/iam.uk/
. Twitter: https://twitter.com/iam_immigration
. Linkedin: https://www.linkedin.com/company/iam-immigration
. Pinterest: https://www.pinterest.com/iam_immigration/
#SchengenVisa #GermanyReopensBorders #GermanyVisa #EUTravelBan
-~-~~-~~~-~~-~-
Check out our recent video on: "Applying for a British Passport After Indefinite Leave to Remain"

-~-~~-~~~-~~-~-