Spain Opens to Portugal and 3rd Country Nationals & Bans Morocco: Europe Travel Ban Update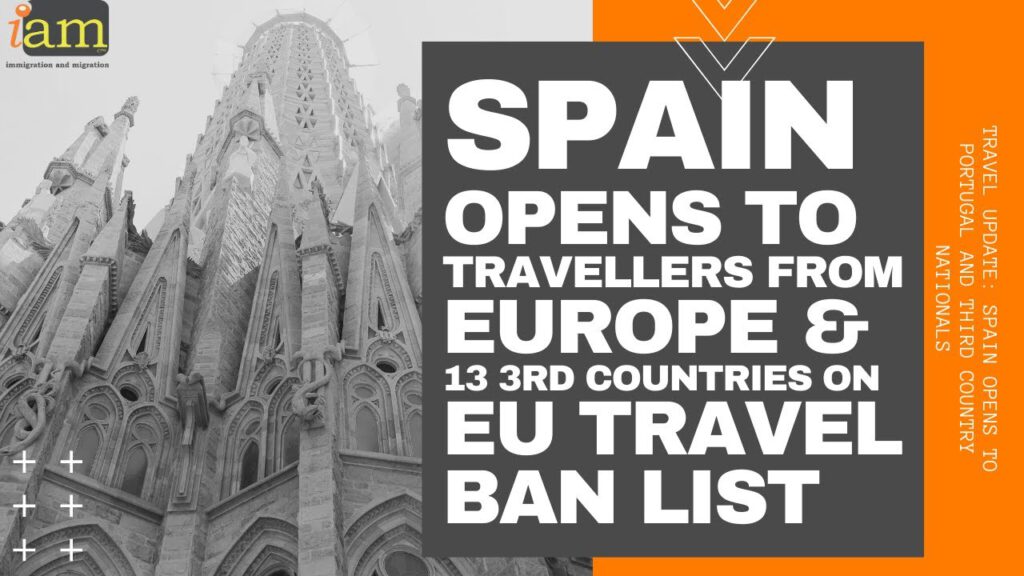 Travel Ban Update – Spain Opens To Portugal And Third Country Nationals & Europe & Bans Morocco.
Travel Update: Spain Opens To Portugal And Third Country Nationals
Spain opens borders with Portugal & Closes for Residents of Morocco and China.
Spain has reopened its borders to visitors from Portugal after three and a half months.
Although China and Morocco have been ranked as epidemiologically "safe" by the EU Council.
They remain outside the list of third-country residents who can enter the territory of Spain.
✈ In this video:
Travel Update: Spain Opens To Portugal And Third Country Nationals
Despite a recommendation of the EU Council to all EU and Schengen Area Member States to open borders to 15 third-countries ranked as safe amid the Coronavirus, Spain has refused to open borders to china and morocco in a reciprocity move.
Spanish authorities confirmed borders will open to the other 13 countries
Algeria, Australia, Canada, Georgia, Japan, Montenegro, New Zealand, Rwanda, Serbia, South Korea, Thailand, Tunisia and Uruguay
Spokesperson Maria Jesus Montero stated that the borders will be opened to china and morocco when these states allow entry into their territories.
Her statements refer to a previous decision of Morocco to keep its borders closed at least until July 10, due to the existing state of alarm, and China's decision to ban Europeans from entering its territory still.
When Morocco sees fit, we will collaborate with them to establish controls so this transfer of thousands of people does not become a health risk — Maria Jesus Montero
Spain will only open its borders with Morocco if there is a reciprocal agreement to let people travelling via Spain enter the North African country.
The decision of the Spanish authorities regarding Morocco contradicts a previous statement of the President of the Autonomous City of Melilla, Eduardo de Castro who announced during a press briefing sometime around June 20, that Moroccans would be eligible to enter Spain starting from July 1.
According to President De Castro, the head of the Spanish government, Pedro Sanchez, had informed him that Spain had decided to reopen borders for Morocco on July 1, during a virtual meeting.
Alongside with the reopening of borders for the residents of the 13 third countries for non-essential purposes, Spain has also added new categories to its list of travellers exempt from the entry ban.
The following categories of travellers are permitted to freely enter the territory of Spain are:
* EU and Schengen citizens
* Residence permits or long-stay visa holders, issued by any of the EU or Schengen Members
* Those who study in the Member States or the Schengen Associated States and who have the corresponding permit or visa
* Highly qualified workers whose work is necessary and cannot be carried out remotely or be postponed
*Cross-border workers
*Health professionals, including health researchers, and elderly care professionals who go to or return from exercising their work activity
*Personnel dedicated to the transport of goods in the exercise of their work activity, including the crew of ships.
* Diplomatic, consular, international, military, civil protection and humanitarian organizations personnel, in the exercise of their functions
* People travelling for imperative family reasons duly accredited
* Persons who show proof of reasons of force majeure or situation of need, or whose entry is allowed for humanitarian reasons
As the country opens its internal and external borders, Spanish visa centre is now open for Schengen visa applications in the UK
If you're still unsure about your application, let us help you out!
👉https://immigrationandmigration.com/schengen-visas/
✈ Read the full article at
✈ Keep up with Visas to Spain at
https://immigrationandmigration.com/category/schengen-visas/spain/
✈ Keep updated of Schengen Visa news at
https://immigrationandmigration.com/category/news-and-events/schengen-visa-news/
==========================
✈ Apply for your Schengen Visa at https://immigrationandmigration.com/schengen-visas to get your Schengen Visa!
==========================
✈ Find us on social media:
. Facebook: https://www.facebook.com/immigrationandmigration/
. Instagram: https://www.instagram.com/iam.uk/
. Twitter: https://twitter.com/iam_immigration
. Linkedin: https://www.linkedin.com/company/iam-immigration
. Pinterest: https://www.pinterest.com/iam_immigration/
#SchengenVisa #SpainVisa #EUTravelBan #SpainReopens #EuropeTravelBan #SpainSchengenVisa #Spain #SchengenVisaApplicationRequirements #Travel #IaM
-~-~~-~~~-~~-~-
Check out our recent video on: "Applying for a British Passport After Indefinite Leave to Remain"

-~-~~-~~~-~~-~-