Germany Travel Rules Of Entry Rules Upon Arrival (including for US Citizens)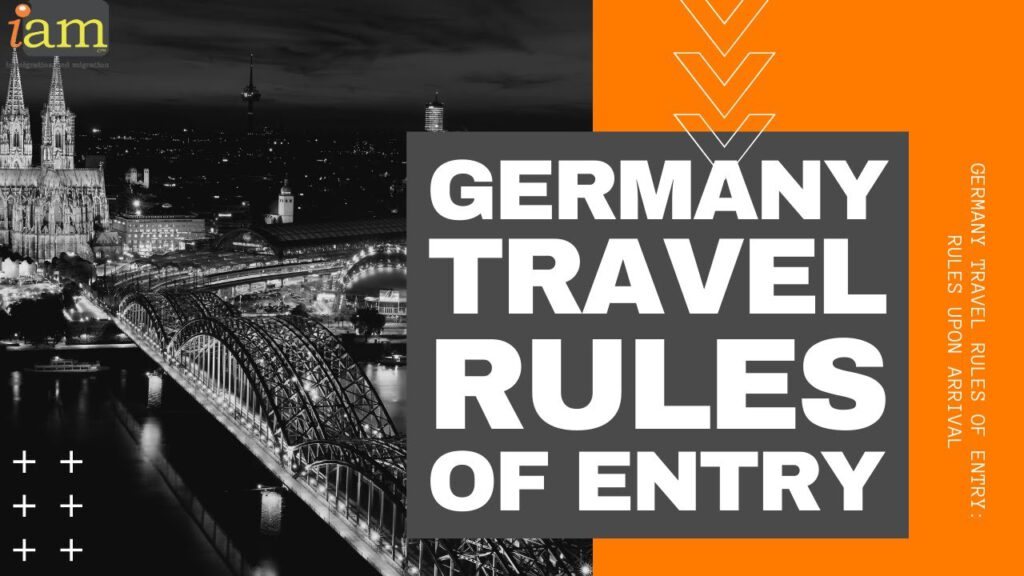 Germany Travel Rules Of Entry: Rules Upon Arrival
Germany Entry Rules for Those Returning From Abroad
The German Ministry of Foreign Affairs has published a notice on the rules of entry for those that have the right to enter Germany, coming from non-EU/EEA countries, particularly those coming from high-risk areas.
The notice is another attempt to keep those coming into the country informed on the procedures they must undertake to enter and upon arrival in Germany.
✈ In this video:
Germany: Rules Upon Arrival
Germany Travel
Rules Of Entry Germany: rules upon arrival
Who Is Obliged to Self-Isolate for 14 Days?
Quarantine upon arrival from a risk area remains one of the main tools the German authorities keep using to prevent the possible spread of the infection in the country, by those arriving from abroad.
Rules of Quarantine
Those who are obliged to quarantine must follow the directions of the authorities, and comply with the rules, as in Germany violating the rules of self-isolation is punishable with a fine or imprisonment.
Upon arrival in Germany, travellers must go straight to their destination and isolate themselves for 14 days.
Who Is Exempt From Quarantine?
Even those coming from high-risk areas may be exempted from the obligation of self-quarantine:
* They are transiting through Germany, to their destination country
(provided they must leave Germany immediately)
* They provide negative test results/take one test upon arrival
(Present a valid proof of negative test result taken within a maximum of
48 hours before entry)
Those who do not have a test can choose to take it upon entry at the place of crossing the border or at their place of residence in Germany.
High-Risk countries:
Travellers coming from the following countries have to go through a 14 day of quarantine:
Afghanistan, Albania
Algeria, Angola,
Antigua and Barbuda
Argentina, Armenia
Azerbaijan
Bahamas, Bahrain
Bangladesh, Barbados
Belarus, Belize
Benin, Bhutan, Bolivia
Bosnia and Herzegovina
Brazil, Burkina Faso,
Burundi
Cabo Verde, Cameroon,
The central African Republic,
Chad, Chile, Colombia,
Comoros, Congo DR, Congo Rep
Costa Rica, Cuba
Djibouti, Dominica,
Dominican Republic
Ecuador, Egypt,
El Salvador,
Equatorial Guinea
Eritrea, Eswatini, Ethiopia,
Gabon, Gambia, Ghana, Grenada
Guatemala, Guinea,
Guinea Bissau, Guyana
Haiti, Honduras, India,
Indonesia, Iran, Iraq,
Israel, Ivory Coast
Jamaica, Kazakhstan, Kenya,
Korea (People's Republic),
Kosovo, Kuwait, Kyrgyzstan
Lebanon, Lesotho, Liberia,
Libya, Luxembourg
Madagascar, Malawi, Maldives,
Mali, Mauritania, Mexico,
Mongolia, Montenegro
Morocco, Mozambique
Namibia, Nepal, Nicaragua,
Niger, Nigeria, North Macedonia,
Oman, Pakistan, Palestinian territories,
Panama, Papua New Guinea, Paraguay,
Peru, Philippines, Qatar,
Republic of Moldova
Russian Federation
Saint Kitts and Nevis, Saint Lucia
Saint Vincent and the Grenadines
Sao Tome and Principe, Saudi Arabia, Senegal, Serbia, Seychelles,
Sierra Leone, Somalia, South Africa, South Sudan
Spain – autonomous communities only: Aragon, Catalonia, and Navarre
Sri Lanka, Sudan, Suriname,
Syrian Arab Republic, Tajikistan,
Tanzania, Timor Leste, Togo,
Trinidad Tobago, Turkey, Turkmenistan,
Ukraine, United States, Uzbekistan,
Venezuela, Yemen, Zambia and
Zimbabwe
The Ministry of Health has suggested to the government to make testing for travellers from high-risk areas mandatory, and thus a corresponding regulation is to come within the week
"According to the decision of the health ministers, travellers from non-risk areas should be offered voluntary tests within 72 hours, but not directly at the airport. Regardless of the place of departure, the tests will be free of charge."
Travellers will also need to fill out an exit ticket.
if you need assistance or visa advice, contact your iam coordinator
If you're still unsure about your application, let us help you out!
👉https://immigrationandmigration.com/schengen-visas/
✈ Read the full article at
==========================
✈ Apply for your Schengen Visa at https://immigrationandmigration.com/schengen-visas to get your Schengen Visa!
==========================
✈ Find us on social media:
. Facebook: https://www.facebook.com/immigrationandmigration/
. Instagram: https://www.instagram.com/iam.uk/
. Twitter: https://twitter.com/iam_immigration
. Linkedin: https://www.linkedin.com/company/iam-immigration
. Pinterest: https://www.pinterest.com/iam_immigration/
-~-~~-~~~-~~-~-
Check out our latest video: "Schengen Visa Types"

-~-~~-~~~-~~-~-
#GermanyTravelRestrictions #GermanyEntryRestrictions #GermanyVisa #IaM #SchengenVisa