Greece Re-Opening For US, UK, EU And Other Tourists Without Quarantine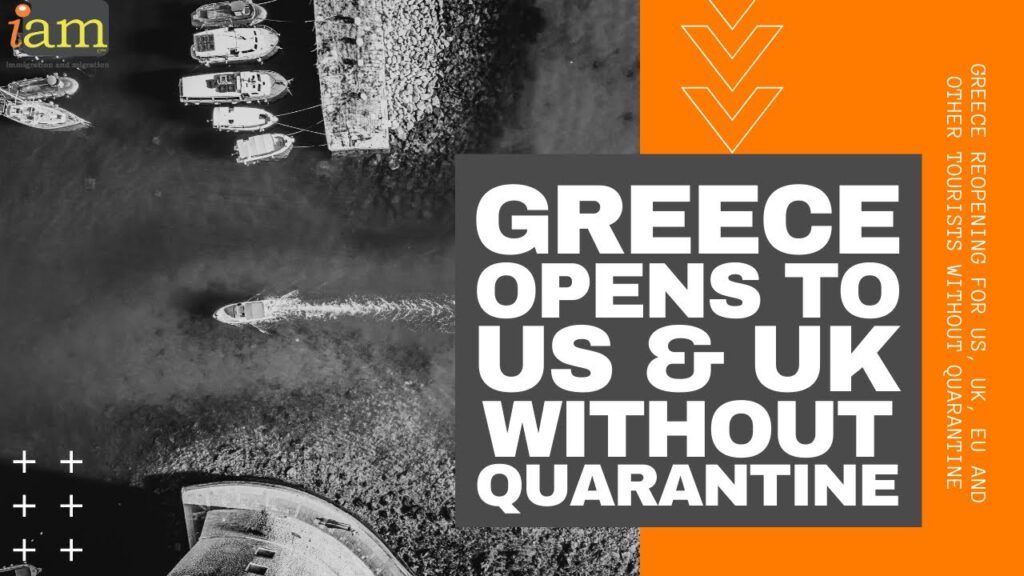 Greece Re-Opening For US, UK, EU And Other Tourists Without Quarantine: Greece Reopens Borders
Greece Reopening For US, UK, EU And Other Tourists Without Quarantine
Greece opens to the Vaccinated Proof of Vaccine, negative Test or Recovery Required
✈ In this video:
0:00 – Greece Re-Opening For US, UK, EU And Other Tourists Without Quarantine: Greece Reopens Borders
01:23 – Greece Reopening For US, UK, EU and other Tourists no quarantine for selected tourists
Greece will begin reopening for selected tourists starting next week without quarantine restrictions.
Tourists from the EU, UK, US, Serbia, Israel and United Arab Emirates are permitted to enter the territory.
The conditions are that these travellers have to be either vaccinated or hold a negative COVID-19 test certificate.
This scheme is part of a pilot project to allow entry to people with the so-called vaccine passports, an exception until now open only to Israeli visitors.
Originally Greece had announced that it would reopen for tourism from all countries beginning in May.
All international tourists must arrive through the airports in Athens, Thessaloniki, Heraklion, Chania, Rhodes, Kos, Mykonos, Santorini or Corfu. Land border crossings will also be permitted.
02:23 – Greece Travel Timeline
On 14 May 2021, all countries under regular visa requirements will be allowed to enter Greece for
non-essential travel.
Testing Requirements
Non-Vaccinated Tourists: Travellers entering Greece are required to present a negative molecular test result (PCR test) for COVID-19, performed up to 72 hours before their entry to Greece.
Vaccinated Tourists: Testing is not required for travellers who have been fully vaccinated for at least 14 days.
Travellers need to be aware that Greece will be conducting random Covid-19 rapid tests at airports and those who test positive will face government quarantine covered by the state for 14 days.
Upon arrival, fFully vaccinated travellers must present proof of vaccination at least 2 weeks prior to arriving in Greece. There are no quarantines for vaccinated travellers or travellers who present proof of a negative Covid-19 test.
All visitors arriving in Greece must fill out the Passenger Locator Form at least 24 hours before arrival. All visitors should have travel insurance that covers COVID-19 for the duration of their trip to Greece but it is not mandatory for entry.
03:52 – Greece COVID-19 Prevention Protocols
All visitors will be subject to the same rules that locals do to maintain safety. Lockdown orders and Covid-19 prevention measures can come without warning. The use of facemasks in public spaces and social distancing are required.
Are you excited to travel again? Talk to us in the comment section below.
If you have plans to travel, check out the deals we have found in the description box below.
If you need assistance with a visa to Europe, the UK, or the US, including help with securing your travel arrangements, IaM can help.
For visa advice, contact your IAM visa coordinator.
If you're still unsure about your application, let us help you out!
👉https://immigrationandmigration.com/schengen-visas/
✈ Read the full article at
Greece Reopening for US, UK, EU and Other Tourists Without Quarantine
✈ Keep up with Schengen Visa information to Greece at
https://immigrationandmigration.com/category/schengen-visas/greece/
✈ Keep up with Schengen Visa News & Information at
https://immigrationandmigration.com/category/news-and-events/schengen-visa-news/
==========================
✈ Apply for your Schengen Visa at https://immigrationandmigration.com/schengen-visas to get your Schengen Visa!
==========================
Check out the offers and discounts from:
Airport Transfers – https://iam.ontraport.com/c/s/j9Q/P/U/jvT/P/6oTxO3/Uz8tXktnsh/P/P/P
Holidays – https://iam.ontraport.com/c/s/j9Q/P/j/jvi/P/6oTxO3/vof8Cu3AQ4/P/P/P
Flights, Hotels Etc – https://iam.ontraport.com/c/s/j9Q/P/5/jvo/P/6oTxO3/vjtlp51A5x/P/P/P
Things to Do When You Get There – https://iam.ontraport.com/c/s/j9Q/P/r/jvM/P/6oTxO3/sALWj2h37D/P/P/P
And because of the pandemic, don't forget to get your travel insurance https://immigrationandmigration.com/travel-insurance-amid-coronavirus/ , which will cover you for flight disruptions and pandemic related matters https://iam.ontraport.com/tl/400 .
==========================
✈ Find us on social media:
. Facebook: http://iam.re/iamfb​
. Instagram: http://iam.re/iamig​
. Twitter: http://iam.re/iamtw​
. Linkedin: http://iam.re/iamli​
. Pinterest: http://iam.re/iampin
-~-~~-~~~-~~-~-
Check out our latest video: "Schengen Visa Types"

-~-~~-~~~-~~-~-
#GreeceReopensBorders #GreeceOpensToUK #GreeceOpensToUSA #GreeceTravel #SchengenVisa
* Some of our content may contain affiliate links. If you use these links to buy something we may earn a commission.