France Opens to Travellers from the US, UK & Others from May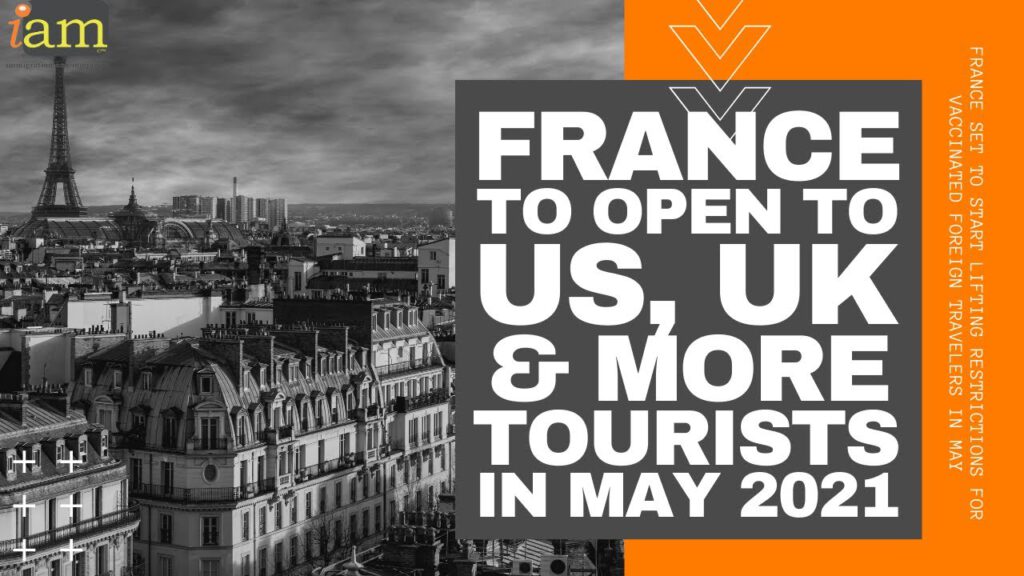 France Opens to Travellers from the US, UK & Others from May
France Travel Update: To Lift Restrictions For Vaccinated Travellers In May
France Re-Opens For Travel From May Travellers from US, UK & Other countries Allowed into France
France Coming Out Of Lockdown – Vaccine Program Gathers Pace to Ease Travel Restrictions
France Travel Update: To Lift entry Restrictions for Vaccinated Travellers in May
✈ In this video:
0:00 – France Opens to Travellers from the US, UK & Others from May
01:37 – France Travel Update: To Lift Restrictions for Vaccinated Travellers in May
Things are looking up for vaccinated American travellers.
Several European nations have announced restrictions are lifted to third-country nationals especially those vaccinated American tourists. Croatia, Greece, and Malta just to name a few who officially announced they will be open for non-essential travellers.
In an interview, French President Emmanuel Macron said that France is finalising plans to start its lifting restrictions on non-EU travellers, including those from the US, within the next few weeks.
France's president revealed that French ministers are "finalising the technical discussions" over how best to begin easing restrictions, with officials working to develop a system that would enable vaccinated French, European and also American citizens to travel more freely this summer.
Macron said that officials are currently creating a testing and/or vaccine certificate to help facilitate travel between European nations, signaling that France will rely upon some variation of a so-called "vaccine passport" to restart foreign travel.
03:22 – France's Infection Surge
At the moment, France is itself currently contending with another wave of COVID-19 infection and in the midst of its third national lockdown since the pandemic began.
In a televised national address given at the end of March, Macron attributed this latest surge to the spread of new COVID-19 variants, which are even more transmissible than the virus' previous strains and have essentially created what he called "an epidemic within an epidemic".
04:17 – Imposed Travel Restrictions
Due to surging infection rates in other nations, the French authorities will tightly restrict who can travel to France from Brazil, Argentina, Chile and South Africa starting 24 April.
The authorities will also impose a 10-day quarantine on those who do, in the hope of fending off
worrisome coronavirus variants circulating in these countries.
Where do you plan to travel this summer? Talk to us in the comment section below.
If you have plans to travel, check out the deals we have found in the description box below.
If you need assistance with a visa to Europe, the UK, or the US, including help with securing your travel arrangements, IaM can help.
For visa advice, contact your IAM visa coordinator.
If you're still unsure about your application, let us help you out!
👉https://immigrationandmigration.com/schengen-visas/
✈ Read the full article at
France Travel Update: Restrictions to Be Lifted for Vaccinated Travellers in May
✈ Keep up with France Schengen Visa information at
https://immigrationandmigration.com/category/schengen-visas/france/
✈ Keep up with Schengen Visa News & Information at
https://immigrationandmigration.com/category/news-and-events/schengen-visa-news/
==========================
✈ Apply for your Schengen Visa at https://immigrationandmigration.com/schengen-visas to get your Schengen Visa!
==========================
Check out the offers and discounts from:
Airport Transfers – https://iam.ontraport.com/c/s/j9Q/P/U/jvT/P/6oTxO3/Uz8tXktnsh/P/P/P
Holidays – https://iam.ontraport.com/c/s/j9Q/P/j/jvi/P/6oTxO3/vof8Cu3AQ4/P/P/P
Flights, Hotels Etc – https://iam.ontraport.com/c/s/j9Q/P/5/jvo/P/6oTxO3/vjtlp51A5x/P/P/P
Things to Do When You Get There – https://iam.ontraport.com/c/s/j9Q/P/r/jvM/P/6oTxO3/sALWj2h37D/P/P/P
And because of the pandemic, don't forget to get your travel insurance https://immigrationandmigration.com/travel-insurance-amid-coronavirus/ , which will cover you for flight disruptions and pandemic related matters https://iam.ontraport.com/tl/400 .
==========================
✈ Find us on social media:
. Facebook: http://iam.re/iamfb​
. Instagram: http://iam.re/iamig​
. Twitter: http://iam.re/iamtw​
. Linkedin: http://iam.re/iamli​
. Pinterest: http://iam.re/iampin
-~-~~-~~~-~~-~-
Check out our latest video: "Schengen Visa Types"

-~-~~-~~~-~~-~-
#FranceReOpens #FranceTravel #SchengenVisa
* Some of our content may contain affiliate links. If you use these links to buy something we may earn a commission.