How to Travel to Europe for Studies or Research: Schengen Student Visa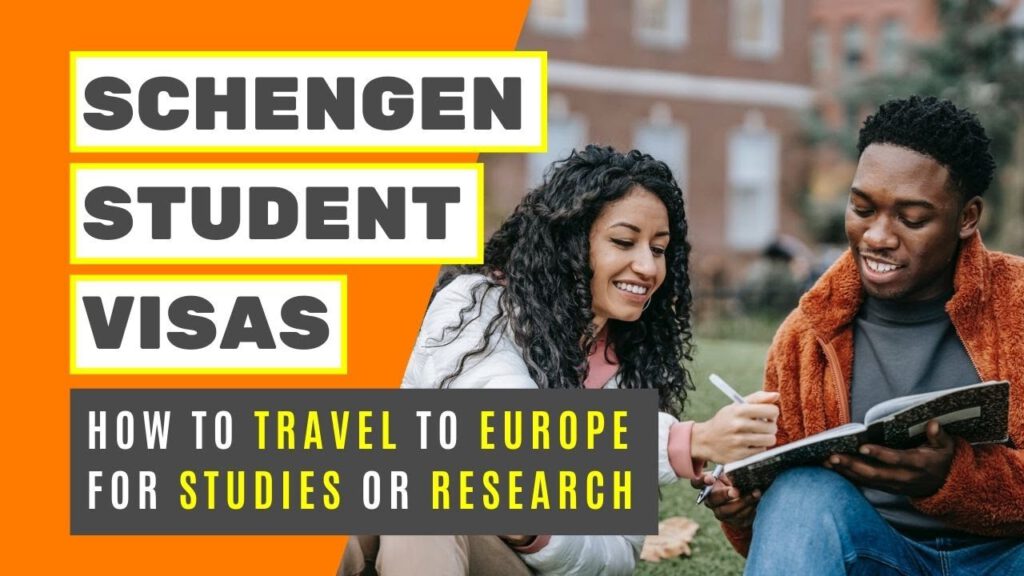 Schengen Student Visa How to Travel to Europe for Studies or Research
Schengen student visa How to Get a Schengen Visa for Short-term Study and Research Purposes
If you are looking to study in Europe for a period of fewer than 3 months, you can apply for a standard Schengen Visa that will allow you to travel throughout its member states.
✈ In this video:
0:00 – Schengen Student Visa: How to Travel to Europe for Studies or Research
Like all other types of Schengen visas, you can only stay in any of the Schengen countries for up to 90 days with the Schengen Student visa.
The Schengen Student Visa is just one of several types of visas that allow a visitor entry into the Schengen Area. If you need to visit the Schengen Area for other reasons, check out our Schengen Visa Types playlist!
01:54 – Travelling to the Schengen Area amid Coronavirus travel restrictions
Because of the Coronavirus pandemic, travel restrictions have been set up worldwide, preventing travel for most, and restricting access to visitors who do not fall under the exemptions for travel.
These restrictions are updated regularly, whether it is to remove them, add exemptions, or extend them, depending on what officials feel is appropriate for the current circumstances.
03:04 – Who needs to apply for a Schengen Student Visa in the UK? If you are a UK citizen, The rules on travel have now changed due to Brexit.
UK citizens need to apply for a Schengen visa if they want to visit the Schengen area for the purpose of studies or research.
03:30 – Non-EU Nationals
Many non-EU nationals who reside in the UK are still required to get a Schengen visa to travel to the Schengen area they want to study in.
04:40 – Steps to Applying for a Student Schengen Visa from the UK
04:45 – Step 1: Know your visa type and validity
A Schengen visa is a short-stay visa that allows a person to travel to any members of the Schengen Area per stays up to 90 days for different purposes.
07:45 – Step 2: Identify where to make the application and book an appointment
09:02 – Step 3: Complete your application form
The Schengen Visa application form contains questions about you. You need to indicate Studies or Research as the purpose of your travels.
09:45 – Step 4: Prepare your documents
10: 45 – Step 5: Attend your appointment
12:35 – Visa Fees for UK Residents
13:35 – Step 6: Receive your visa
Schengen Student Visa Application Processing Time in the UK – How long can the application process take?
14:35 – Visa application decision
15:49 – What if your Schengen student Visa is rejected?
16:45 – Schengen Student Visa Extension
Do you have any questions about applying for a Schengen Student visa? We'd love to hear from you! Let us know in the comments!
If you're still unsure about your application, let us help you out!
👉https://immigrationandmigration.com/schengen-visas/
✈ Read the full article at
How to Get a Schengen Visa for Short-term Study and Research Purposes
✈ Read about extending your Schengen visa at https://immigrationandmigration.com/overstaying-in-the-schengen-zone-heres-how-to-extend-your-schengen-visa/
✈ Read about avoiding getting your Schengen visa refused at https://immigrationandmigration.com/9-common-reasons-why-visa-applications-get-rejected/
==========================
✈ Apply for your Schengen Visa at https://immigrationandmigration.com/schengen-visas to get your Schengen Visa!
==========================
Check out the offers and discounts from:
Airport Transfers – https://iam.ontraport.com/c/s/j9Q/P/U/jvT/P/6oTxO3/Uz8tXktnsh/P/P/P
Holidays – https://iam.ontraport.com/c/s/j9Q/P/j/jvi/P/6oTxO3/vof8Cu3AQ4/P/P/P
Flights, Hotels Etc – https://iam.ontraport.com/c/s/j9Q/P/5/jvo/P/6oTxO3/vjtlp51A5x/P/P/P
Things to Do When You Get There – https://iam.ontraport.com/c/s/j9Q/P/r/jvM/P/6oTxO3/sALWj2h37D/P/P/P
And because of the pandemic, don't forget to get your travel insurance https://immigrationandmigration.com/travel-insurance-amid-coronavirus/ , which will cover you for flight disruptions and pandemic related matters https://iam.ontraport.com/tl/400 .
==========================
✈ Find us on social media:
. Facebook: http://iam.re/iamfb​
. Instagram: http://iam.re/iamig​
. Twitter: http://iam.re/iamtw​
. Linkedin: http://iam.re/iamli​
. Pinterest: http://iam.re/iampin
~-~~-~~~-~~-~-
Track: Sweet Talks by @Limujii
Watch: youtu.be/PmLHb3db2vA
Free Download/Stream: www.toneden.io/freetousemusic/po…-talks-by-limujii
-~-~~-~~~-~~-~-
Check out our latest video: "Schengen Visa Types"

-~-~~-~~~-~~-~-
#StudentSchengenVisa #ResearchVisaEurope #SchengenVisa #StudentVisaEurope
* Some of our content may contain affiliate links. If you use these links to buy something we may earn a commission.